Debbie Abrahams explains unemployment and making work pay in scathing letter to Chancellor
Following the Chancellor's Exchequer bizarre gaffe on the weekend when he claimed that there are no unemployed people, the shadow secretary for work and pensions has written to him on the eve of his autumn budget pleading with him to acknowledge how squeezed many in the country are and offering to take him to visit one of the many foodbanks that have opened around the country under successive Tory governments.
In her letter, Debbie Abrahams responds to Phillip Hammond's claim that there are no unemployed people, writing:
"There are more than 1.4 million people out of work, with evidence pointing to a further 800,00 'hidden unemployed', while millions are stuck in poorly paid, insecure jobs.
"The Government's flagship social security programme, Universal Credit has completely failed to rise to these challenges, instead pushing people into debt, rent arrears and even evictions.
"On top of this there is a record level of 7.4 million people in work who are living in poverty, and one in ten workers in the UK today is in an insecure job."
The MP for Oldham East & Saddleworth adds: "The Trussell Trust has reported a record surge in demand for food parcels amid the government's Universal Credit rollout. And Child Poverty Action Group estimates the cuts to Universal Credit will push an additional million children into poverty by 2022."
She calls for Hammond to respect Labour calls for a freeze of their calamitous Universal Credit roll out in his autumn budget.
And asks him to incorporate Labour's key demands:
"1. A reduction to the six week wait for support
The offer of Alternative Payment Arrangements for every claimant including two week payments
Change the assessment period, including for self-employed people, reflecting how people are paid
Restoration of the principle that work will always pay under the programme."
Abrahams invites Hammond to visit a foodbank with her and understand how his policies could make a difference.
And she pleads for the Chancellor to "listen to Labour's proposals for the budget and deal with the growing emergency faced by working families and our vital public services."
Philip Hammond presents the Budget amid new global figures that show the UK is now bottom of the growth league among major economies in Europe and North America.
The data on GDP up to Q3 2017 puts Britain significantly behind its peers, dropping below Belgium, France, even Italy.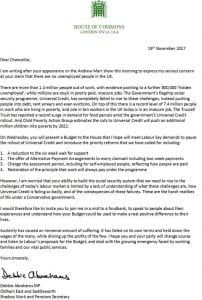 MORE:
You need to know about all your rights that the Tories stripped from EU withdrawal Bill
Watch: Philip Hammond just forgot about 1.42 million unemployed people live on TV
Philip Hammond will present the Budget amidst figures that show UK is now bottom of the growth league, dropping below Italy
Theresa May's husband Philip has "serious questions to answer" after his company accused in Paradise Papers tax haven scandal