As Theresa May pulled the plug on tomorrow's vote on her Brexit deal in the face of a likely defeat, SNP leader Nicola Sturgeon offered to work with the Labour party in a vote of confidence to bring the Conservative government down.
The day after a scathing report by the parliament committee on leaving the EU which unanimously panned Theresa May's Brexit agreement, the PM confirmed to the House of Commons that a meaningful vote on her deal would bedelayed until January.
She will try to get more concessions from EU states, but EU leaders have said that the deal cannot be renegotiated.
"We don't have a functioning government," insisted Jeremy Corbyn as the pound continued to plunge in reaction to the chaos.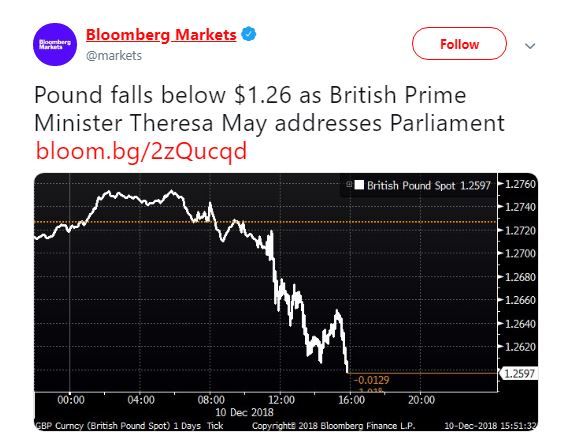 Nicola Sturgeon insisted that the humiliating last minute delay on the vote was "pathetic cowardice"
And has called on Jeremy Corbyn to join her in forcing a no confidence vote that could bring the government down.
She set the challenge on Twitter, tweeting: "So@jeremycorbyn – if Labour, as official opposition, lodges motion of no confidence in this incompetent government tomorrow, @theSNP will support & we can then work together to give people the chance to stop Brexit in another vote.
"This shambles can't go on – so how about it?"
The SNP also backs a second referendum giving Brits the fina lsay on the Brexit deal.
Jeremy Corbyn has not yet responded. But is likely to only call for a vote of no confidence if there are the numbers to win it.
But this afternoon Labour MP Chris Leslie said it was "highly likely" that there would be a no confidence against the PM.
Leslie also told BBC this afternoon that would kick-start the campaign for a second referendum, which could then lead to staying in theEU altogether.
"It's clear the Prime Minister can't command confidence in Parliament," said the Labour backbencher.
He added: "I imagine Jeremy Corbyn will put down a voteof no confidence in the Government straight away, and then we can move on with discussing how we put this back to the British people."
The DUP – the Northern Irish party who prop up Mrs May's government – has said they will support the PM in a confidence motion, so there would not be enough votes to collapse the Government unless some Tories voted against their own party.