As over 100,000 revellers watched the capital's New Year's Eve firework celebrations, London Mayor Sadiq Khan said the theme was "London is open".
As a spectacular firework display lit up the Thames, the phrase "London is open" was uttered in different European languages.
The Mayor said the display that appeared to light the London Eye like the EU symbol – blue with yellow bits at one point in should "send a message of support to more than one million EU citizens who call London their home" and that London is open for business."
"Our spectacular #LondonNYE fireworks showed that whatever the outcome of Brexit – #LondonIsOpen – to business, talent, ideas & creativity – and why London really is the greatest city in the world" tweeted Sadiq Khan.
"Sending a message across the globe: London's diversity will always be our strength. Our one million EU citizens are Londoners, they make a huge contribution, and no matter the outcome of Brexit – they will always be welcome" he added.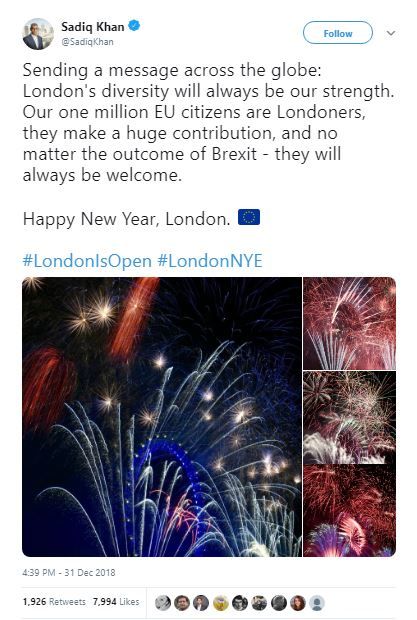 Londoners took to social media with photos of themselves celebrating the New Year with the hashtag #LondonIsOpen.
But not every one was that generous of spirit at a time when Britain's 3 million EU residents are being asked to register themselves for settled status.
In a sign of the times, Conservative MP and Brexit-supporter Andrew Bridgen accused Mr Khan of a "betrayal of democracy".
"It's low, it's very low to politicise what is an international public event.
"It's a betrayal of democracy and it's what we have come to expect from a very poor mayor of London," he told The Sun.
"Over three million EU citizens have decided to make the UK their home despite Brexit.
"I wish all our politicians had as much confidence in post-Brexit Britain as these people."
With the headline "SNEAKY SADIQ Mayor Sadiq Khan slammed for turning London's New Year fireworks show into an EU tribute" the Europhobic tabloid even complained that the soundtrack contained Europop songs and "We Are YourFriends."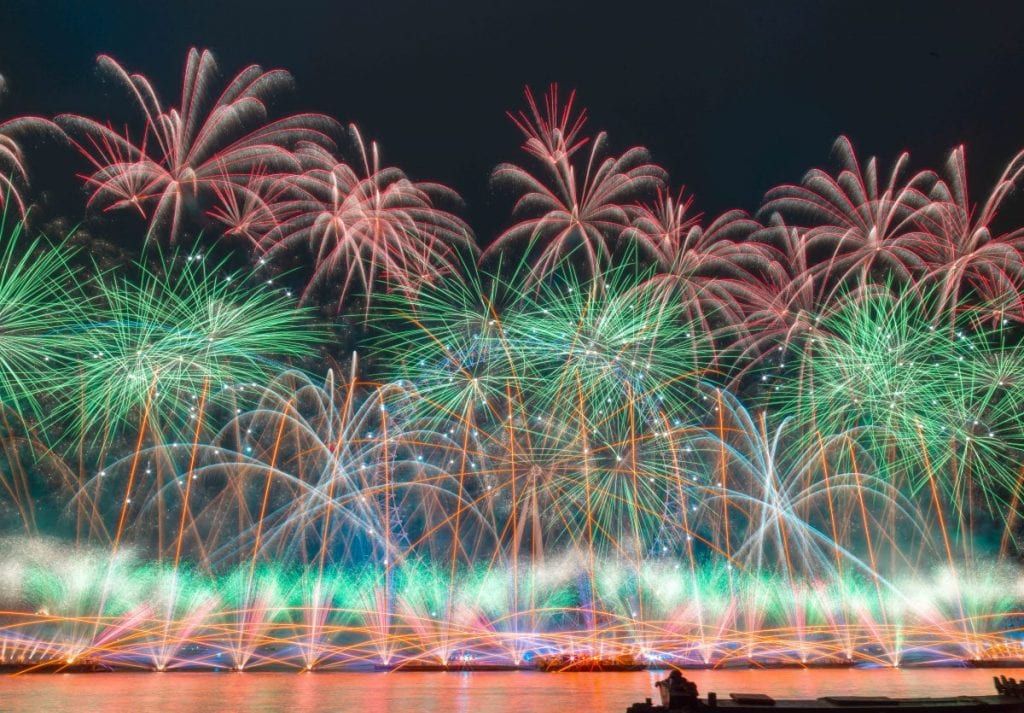 "Those who stood beside the River Thames rang in the New Year with a soundtrack that openly celebrated the work of musicians from across Europe," bleated The Sun.
"'We Are Your Friends' and 'Stay and Don't Leave Me Alone' were among the songs chosen for the 11-minute soundtrack, which featured artists from Ireland, France, Sweden and elsewhere.
"And the London Eye was lit up to resemble an EU flag as the song There For You, by drum and bass artist Culture Shock, rang out."