Far right activist Jack Renshaw has been jailed for life with a 20 year minimum after plotting to murder Labour MP Rosie Cooper with a sword.
The 23-year-old also threatened to kill a police officer investigating him for child grooming offences.
At another trial last year he was also sentenced to 16 months for child sex offences.
Renshaw gave a nazi salute in court towards his supporters who shouted "we are with you Jack."
At another trial last year he was also sentenced to 16 months for child sex offences.
The Judge at the Old Bailey told Jack Renshaw his plan to murder West Lancashire MP Rosie Cooper in 2017 was "an attack on democracy."
The judge said Renshaw from Skelmersdale, Lancashire, wanted to "replicate" the brutal murder of Labour MP Jo Cox.
Last year Jack Renshaw, 23, pleaded guilty to planning to commit a terrorist act which included buying a sword of the type used by Roman soldiers. His target was Rosie Cooper, the MP for West Lancashire.
He also pleaded guilty to making threats to kill a police officer who had been investigating him for an unrelated matter.
The CPS presented evidence that in his warped imagination the virulently racist Renshaw saw the murder as a blow against a "Jewish-controlled state" oppressing the white community.
He saw the MP as a traitor who deserved to die as she represented a false democracy.
He pleaded guilty on the first day of his trial to buying a machete to kill the West Lancashire MP and making threats to kill police officer Det Con Victoria Henderson.
Before sentencing him the judge at the Old Bailey heard how Renshaw was serving a three year prison term for stirring up racial hatred in two anti-Semitic speeches in 2016.
Renshaw admitted being a member of racist group National Action until it was banned as a terrorist organisation in December 2016.
Jenny Hopkins, from the CPS, said: "A crime of this type against anyone is a serious matter but when our MPs are targeted it is also an attack on the democratic process and public service.
"Jack Renshaw was prepared to act on his white supremacist world view and plotted to kill a Member of Parliament – a plan reminiscent of the abhorrent murder of Jo Cox MP.
"He also made threats against a police officer and his prison sentence reflects the seriousness of the offences."
Renshaw was given a life sentence on 17 May and ordered to serve a minimum of 20 years in prison.
The evidence presented by the CPS that led to his guilty pleas included Renshaw's online research in May 2017 on cutting the jugular artery and how long it would take someone to die from the wound.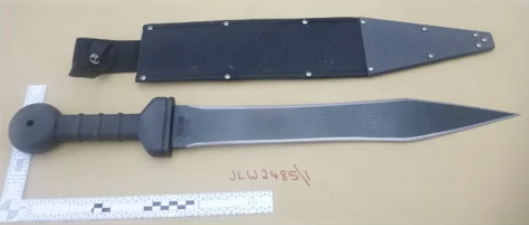 The following month he bought the sword which was described by the online seller as offering "19 inches of unprecedented piercing and slashing power at a bargain price".
Robbie Mullen, an acquaintance of Renshaw's in extremist circles, was a key witness for the prosecution. He began passing information to Hope Not Hate, an anti-extremist group.
This included details of a meeting between Renshaw and others on 1 July 2017 at a pub in Warrington. The meeting was captured by CCTV.
At the meeting, Renshaw told others of his plan to murder his local MP and admitted he had already bought the weapon.
Renshaw was jailed for 16 months in June 2018 for four counts of grooming adolescent boys.
Det Con Henderson, who was investigating the child sex offences, said she "had sleepless nights" until he was arrested.
"I am not prepared to let Jack Renshaw ruin my everyday life," she said.
The judge praised the two women who had been his targets and told Renshaw: "You have not defeated them."
Renshaw was among a host of far right figures banned by Facebook recently for spreading hate, including Tommy Robinson and Britain First.
How was far right terrorist Jack Renshaw radicalised?
Jenny Hopkins, CPS head of counter terror, said: "Jack Renshaw was prepared to act on his white supremacist world view and plotted to kill a Member of Parliament – a plan reminiscent of the abhorrent murder of Jo Cox MP."
Renshaw was also jailed for three years in 2018 for stirring up racial hatred in two anti-Semitic speeches in 2016.
Sentencing him for the terror plot, Judge Justice McGowan said Renshaw's "perverted view of history and current politics" led him to "an attempt to damage our entire system of democracy".
She said: "You praised the murder of Jo Cox in tweets and posts in June 2017. In some bizarre way you saw this as a commendable act and set out to replicate that behaviour."
Before joining the prohibited terror group National Action, the veteran far right race hate activist was once leader of the BNP youth party.
He joined the right-wing fascist movement when he was just 15 and was elected youth liaison officer.
At the time Nick Griffin who later was ousted due to financial mismanagement was leader.
Renshaw created a controversial recruitment video for the group which slammed "militant homosexuals" – and even hit out at the mum of murdered teenager Stephen Lawrence.
He aspired to be a politician with the British National Party – which has now been banned as an electoral party.
Renshaw as a youth gave interviews moaning about being spat at and abused for his "fascist' views as a student at Manchester Metropolitan University.
"People would call me a facist bastard and I've been called a Nazi – I always get called that. But I don't mind," he said at the time.
The BNP poster child and economics and politics student insisted he joined the racist movement when he became frustrated at the banking system and his perceived lack of white British people in UK cities.
His bizarre homophobic views were posted on social media including a post about a gay cure and a complaint he was derided for that his pet dog was gay.
The racist misfit admitted being part of the banned far right group National Action before it was prohibited following the Jo Cox murder.
Members of National Action attended terrorist style training camps to learn judo, kickboxing and mixed martial arts street fighting, a trial of the group previously heard.
Members of the race hate group were taught choke holds and fighting in a Brecon Beacons training camp.
Videos showed members sparring in boxing gloves, wrestling, jumping and rolling over cardboard boxes and throwing each other onto floor mats in judo style modes.
Videos were allegedly posted on the National Action website in an attempt to recruit young people in preparation for a "violent race war which the group will play an active part in".
Renshaw was alleged to appear in other National Action videos too where members gave 'sieg heil' salutes as they marched through northern cities including Liverpool, Newcastle and Rochdale.
After the murder of Labour MP Jo Cox, the group posted on Twitter "only 649 MPs to go" and in another post on June 16 published a photo of Thomas Mair with the caption "do not let this man's sacrifice go in vain. Jo Cox would have filled Yorkshire with more subhumans."