An alleged leader of a banned neo-Nazi group has denied encouraging his comrades to murder an MP, a court heard.
National Action leader Christopher Lythgoe, 32, is accused of giving the go ahead to Jack Renshaw for the planned attack in July 2016.
Renshaw, 23, has admitted he planned to kill his local MP Rosie Cooper and Detective Constable Victoria Henderson with a gladiator machete before hoping to be shot dead by the police during a hostage stand off.
The Old Bailey heard today that Renshaw wanted to make an ISIS style martyrdom video before he launched his attack.
And two days before Renshaw sent an image of a gladiator style machete before he told friends he planned to kill an MP, the jury was told.
Duncan Atkinson QC prosecuting said: "He wanted to make a video he hoped would go viral.
"He wanted to make a video similar to ISIS. Before a member goes out to commit an act of terror they make a video saying why they did it.
"He wanted to make a Jihadi video.
"He wanted to strike out at the system, the system National Action had been seeking to 'rip to shreds', to use the words on the website."
But Lythgoe denied encouraging Renshaw to kill then Home Secretary Amber Rudd instead of Ms Cooper, claimed he was only joking.
Mr Atkinson added: "In response to someone saying they wanted to kill himself, your response was to tell a joke.
"He talked about killing someone and you thought it might be he needed some new cutlery, he needed to do some pruning in the garden before killing an MP?"
Lythgoe replied: "It was a joke, it was my idea of humour.
"He could have bought it [the knife] for aesthetic purposes.
"My concern was he was suicidal so I interpreted everything he said as venting his spleen.
"Once he walked around the town centre shouting 'Hitler was right' and 'gas the Jews'.
"I didn't think he was capable of doing anything.
"All my writing is about strategy, there's nothing there about killing an MP."
The court heard Lythgoe arranged to meet other neo-Nazis in a bid to recruit more members, even after the Home Office banned the organisation.
Mr Atkinson said: "This new Nazi was going to be met by you [Lythgoe] to see if he was eligible to join the group.
"This is you developing the ideology to reach out to others.
"This is the group building up to training and to recruit others.
"A chap involved in camps before the ban was talking about organising another and getting those involved to go to other camps.
"You were recruiting people for white nationalism, you wanted to 'sing a song of race war'.
"You still had a desire for race war."
Lythgoe replied: "It's an ironic title, there wasn't actually a race war.
"I have never desired a race war or any kind of war.
"He had an interest in camping before he knew about National Action. It was a hobby of his to go camping."
Lythgoe, Renshaw, Mathew Hankinson, 24, Andrew Clarke, 33, Michal Trubini, 26, and Garron Helm, 25, are on trial at the Old Bailey on charges of belonging to a banned terror group.
Renshaw, of Skelmersdale, Lancashire, Lythgoe, of Woolston, Cheshire, Helm, of Seaforth, Merseyside, Hankinson, of Newton-Le-Willows, Merseyside, Clarke, of Warrington, Trubini, of Warrington, all deny being members of a proscribed organisation.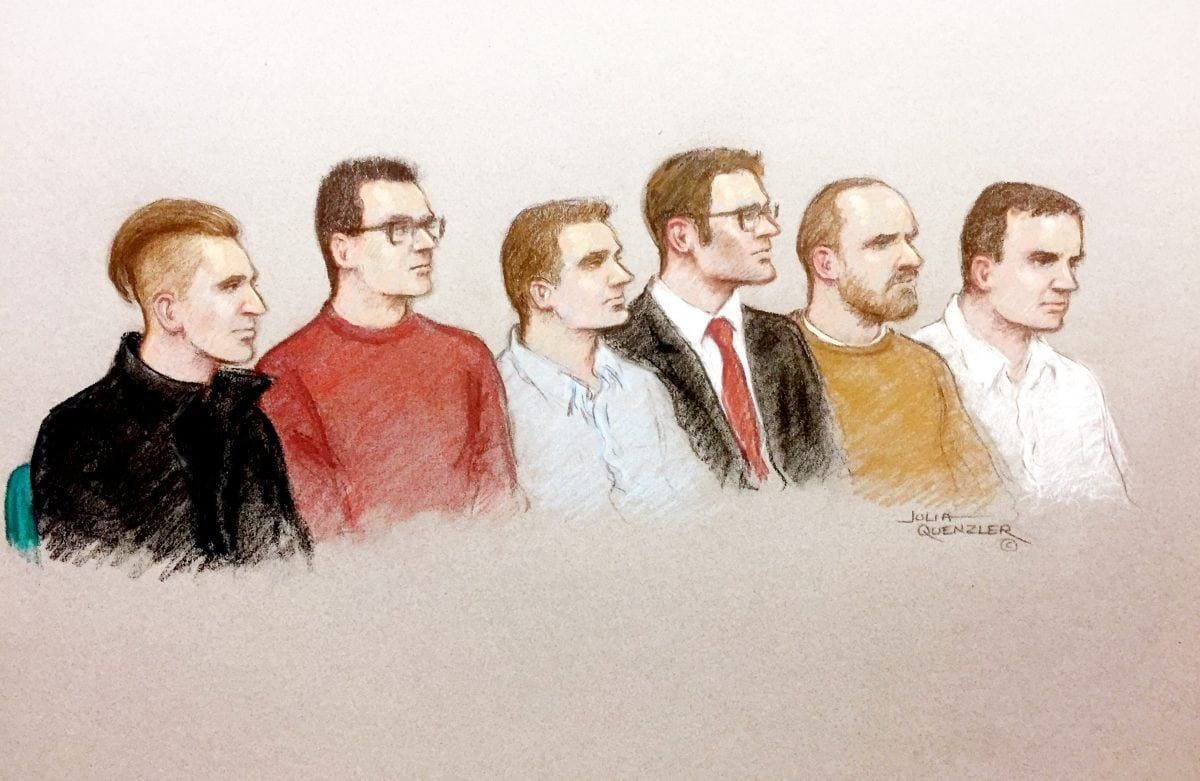 Renshaw admitted one count of engaging in conduct in preparation of a terrorist act and to one count of making a threat to kill at an earlier hearing.
Lythgoe denies one count of encouraging an offence of murder.
The trial continues.
By Ben Gelblum and Chris Dyer