Breaking Bad star Aaron Paul says he believes "common ground" can be found with Hollywood studios as soon as industry higher-ups "come back to reality".
The US actor, 44, was joined by his Breaking Bad co star Bryan Cranston on a Los Angeles picket line as strikes by members of US actors union Sag-Aftra neared the 50-day mark.
Actors began industrial action on July 14, after failing to negotiate new contracts with the Alliance of Motion Picture and Television Producers (AMPTP).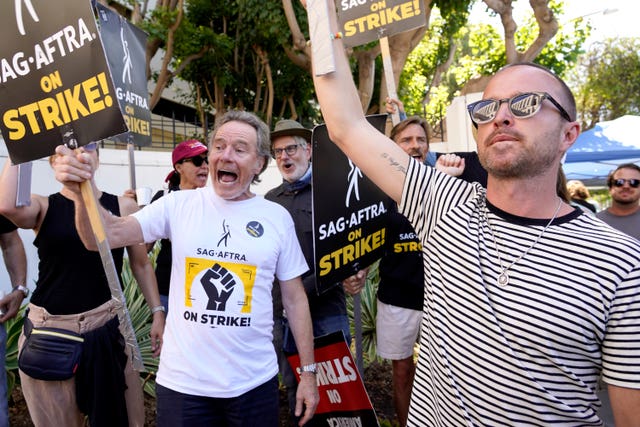 Speaking outside Sony Pictures studio, Paul and Cranston commented on the necessity of fair pay for actors, having both benefited in the past from residuals.
Residuals allow actors to be paid based on re-runs of their shows and films, and union members say they have plummeted with the advent and rise of streaming.
Paul told US outlet Deadline it was "beautiful" to be marching in solidarity with members of Breaking Bad, and its spinoff show Better Call Saul.
"The Breaking Bad family is a loving, supportive one," he said.
"It's incredible to walk around Sony that gave us jobs for many many years and I hope to work with Sony down the road, I love Sony.
"They're not the villains here, they're just not really understanding the reality of the situation.
"Once the higher-ups sort of come back to earth and come back to reality I really do feel that we're going to find a common ground and march forward in this."
Speaking about his first experiences in the industry, Cranston, who has been a Sag-Aftra member for 44 years, said residuals had been "part of the equation for working actors".
"That's how we paid our bills… residuals, international residuals, DVD sales and things like that but those things are gone," he told Deadline.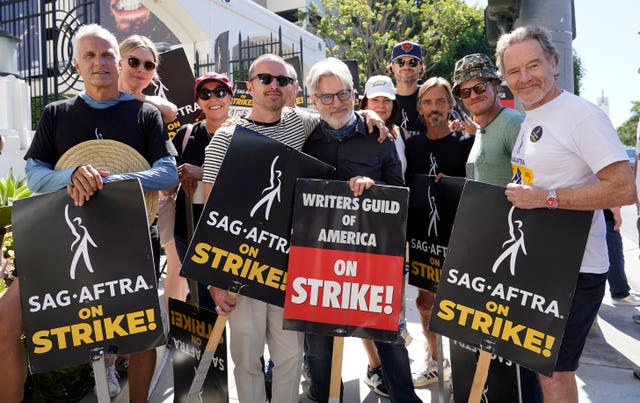 "We're here now saying the working actor has to have a considerable raise just to make ends meet."
He continued: "The AMPTP are made up largely of business people and they are… very good at their jobs – their focus is to make as much money as they can.
"They kind of like it that it's the movie and television business, but in truth they could be selling wrenches of lemonade. It doesn't matter to them.
"They just want and need to make money, that's what they're trained for.
"We're different, we want to make a lot of art and hopefully make a living by doing so, that's really it."
Paul added: "We're not going anywhere.
"We're standing in solidarity with every SAG member out there. And we're just fighting the good fight."
You may also like: Brexit blamed for failure to solve 'small boats' crisis poll reveals