A Valentine's Day card which was sent to a woman but has remained opened for 139 years is going under the hammer.
The card was penned by a mysterious admirer in 1880 but for unclear reasons, it was never opened.
The envelope also features a colour painted portrait of a blonde-haired woman who could have been the recipient.
Embossed on the cream-coloured seal, are the words: "As upon the quiet flowing of the streamlet shines the sun, – so with joy and gladness glowing – May thy moments […] run."
The card came into the possession of Lawrence Randle, a keen stamp and card collector.
His son Oliver, from Newbury, said: "My father collected most of these cards in the UK between 1949 and 1990 before moving to South Africa on his retirement.
"He worked for the Inland Revenue, rising to District Valuer in Devon, before retiring in the 1980s.
"Throughout his adult life he visited stamp and card shops in many towns and took great pleasure in finding items of interest, overlooked by others, in large boxes of unsorted cards."
Mr Randle's collection of 200 romantic Victorian and Georgian era cards are going under the hammer next month at Hansons Auctioneers.
Auctioneer Charles Hanson said: "It's a wonderful collection.
"These cards, many with delicate, lace-like detail and eloquent messages of love seem a million miles away from some of the mass-produced commercial offerings we see today.
"Before the arrival of the internet, social media and dating apps, courtship was a much slower, gentler and tentative affair awash with the type of romance we are familiar with in a Jane Austen novel.
"Lovelorn men and women would spend hours deliberating over poetic prose or making cards by hand.
"These cards, brimming with detail and words painstakingly written from the heart, show us the art of true romance.
"We were particularly fascinated when we came across a small unopened Valentine's envelope, no more than three inches long.
"Decorated with perforated hearts and a picture of a beautiful young woman, its seal was firmly glued down.
"You can feel a card inside but it seems wrong to open it.
"We will never know for sure whether the recipient saw it then firmly resealed it, but we do know that, more than a century ago, it was meant for someone special.
"Perhaps the portrait on the front of the envelope is of the person the card was written for, sketched by the admirer."
Another tiny envelope in the collection bears the message:
"Remember me whene'er you sigh, Be it at midnight's hour, Remember me, and think that I, Return they sigh and feel its power.
"Whene'er you think of those away, Or when you bend the pious knee, Or when your thoughts to pleasure stray, O then dear maid, remember me."
Mr Hanson added: "In this day and age, I can't imagine anyone writing a message asking their beloved to remember them each time they sigh.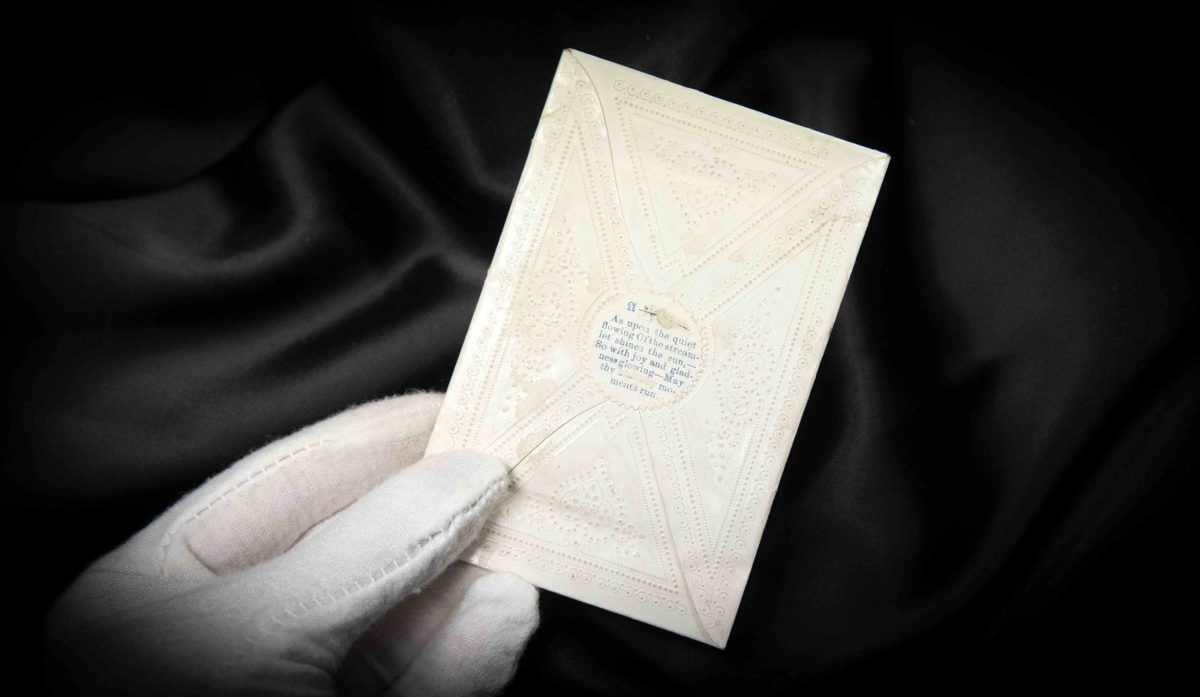 "Interestingly, many of the Valentine cards are so humble the sender only wishes to be remembered."
One example, entitled the Blissful Hour, says: "Say if no more in converse sweet, The blissful hour shall flee, Say if no more on earth we meet, Wilt thou remember me? No time shall change my firm regard, Or banish thoughts of thee.
"And I shall reap a rich reward, If thou'tl remember me'."
The three albums of cards is expected to sell for around £600 when they are sold on February 11.
By Mark Cardwell