A cancer patient recovering from a life-saving operation was forced to sleep in a hospital CUPBOARD because of a bed shortage.
Shocking images show Martyn Wells, 49, lying in the cramped windowless room after being wheeled into the makeshift ward just hours after having his stomach removed.
The father-of-four has been battling cancer since he was diagnosed with stage four malignant melanoma earlier this year.
He went under the knife at Birmingham's Queen Elizabeth Hospital last Wednesday and says he was wheeled into the cupboard while he slept.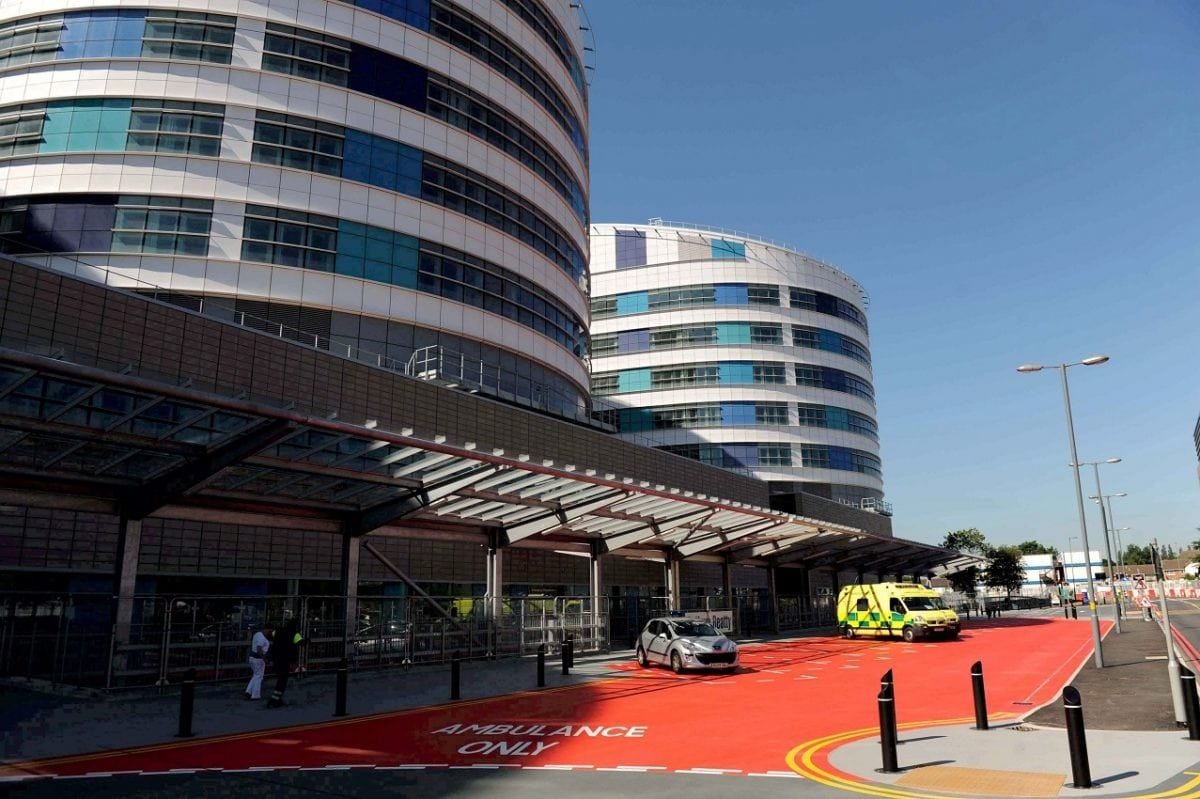 He said he was regularly interrupted by doctors entering the room to fetch equipment, and had to walk 50 metres to the nearest toilet despite being attached to a drip.
When he complained to a nurse the next morning, Mr Wells was told the room was classed as a "clinical decisioning space" and a bed shortage was to blame.
Mr Wells, from Worcester, tweeted Health Secretary Jeremy Hunt a picture of the "broom cupboard" to highlight the state of the NHS.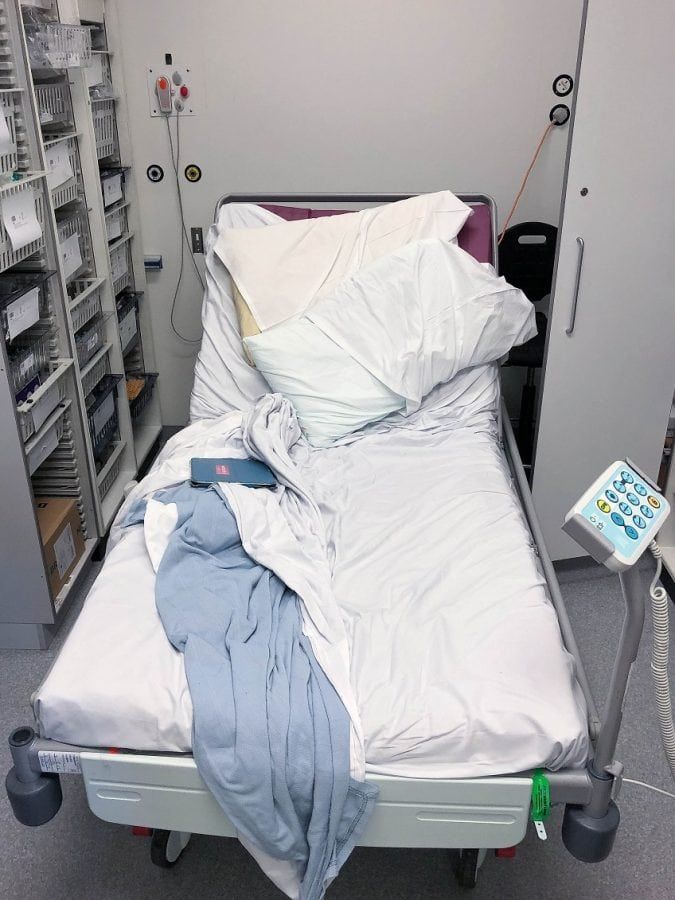 The IT manager said: "For me, this whole incident encapsulates the issues that we have in the NHS today.
"What on earth is the logic between putting a stage four cancer patient in a broom cupboard? I don't understand it.
"The night before, I was told that I might have to be moved from my side ward, because I was waiting for discharge and there were other patients.
"I told them I'd rather not be moved, as I was on a drip and had just taken a laxative, and didn't want to be embarrassed by being moved too far away from a toilet.
"At some point during the night, I must have been moved in there. I woke up in the morning, and was completely disorientated.
"I actually woke up to a nurse checking my blood pressure.
"They claimed that it was a 'clinical decisioning space', but that just seemed to be an attempt to justify putting me in a cupboard. It's jargon.
"If I'd have gone into cardiac arrest, I'd have died. No one would have got to me in time.
"I was lying there with a 15 inch incision in my abdomen, with literally no one around me.
"I was told that the nearest toilet was 50 metres up the main corridor, which was no help given that I was on a drip feed and had been given laxatives.
"Having to stagger down to go the loo was humiliating – it's an awfully long way to walk for someone that has just had their stomach removed.
"Somebody came in and gave me my breakfast, but there was no tray table for me to put it on. I had to literally balance it on my lap.
"There was equipment all up the shelves alongside me, and clinical staff kept coming in to pick things up for other patients.
"Some of them were apologetic, but others just shook their heads in disbelief. They were embarrassed, that's the best way to describe it.
"I almost feel guilty for complaining, because the surgeons that operated on me saved my live.
"But there must be something very wrong with the system if this is what's happening to ill people like me.
"I feel for the employees as well, because they can't do much else without the central funding.
"All the time hospitals are having to try to do more for less, and it's just not working out.
"I was discharged at lunchtime, and tweeted Jeremy Hunt, but so far I haven't heard anything back. I don't expect to, either.
"There seems to be no accountability, and that's a crying shame."
Mr Wells was diagnosed with cancer last March and was forced to have his stomach removed after a tumour was discovered.
He posted pictures of his bed surrounded by medical supplies on Facebook which have been viewed and shared thousands of times.
Writing on his page, he said: "I woke up in a cupboard. So I lie here typing this, surrounded by cannulas, stoma bags and other accessories.
"A team of ninja nurses burst into my room in the small hours, told me gently I was being moved and wheeled me into another dark haven.
"Waking this morning I find my new location is a cupboard.
"Are things SO bad in our great health service that they have to move stage IV cancer patients into a cupboard? Whatever happened to patient dignity?
"I've been told to use the staff toilet and have no access to any washing facilities.
"I'm trying hard not to moan as I am genuinely grateful just to be alive but I'll be glad to get home as there is something very wrong with the bed management in our hospitals."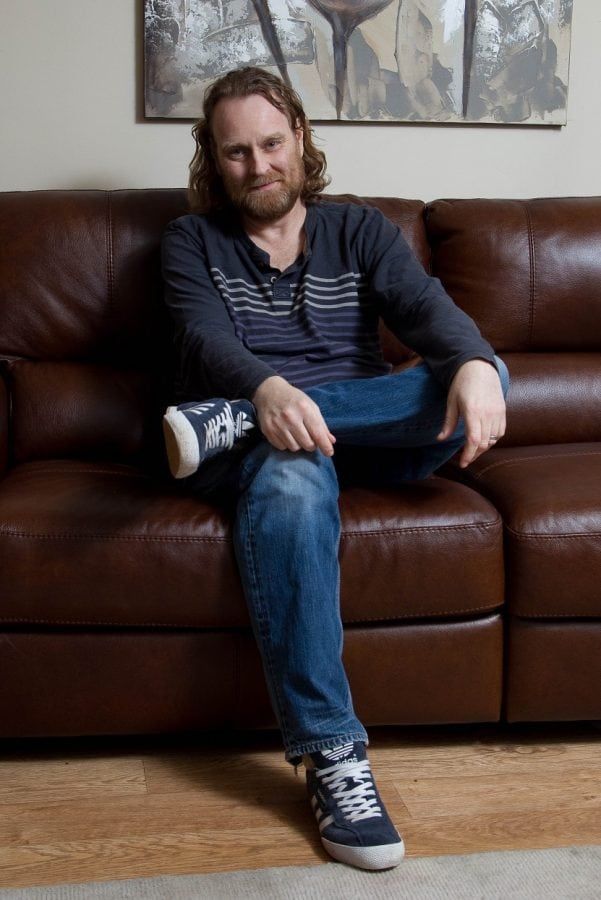 Health chiefs defended the decision to put Mr Wells in the room, saying staff followed "standard operating procedure for capacity escalation."
A spokesman for the University Hospitals Birmingham NHS Foundation said: "We are sorry Mr Wells is unhappy with his situation.
"The trust has a standard operating procedure for capacity escalation and a full capacity protocol which are strictly followed to ensure the safe care of all of our patients.
"When a ward reaches maximum capacity a patient who is clinically fit for discharge may be moved into a consultation room to allow another patient with clinical needs to be transferred onto the appropriate ward.
"The consultation rooms such as the one occupied by Mr Wells are fully equipped clinical areas and are used to support capacity management across the hospital.
"The dignity and safe care of all of our patients remains our priority."
Mr Wells is due to walk the length of the River Severn in ten days in September to raise money for Macmillan Cancer Support.
His fundraising page can be found here: https://www.justgiving.com/fundraising/severnway2018
RELATED 
https://www.thelondoneconomic.com/opinion/boriss-dodgy-dossier-shows-corbyn-may-not-make-popular-decisions-but-he-makes-the-right-ones/05/04/