A pair of homeless men have set up camp in a graveyard to escape the abuse they receive on the streets – which they describe as "the jungle".
Chris Stanford and Jonathon Martin said they have had things thrown at them, been spat at – and mean-spirited locals have even tried to wee on them.
Each day Chris, who uses crutches, helps Jon, who is paraplegic, into his wheelchair and the pair head to the high street in Chatham, Kent, to beg for change.
Jon, 38, said he needs a wound on his foot dressed says the district nursing team refuses to visit him because he has no fixed address.
He said: "There are some nasty people about who throw things at you, spit at you, wee on you in the doorway. It's disgusting.
"That's why we're in a tent, so that we have a little bolthole that we can come back to.
"We're out in all weathers, we've got loads of quilts and things so we're warm but a lot of things inside get damp."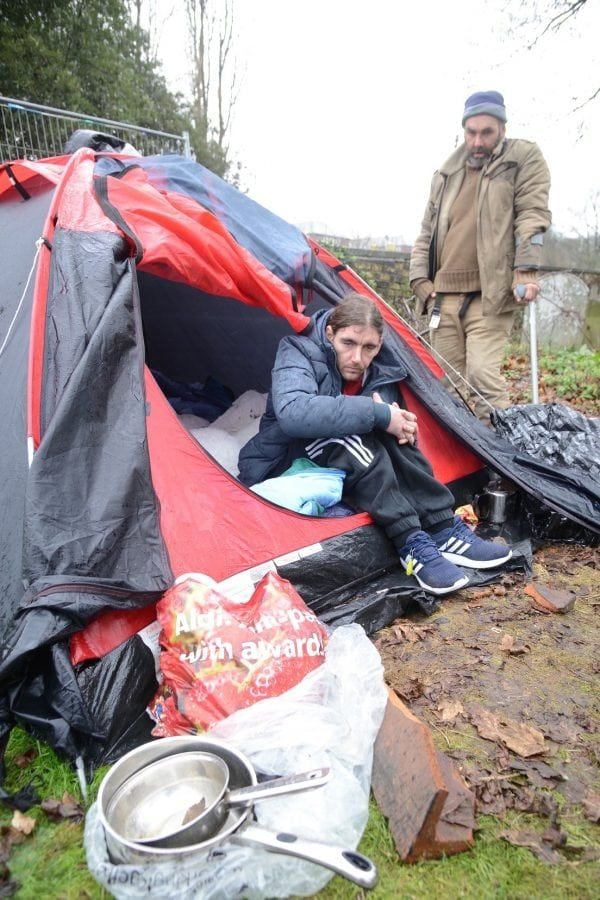 He became homeless two years ago after he split with his girlfriend of 16 years.
His home was eventually repossessed and Medway Council found temporary accommodation for Jon in a hotel.  But he said he was thrown out after taking pity on an elderly homeless man and letting him stay in the spare bed.
Jon slept on the streets before a local group, Medway Street Angels, gave him and Chris a tent.  Jon said he has been told he made himself intentionally homeless, so the council won't house him.
He added: "How can anybody make themselves intentionally homeless?"
"Why would anybody want to be on the street?
"I've got terminal lung disease and so has Chris. I've got asthma, cellulitis, and I've just had my toe amputated because of frostbite.
"I'm just asking for a room, somewhere safe that I can go to sleep."
He admitted he has had problems with alcohol and drugs, but said he has worked hard to overcome them.
Jon said: "The clock is ticking. We aren't getting any younger and it's a jungle out there.
"The pastor of the church where the graveyard is doesn't want us here but he's allowing it for the time being.
"He's tried to help us and called the council. They sent one of their managers and a housing officer – the same one that said I made myself homeless.
"They will not give me any housing unless it's minus four degrees outside."