A specialist armed counter-terrorism cop and his civilian worker wife have appeared in court following a brawl at Butlins in which a woman was stamped on and a 12 year old boy pushed.
Now both Met officer Joseph Kafel and his wife Laura, who works for the Cambridgeshire force, could face disciplinary action.
The ugly brawl erupted when the pair got into an row with a mother, grandmother and two children at a holiday park in Bognor Regis.
Burly PC Joseph Kafel, 35, ran into the two young boy's outside the Big Tent and kicked their football away after they had been splashing his autistic son in the swimming pool earlier that day.
Family members of one of the boys then challenged the Met Police firearms officer over his behaviour and a scuffle broke out at around 10pm at the park in West Sussex, on October 26 last year.
Mum-of-one Laura Kafel, 31, grappled with a fellow holidaymaker, Keeley Braniff, knocking her to the ground, scratching her neck, then kicked her to the ribs, back and stamped on her hand, a court heard.
Their 11-year-old son then threw a bag of chips at one of the boys who it was claimed had bullied him earlier in the day by holding his head under the water and threatening to punch him in the stomach.
Mr Kafel then pushed the same boy in the face, sending him stumbling backwards.
Laura Kafel pleaded guilty to assaulting Miss Braniff, but Joseph Kafel was found not guilty of assaulting one of the youngsters on the ground he used "reasonable force" to push the schoolboy away from his own son.
A spokesman for the Met Police said: "PC Joseph Kafel, who is assigned to Specialist Operations was charged with assault following an off-duty altercation at Butlin's in West Sussex. Sussex Police investigated the matter.
"During the investigation the officer was placed on restricted duties.
"Now that criminal proceedings have concluded a misconduct review will take place."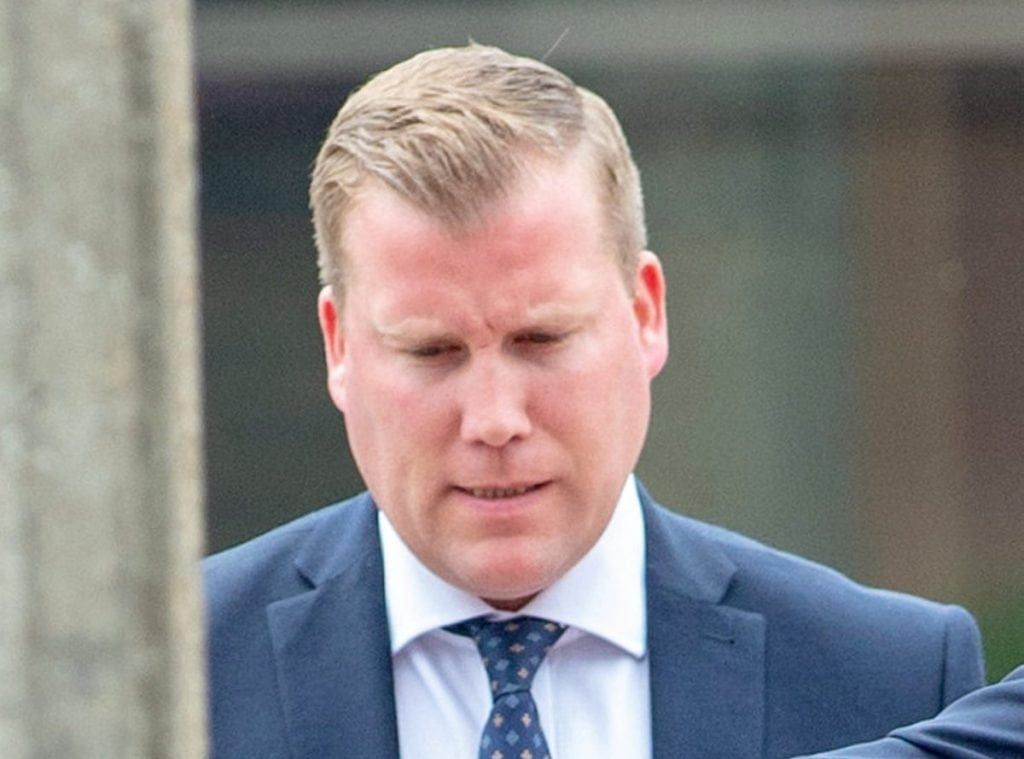 A spokeswoman for the Cambridgeshire Constabulary said: "A member of Cambridgeshire police staff, Laura Kafel, is now subject to a gross misconduct investigation for criminal actions outside of the workplace, following her guilty plea to assault by beating.
"She remains employed by the force."
The Met Police firearms officer told a court he feared his son was about to be attacked by the boy because he started walking towards the youngster.
Earlier the officer, with 17 years experience, said he booted their ball away when he saw them playing because he was "upset and frustrated" with the boys.
Horsham Magistrates Court was shown CCTV in which Mr Kafel approach the two boys and kicked their ball away before Keeley was knocked to the ground and the boy, who is a family friend of the mum-of-three and cannot be named for legal reasons, was sent flying from the brawling group.
Dad-of-three Mr Kafel told the court: "I knew this was the boy who attacked my son earlier in the day and it was my honestly held belief he was going to attack him again.
"I pushed him with my right hand to move him away from my children. I used reasonable force because I could see my son was scared, he is a vulnerable child.
"It was not a forceful push, it was to move him away to take him off balance and take him away from my son.
"As a police officer for 17 years I was not out of control. I'm a rational person, not the type of person who will fly off the handle and lose my temper."
But Chris Bull prosecuting said the 6ft-tall officer did not need to use any force even if he believed his son was about to be attacked.
He added: "He could have used words, he could have stepped between his child and the other child.
"If any intervention was necessary at all, no force was required. The crown say the level of force used was not necessary and was not proportionate."
Giving evidence via video link the boy told the court he was scared due to the height of Kafel.
He said: "When the man [Mr Kafel] came over he said 'what are you going to do?' He said it quite load and hit me on the left side of my face. It was a half slap, half push.
"It was hard enough for me to fall to the floor. It hurt, I was feeling scared in case he was going to do anything else. He was a big man and I'm much smaller than him."
Magistrates ruled the push was reasonable as CCTV seemed to suggest the boy showed no signs of being hurt and did not hit the ground.
Chair of the bench Ted Coleman said: "It's been agreed that you had gone up to those boys who you had been told had bullied your son and spoke to them and you kicked their ball away.
"You were very clear you feared the boy was going to attack your son and you pushed him away, which you believed you needed to do to protect your son. We conclude the CCTV supports this.
"We conclude the force used was reasonable in the circumstances and find you not guilty."
During a separate hearing Laura Kafel pleaded guilty to assault by beating of Keeley at Crawley Magistrates Court on May 29.
She was handed a 12-month conditional discharge, ordered to pay £100 compensation, plus a victim surcharge of £20 and costs of £85.
Keeley and her family had been planning to go on holiday in Turkey but had to visit Butlins in Bognor after the collapse of Monarch Airlines in October last year.
The 35-year-old had been visiting a Halloween pool party with with her mum, Victoria, her son and his school friend who Kafel was accused of assaulting, when the incident took place.
She said after the hearing: "We had a nice evening, then it descended into madness. You don't expect that at a family place like Butlins. It wasn't an 80s weekend with people getting rowdy.
"We were supposed to be going to Turkey but instead I got a kicking. It's just mind-blowing.
Mr Kafel, of Brampton, Cambridgeshire, refused to comment outside court.
https://www.thelondoneconomic.com/must-reads/broken-britain/inmates-at-womens-prison-holding-rose-west-shun-spice-now-smoking-tablets-for-bad-tummies/10/06/