A gay couple have called on their local vicar to step down after he controversially refused to bless their marriage at their village church.
Andrew Springett, 38, was left fuming after the Reverend Alan Comfort, 53, said he believed marriages were between men and women only.
The vicar cited Church of England rules banning "blessing" same-sex marriages.
But he refused to hold a special community event at All Saints Church in Dane End, Herts., despite other ministers offering to hold it at neighbouring churches.
Gay couples cannot be legally married in a Church of England church but the Diocese of St. Albans said the local church "is still there for its community".
Mr Springett said: "I'm so frustrated, I've desperately tried not to be angry about the situation but it's a real set back to not have it in our own village.
"I didn't foresee that he would be that objectionable since we were so embedded in the community.
"I certainly thought that he may have listened and he may have, we thought, been more understanding about how the world is now."
Locals dubbed Mr Springett and his fiancee Jason Dexter, 24, "pinky and perky" after they moved to the hamlet of Dane End in Hertfordshire 18 months ago.
Nearly 100 villagers attended their £5,000 stag do at a local golf club in August when they planned to have a blessing at as part of their dream wedding.
The couple who delivered their parish newsletter have now been forced to have their blessing three miles away at St Andrew and St Mary Church in Watton-at-Stone.
Asked if he believed the Rev should step down, he said: "100%. He should listen to his community, he needs to understand, how accepting the world has become and that his views are outdated.
"What we are battling is someone's personal views and not legal views or the views of the community.
"He should take a real hard look at himself and realise that he is not a community leader or should be one with that much authority."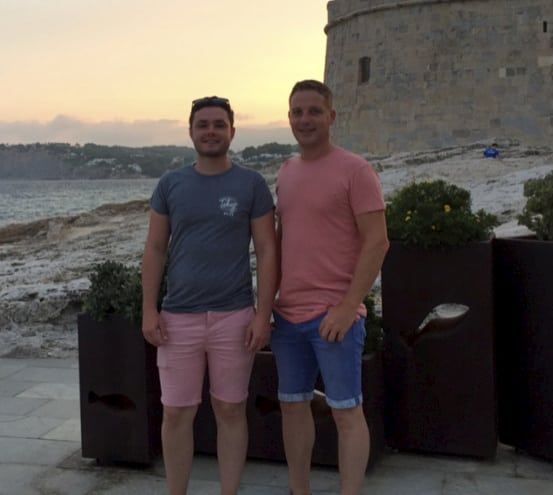 Mr Springett, who owns nursery chain Ability 2 Create Ltd, claimed a "very very large" proportion of the local community had rallied around him and his scientist fiance over the issue.
Hundreds of comments of support were made after he told of his shock when the vicar refused to hold a traditional church event ahead of the formalities at a registry office last week.
The businessman, who was brought up in a "traditional Church of England" home near Chelmford, Essex, said holding a community event as part of their marriage was "really important" to him and his scientist fiancee.
The dog-lovers take their two beagles on walks past the church every day from their a stunning 15th century cottage home which they say is "open" to the whole village.
Around 80 of 200 of the people who attended their stag do at White Hill Golf Club were from the village.
Andrew has put in a formal complaint over his treatment to the Bishop of St Albans and is awaiting a response.
He is also planning to seek legal advice over the incident.
The Rev Alan Comfort said: "The Church of England has not agreed for same sex marriages to take place as yet, and the debate concerning this is a struggle for many of us. In law Andrew is legally able to be married to Jason and I wish them well in their decision.
"As a Christian I believe that marriage should be between a man and a woman and I must hold to the integrity of my own beliefs whilst wishing others well in whatever they choose.
"I did encourage Andrew to talk to other churches or church leaders who may see things differently as I know some may do."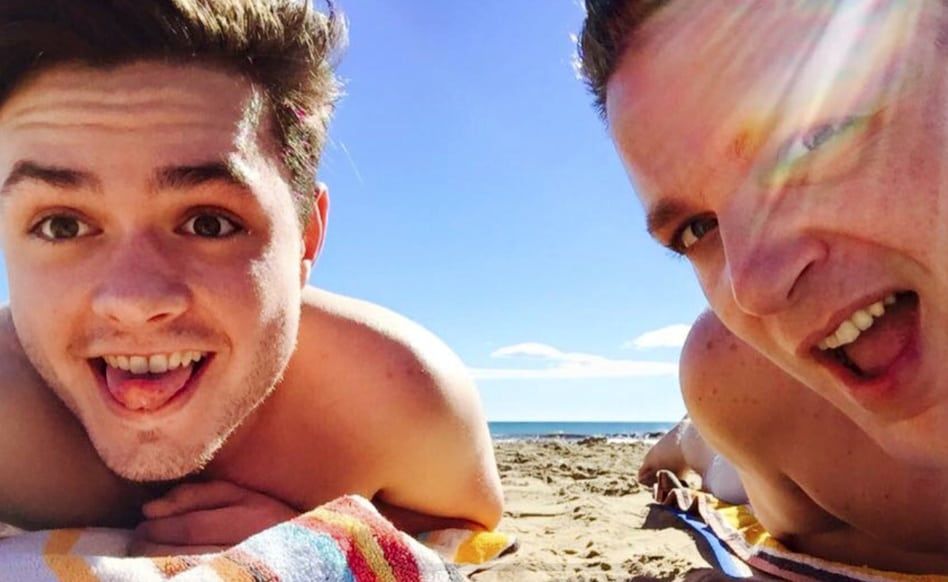 A spokesman from the United Benefice of Standon and the Mundens with Sacombe, part of the Diocese of St Albans, said: "We believe we have offered kindness to Andrew and Jason but need to clarify what current Church of England rules allow us to do.
"Clergy of the Church of England are unable to marry couples of the same sex and, under the House of Bishops' pastoral statement on same-sex marriage, 'services of blessing' should not be provided for those who enter into civil partnerships or same-sex marriages.
"Church of England ministers are not permitted to carry out or bless same-sex marriages, but the local church is still there for its community and visitors to the area."
RELATED 
https://www.thelondoneconomic.com/must-reads/good-news/kind-hearted-mum-posted-tongue-cheek-complaint-aldi-given-free-food-shop-handed-whole-lot-local-foodbank/19/12/
https://www.thelondoneconomic.com/travel/british-army-families-affected-afghanistan-war-sent-santas-lapland-holiday/19/12/
https://www.thelondoneconomic.com/must-reads/fascinating-pic-incredibly-rare-weather-phenomenon-known-fogbow/19/12/