DHL workers who stole £6,000 of duty-free jewellery from British Airways were spared jail as the airline loses £3.3 million worth of stock 'stolen off the back of lorries' each year.
Driver Jeffrey Morton, 36, his loader Donald Marklew, 41, and Marklew's wife Amandip, 31, were arrested hours after they joked about snatching the goods off an aircraft trolley at Heathrow Airport.
The men employed to transport used blankets and headphones to cleaning centres for them to be reused loaded the designer jewellery into a big red BA-branded bag in their truck.
They laughed as they exchanged WhatsApp voice messages with Amandip Marklew, a BA worker at the airport, telling her to pick up the bag at a pre-arranged rendezvous point in Hounslow, west London.
But their plan was foiled when DHL logistics manager Mandeep Sandhu saw the lorry stop in front of her during her morning commute to the airport at about 8.30am on September 6.
Shocked she watched as Marklew emerge from the truck and hand over the bag to his wife waiting in a BMW – who she also recognised from the airport.
She immediately reported this to her boss and police went to Marklew home in Hounslow half an hour later and arrested Amandip while her husband was arrested at his workplace.
Just after lunch Morton was arrested at work.
Judge Karen Holt gave the men suspended jail sentences and Amandip Marklew a community order after being told they had family dependants and had no previous convictions at Isleworth Crown Court.
She said: "It's right to note that the prevalence of this offending is something the court is very aware off and in fact theft from trolleys is a significant problem.
"I'm told that British Airways are losing in the region of £3.3m a year from such offences and that clearly has an impact on a number of people.
"Clearly the goods were all recovered, although that is more by fortune than any other reasons.
"Items of such value cannot be stolen without people who handle them – that's how it works. All of this offending is serious."
But she added: "You are, and have been so far, hard working members of the public, who have all been in employment before."
Describing the moment how they were caught red handed prosecutor Alexander Wright said: "DHL are involved in the service of British Airways aircraft and part of the role that Mr Morton and Mr Marklew were involved was the removal of dirty blankets and headphones in order for them to be clean and reused."
The prosecutor read WhatsApp voice message between the couple arranging the rendezvous which recorded Morton laughing about the theft in the background.
In one he said: "I need you to get here and I'll run and give you the bag, yeah, of duty free."
Mr Wright explained Miss Sandhu was driving to work that morning, "when she found herself behind a DHL lorry which stopped on Green Lanes in Hounslow causing some delay.
"She saw Donald Marklew who she recognised emerge out of the lorry with a big red BA bag, go to a BMW and put the bag in the BMW."
Amandip Marklew admitted taking the bag when officers turned up at her home and the prosecutor said: "She said, 'he made me take it.
"I'll be honest, there was a big red bag which he gave me this morning which is upstairs'."
"She pointed out a multi-coloured bag, a shopping type bag, which contained £3,642 worth of aftershave and perfume.
"There was an unopened text message which said, 'Hi Amandip, do you have any Pandora?'
"Amongst the jewellery which was found in the red bag there was eight items which were Pandora jewellery."
The prosecutor said the DHL workers had agreed to split the jewellery 50:50 while Donald Marklew admitted to police that he bought the perfume knowing it was stolen from BA.
Mr Wright said: "He said he paid £600 for it and admitted he was going to sell it through Facebook and that he thought the perfume was probably stolen."
The prosecutor said Amandip Marklew claimed: "Their relationship is strained and there would have been arguments at home if she did not take it."
Jobless Donald Marklew, the prime carer for his 81-year-old mother, who has dementia, and Jeffrey Morton, a dad-of-six, admitted one count of theft by employee of £5,701 of jewellery belonging to BA.
Amandip Marklew, now a carer, admitted handling the stolen jewellery and Donald Marklew admitted handling the stolen perfume he bought from Hounslow Heath market.
Their defence counsel all described their crimes as "out of character" and Michael Goold, for Morton, said he now was the sole breadwinner for his family, earning just under £29,000 as a concrete truck driver.
Morton, of Bracknell, said outside court: "I'm very remorseful as to what I've done.
"It's certainly not the case that you will be seeing me back here again."
Donald Marklew was given a 10 month jail sentence, suspended for 18 months with 200 hours of unpaid work for the theft charge.
He received a two-month suspended sentence concurrently for the handling crime.
Morton was given eight months in jail suspended for 18 months with 120 hours of unpaid work.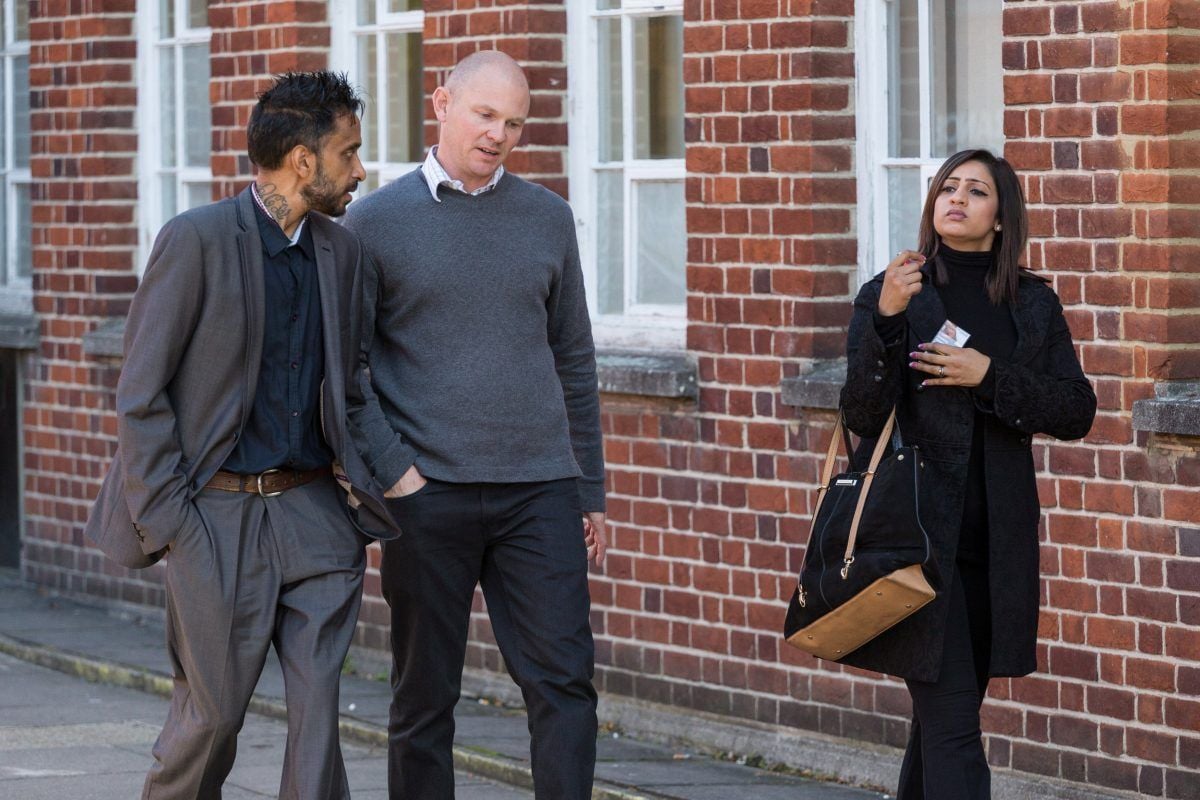 Amandip Marklew received a 12-month community order for 80 hours of unpaid work.
All three must pay £160 prosecution costs, with men charged £140 and Amandip Marklew £85 victim surcharge.
PC Jon Houston of the Aviation Policing Command's Crime Squad, said: "This case proves that while there are people who will abuse their position at work, there are also very vigilant colleagues who waste no time in reporting suspicious behaviour to police.
"The DHL manager did the right thing in reporting the Marklews' activity and it is thanks to her that the group was stopped.
"When we were alerted to the Marklews' suspicious activity we acted quickly to recover the stolen items and prevent further criminality by the group."
By Berny Torre