A City banker was nicked while dressed as a policeman and riding his former police motorbike – complete with blue light – on his daily commute into London.
Darren Emanuel, 46, was nabbed wearing the old police uniform while riding down Park Lane in Mayfair during rush hour just days after the London bridge terror attack last June when 11 people were killed.
He was found guilty of one count of wearing a police uniform with intent to deceive following a three hour trial at Hendon Magistrates Court. today
He was stopped by traffic cops wearing a hi-vis police jacket underneath a 'POLITE notice Think Bike' tabard on Friday June 23rd at about 5.45pm.
He was riding a white former South Yorkshire Police BMW R1200 motorcycle, which he has bought on eBay for his daily commute in and out of the City.
The bike also had a Royal Corps of Transport crest sticker on the front screen, and a ER (Elizabeth Regina) crest below the rear number plate, black and white 'battenburg' stickers along either side and raised rear blue light, which was no longer working.
The court heard from Met Police Traffic officer PC John Harding who originally pulled over Emanuel as he was concerned about the rear blue light.
PC Harding said: "I think a person with a reasonable purpose looking in their rear view mirror would think that is an emergency service vehicle or a police motorcycle coming towards them.
"We police by consent in this country and we have a good relationship with the people and public in London and they facilitate our passage through the high traffic, knowing we're are working and trying to keep London safe.
"If you look at that in your rear view mirror, you would think that is a police motorcycle.
"And police motorcycles will tell you what happens: they move out the way to allow us to carry out our work."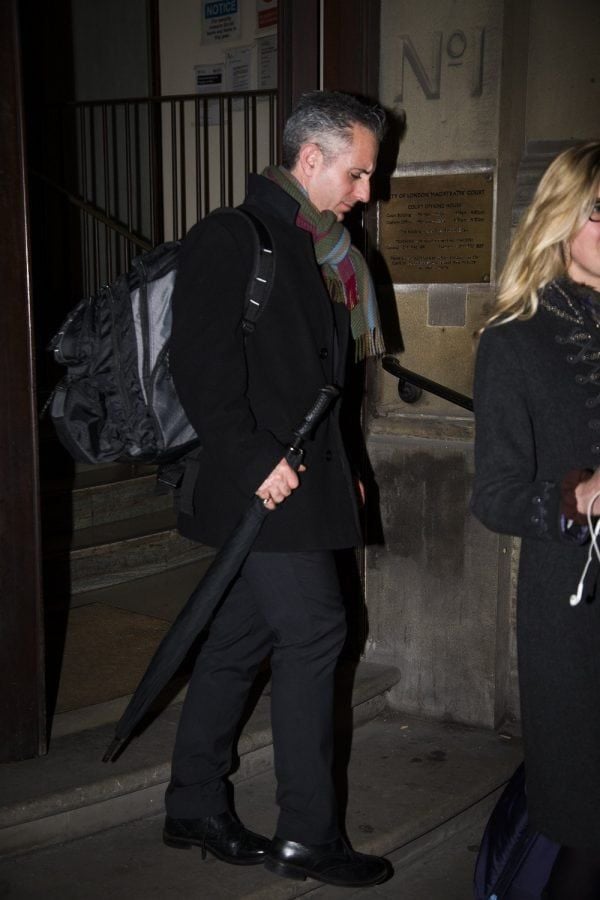 He added: "There is not one specific thing on the bike, it is the whole bike giving that impression."
The officer told the court the high vis jacket warn under the vest, was an old police jacket based on the three reflective strips on the sleeves, which are only on officers' uniforms.
He said: "I said to him in the current climate, and just 20 days before this we had a terrorist attack in London and public confidence is at a low, and we want to reassure the public.
"I myself have responded to two terror attacks in London and I know firsthand what happens in a terrorist attack.
"Now I am not saying Mr Emanuel is a terrorist, but to undermine public confidence by his driving through London gives the impression he is a police officer by his sheer presence on the road."
He asked the defendant why he was riding on the road and said to the officer, "you know how it is? I want to be safe driving in London."
He told the officer he had a law degree and was a banker and the officer said: "He then told me 'I have a friend at The Police Driving School at Hendon and I consulted with him with him to see if I was the right side of the law'.
The court heard the officer told Emanuel that police motorbike riders had been a target for some moped riders.
He said: "I myself have been kicked off my motorcycle trying to apprehend one of them."
He added: "He is tying to deceive members of the public as he rides through London, and I would know from my job, and they move out of the way."
In his defence Emanuel, told the court he bought the bike from a man in Cardiff after finding it on eBay.
He said the seller told him he was a former policeman who was giving up motorcycling.
Emanuel claimed the seller told him he had been riding it for several years and had not had any issues from the police concerning the bike.
Emanuel also said the former police jacket and gilet with 'Polite' on it were given to him by the seller free of charge and he stitched them together to wear for his commute.
He said: "I have commuted over 1,000 miles on that bike and must have gone past countless traffic police officers in that time and none of them had any issue with me."
However the panel of three magistrates found him guilty of the single count.
Magistrate chair Grant McCrostie, said: "In our view the police jacket together with the look of the vehicle combined to produce a look which a member of the public would be deceived into believing that you were a police officer performing his duty."
Sentencing Emanuel, he said: "We accept that this offence had never been your intention to deceive, but that was the effect.
"Particularly at this time it is really important that the public have confidence in the police. Your actions undermined that."
Emanuel, of Chalfont St Giles, Bucks, was given a 12 month conditional discharge, and ordered to pay £650 costs as well as a £20 victim surcharge.
RELATED 
https://www.thelondoneconomic.com/must-reads/land-rover-dog-shows-off-farming-skills-driving-masters-tractor/07/02/