Murder Squad cops were today questioning a 17-year-old lad after another teenager was stabbed to death.
Police say the 18-year-old victim was found at a flat in Greenwich, southeast London, on Saturday night following reports of a stabbing.
He was pronounced dead at the scene.
The victim, who has not been named, was the 23rd teenager to be murdered in the capital this year, and the 25th in the last 12 months.
The scene of the latest murder in Prior Street, Greenwich, remains cordoned off.
A Scotland Yard spokesman said: "A murder investigation has been launched after an 18-year-old man was fatally stabbed at a residential address in Greenwich.
"Police were called by paramedics to Topham House, Prior Street, at 9.41pm on Saturday December 8th following reports of a man stabbed and unresponsive.
"Officers attended along with London Air Ambulance. The teenager was pronounced dead at the scene a short while later. His next of kin have been informed. A post-mortem will be held in due course."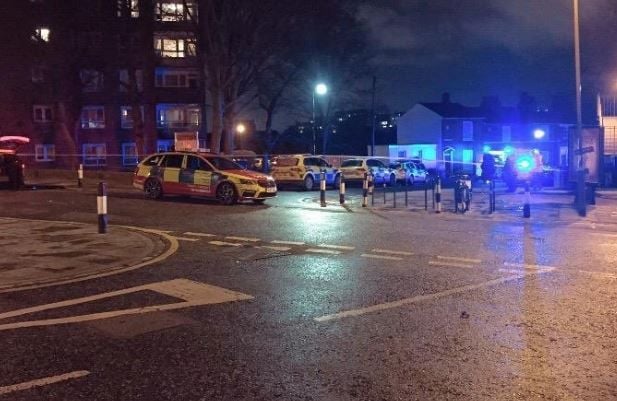 He added: "One male aged, 17, has been arrested in connection with this incident.
"He remains at a south London police station for questioning.
"A crime scene remains in place. Detectives from the Homicide and Major Crime Command are investigating along with police in Greenwich.
"Police are appealing for witnesses and those with information about this attack to contact them."
A total of 26 teenagers were murdered in London last year, the most since 2008, 20 of whom were fatally stabbed.
The grim roll of teenagers murdered in London in 2018:
1.
February 3rd: Hasan Ozkan, 19, repeatedly stabbed in Barking, east London
2.
February 11th: Italian national Sabri Chibani, 19, stabbed to death in Streatham, south London, weeks after moving to the capital to build himself a "great future"
3.
February 14th: Promise Nkenda, 17, from the Newham area, repeatedly stabbed in the chest in Canning Town, east London
4.
February 18th: Lewis Blackman, 19, known as Dotz, stabbed to death outside Freddie Mercury's old house in Kensington, west London, following a party
5.
February 20: Abdikarim Hassan, 17, a business student at Westminster College, knifed to death on the Peckwater Estate in Kentish Town, north London, just 200 yards from a makeshift shrine in memory of Lewis Blackman who also lived there
6.
March 8th: Privately educated Kelvin Odunuyi, 19, a rapper who performed under the name DipDat and was also known as Lampz, shot dead by thugs on a moped as he stood with pals outside a cinema in Wood Green, north London
7.
March 15th: Lyndon Davis, 18, died hours after being stabbed in Chadwell Heath, east London
8.
April 2nd: Tanesha Melbourne, 17, shot dead in a drive-by shooting in Tottenham, north London, on Easter Monday
9.
April 3rd: Amaan Shakoor, 16, died in hospital the day after being shot in the face near his home in Walthamstow, east London
10.
April 4th: Israel Ogunsola, 18, fatally stabbed in Hackney
11.
April 15th: Natasha Hill, 18, found with fatal head injuries at an address in Abbey Wood, south east London. A 32-year-old man arrested at the scene on suspicion of murder has been re-bailed to a date in mid-October.
12.
April 16th: University student Sami Sidhom, 18, fatally stabbed near his family home in Forest Gate an hour after returning from watching his beloved West Ham United play
13.
May 5th: Rhyhiem Barton, 17, shot dead in broad daylight near his family's flat in Kennington
14.
June 23rd: schoolboy Jordan Douherty, 15, from Chafford Hundred, Essex, stabbed to death after a birthday party in Romford
15.
July 12th: Katerina Makunova, 17, stabbed to death in a block of flats in Camberwell
16.
July 26th: Latwaan Griffiths, 18, from Southwark, died hours after being found with knife wounds in Camberwell
17.
August 27th: Abdi Ali, 18, reported missing on New Year's Eve found stabbed and beaten around head in loft of a house in Enfield. He was last seen at home by his family on December 11th, 2017, following a wedding
18.
September 22nd: Guled Farah, 19 of Newham, shot dead in Walthamstow
19.
October 22nd: Ethan Nedd-Bruce, 18, ambushed by three thugs on mopeds and stabbed in the back on the Flamsteed Estate in Greenwich
20.
November 1st: Jay Hughes, also known as Jai Sewell, 15, fatally stabbed in Bellingham
21.
November 2nd: College student Malcolm Mide-Madariola, 17, fatally stabbed outside Clapham South tube station
22.
November 5th: John Ogunjobi, 16, stabbed to death in Tulse Hill
23.
December 8th: Lad, 18, stabbed to death in a flat in Greenwich
By Ben Gelblum and Stephen Beech