A middle-aged man was caught on camera browsing 'fat porn' at a public library as little girls sat just feet away.
The sleazeball was filmed brazenly flicking through pornographic images showing larger women engaged in sexual acts.
Nagina Khan, 23, spotted the man's inappropriate browsing while visiting Langley Library in Slough, Berks., with her husband Ahmed, 23, and five-year-old nephew.
They filmed the pervert for one minute before confronting him about his behaviour. The man has now been banned from the library.
Nagina said: "It was absolutely disgusting. My husband and I took my nephew to the library and we left him for one minute unattended on the computer.
"When I turned around, he was laughing and that's when I noticed the man looking at pornography.
"There were two young girls sat just feet away. They must have been just five or six years old."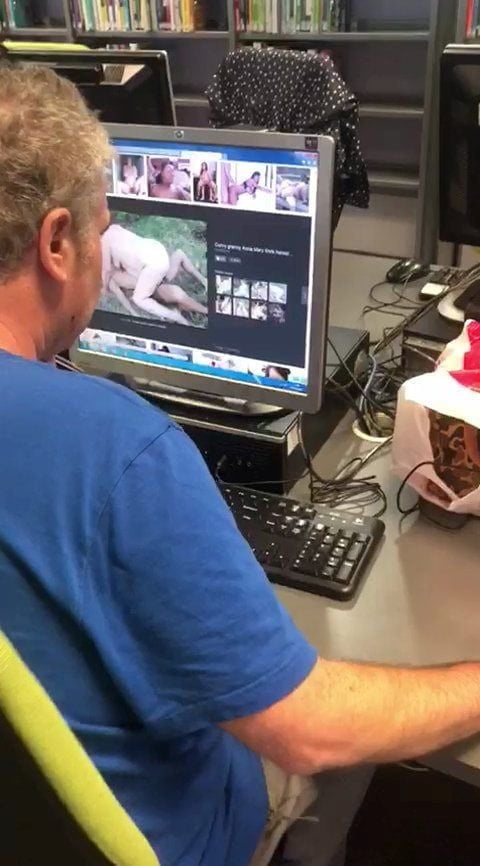 Nagina, from Slough, whisked her nephew to another part of the library and returned to confront the man as Ahmed filmed gim.
She said: "I told him: 'What are you doing? There are children here'. It was disgusting. You shouldn't be seeing these things at a public library.
"Children come there to read, study, play and go on computers but that doesn't mean adults should come there and abuse it."
Astonishingly, the man did not hide the sites he was viewing but simply asked: "What are you filming me for?"
He then scuttled off into a different part of the library where he sat reading a newspaper.
Nagina claimed that she told a librarian what had happened but the librarian did not take the matter further.
She said: "I told the librarian and she said she had told him to stop using the computer. But that was the most action she wanted to take."
But Nagina's husband Ahmed sprung into action and began filming the man for evidence.
Nagina has chosen to go public with the footage of the June 5 incident in the hope it will highlight the man's disgraceful behaviour.
She said: "It's been a terrible experience. I feel so sorry for my nephew and it broke my heart to see those little girls so nearby. The library really should have kicked him out."
A spokesman for Slough Council said: "We can confirm there was an incident in Langley Library where a gentleman was reported for looking at pornography on a library computer.
"The library computers have several systems on them to prevent such activity but unfortunately some people have managed to bypass this in the past.
"As soon as the man's actions were reported to library staff he was remotely logged off the system and his details taken.
"We take incidents like this very seriously and have taken immediate action including deactivating his library card – meaning he can no longer access library services including computers – and banning him from all Slough libraries."
https://www.thelondoneconomic.com/must-reads/police-hunting-thugs-who-attacked-two-elderly-men-in-their-homes-after-posing-as-cops/08/06/