A grieving mum whose four children were murdered in a horrific arson attack on their home today vowed she would be 'reunited' with her 'angels.'
Michelle Pearson, 36, made the emotional pledge in a tribute read at their funeral.
She was not able to attend the service because of medical complications from the injuries she suffered in the attack.
Her children Demi Pearson, 15, Lacie, seven, Lia, three, and Brandon, eight, died after becoming trapped in their bedrooms while they slept during the firebombing on the family home.
Their mother Michelle escaped with her youngest daughter Lia who died in hospital two days later.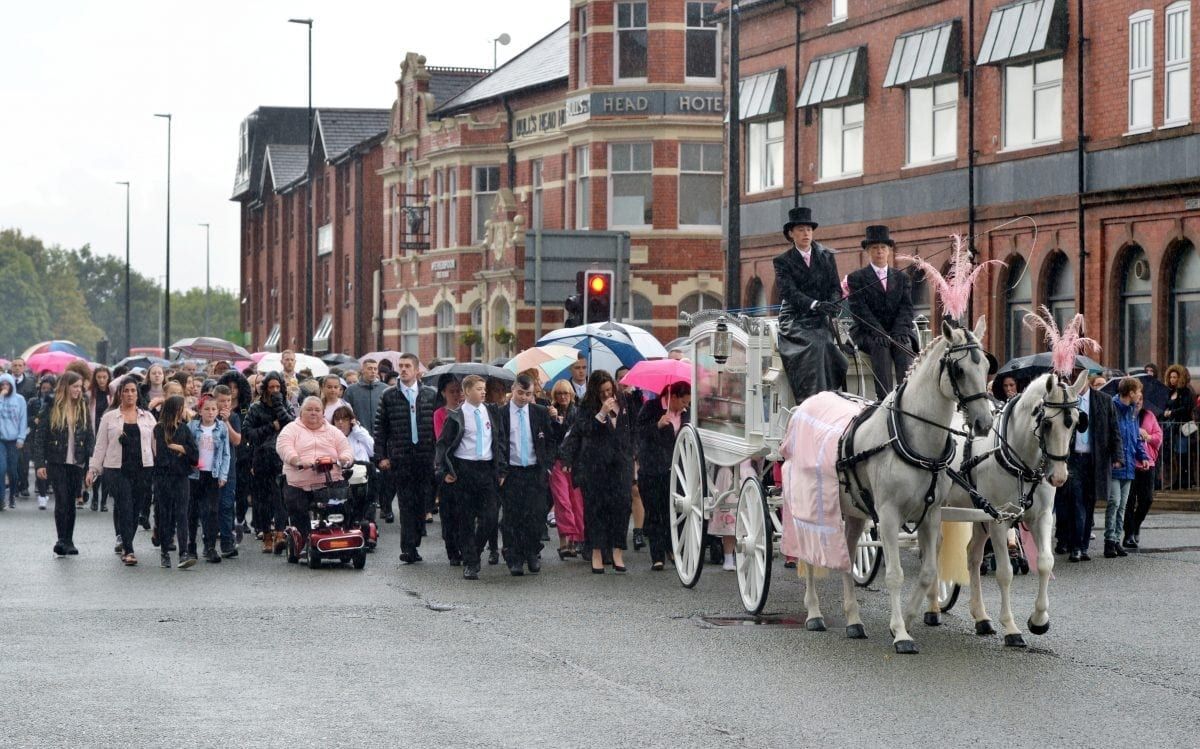 Michelle only learned her children had died when she awoke from a medically induced coma four months after the sickening attack which happened last December.
Her mother, Sandra Lever said yesterday that due to 'unforeseen medical circumstances' her daughter would now not be able to attend.
Her family said Michelle had wanted to attend the funeral despite still being very poorly after suffering a series of infections.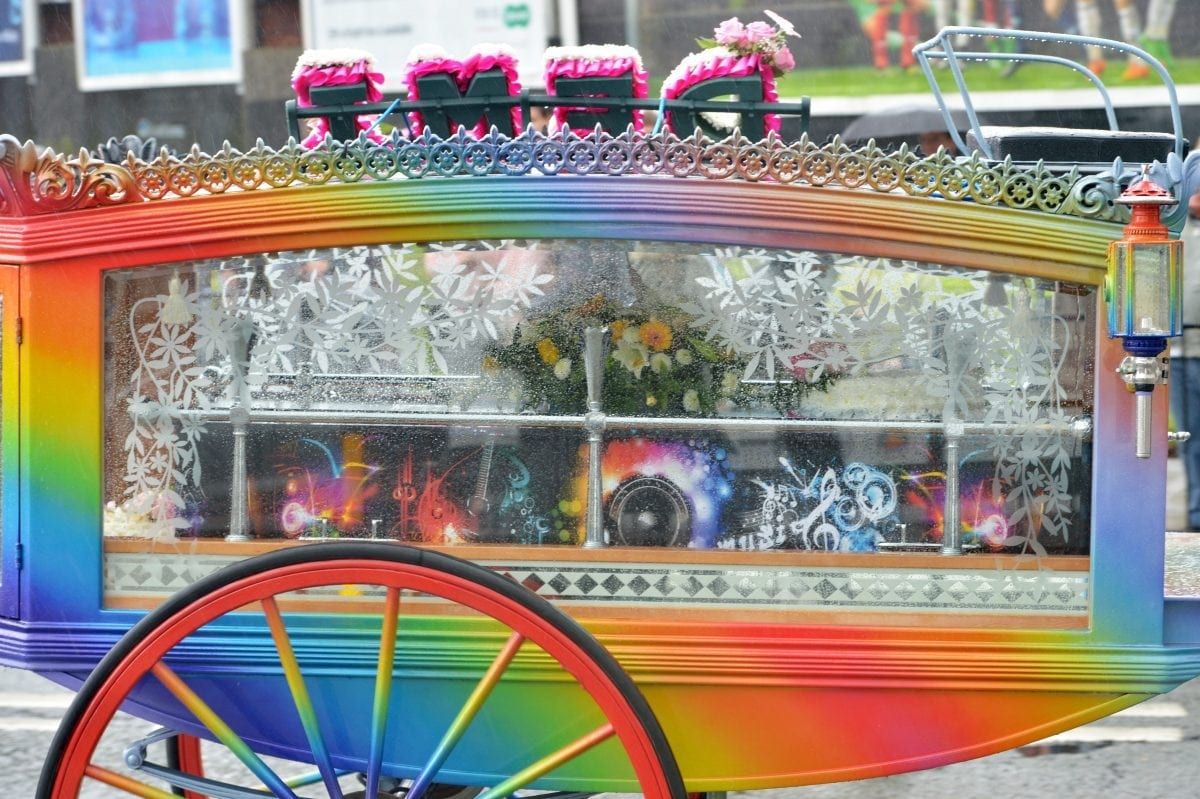 A tribute written by Michelle was read to the congregation today instead.
She described the children as 'so close', adding: "They were the twinkle in my eye, now they are angels in the sky. One day we will be reunited together forever."
Hundreds of mourners dressed in blue and pink lined the streets in Walkden, Greater Manchester.
The children's specially made coffins, including a pink Peppa Pig one for little Lia, were carried past in a horse-drawn carriage in age order, with oldest sibling Demi in front.
The procession made its way past Bridgewater Primary School, where Lacie and Brandon were pupils, for a minute's silence held by their friends before ending at St Paul's Church.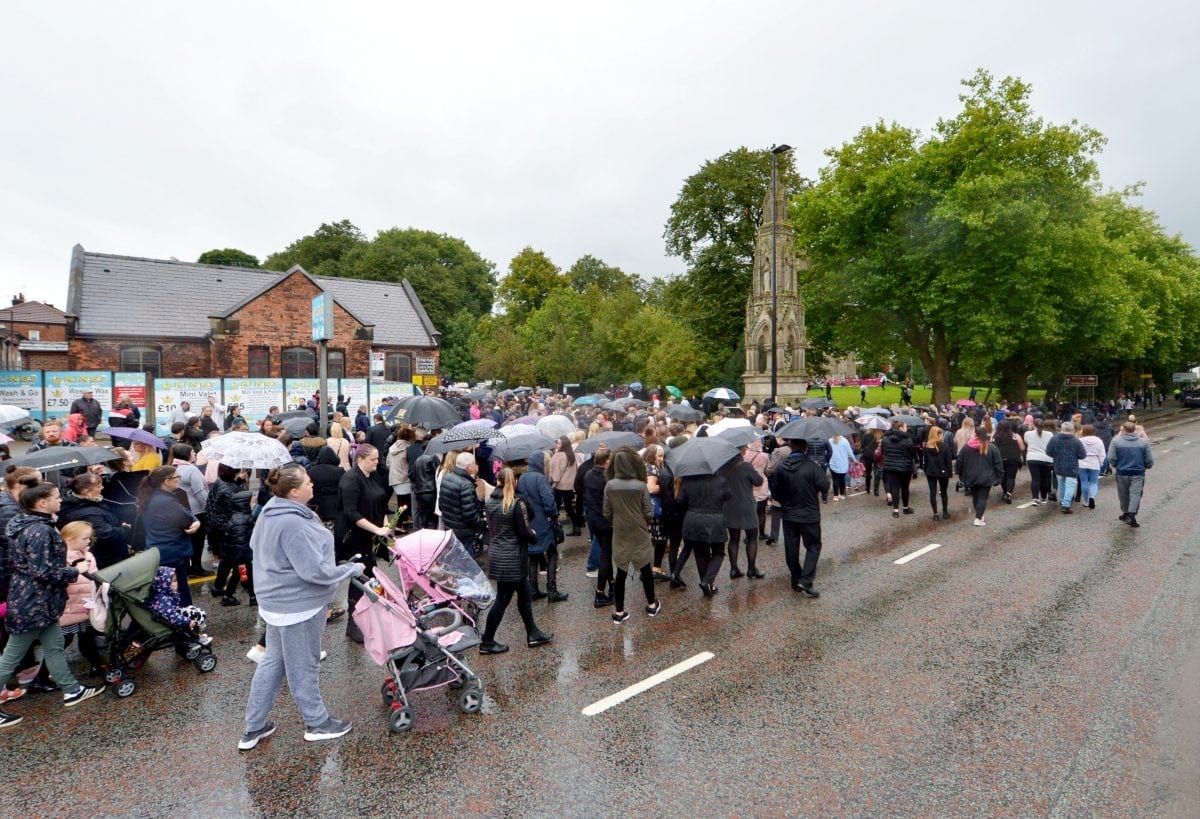 Firefighters formed a guard of honour before the cortege arrived for the funeral service
The children were carried into the church to Ariana Grande's cover of 'Somewhere over the Rainbow', as the firefighters who tried to save them formed a guard of honour outside.
Evil Zak Bolland, 23, and David Worrall, 26, were both given four life sentences for murder after a trial in May.
They hurled Molotov cocktails into the family house, with one landing near the stairs and blocking their only escape route.
Bolland's bottle 'exploded' near the stairs in their home in Walkden, Manchester, blocking the only exit to the ground floor and trapping the victims upstairs.
Mrs Pearson's anguished screams: 'Not the kids! Not my kids!' could be heard around the neighbourhood as flames engulfed the house at 5am last December 11.
All four 'died a terrible death' from smoke inhalation and burns, the trial of the killers heard.
Mrs Pearson's son Kyle, 17, had been involved in a 'petty' feud with Bolland over damage to his £200 car, prompting a series of tit-for-tat attacks.
In CCTV images Bolland, Worrall and Brierley looked as if they had not a care in the world as they were pictured by an in-store camera snapping up two boxes of Budweiser beer at an off-licence in the city in preparation for the attack.
The group appeared to shared a joke with staff and fellow customers before an unsuspecting cashier even gave Worrall a friendly 'fist bump' as they left the store.
But within minutes, two of the bottles had been turned into deadly molotov cocktails to firebomb the family home of Kyle Pearson who had been in a feud with Bolland.
CCTV images captured Bolland and Worrall filling up a petrol can at a Texaco fuel station before arriving at the property in Walkden.
The two men then removed a fence panel from the garden of the Pearsons' home, smashed a kitchen window and tossed in two lit petrol bombs.
One landed near the stairs, blocking the only exit to the ground floor and trapped the occupants as they lay asleep inside.
Kyle, 16, managed to escape out of an upstairs window but his siblings Demi, Brandon and Lacie, sleeping in a front bedroom, perished in the flames.
Mrs Pearson had made a series of complaints to police and her housing provider Salford Council, asking to be moved.
By Ben Gelblum and Nathan Sandhu