A 10-year-old schoolgirl who chased a burglar out of her home after finding him ransacking her family's belongings has been honoured for her bravery.
Robyn Birdsell grabbed the serial thief by the leg as he tried to flee over a garden fence and shouted at him: "Oi, give us our stuff back."
Shockingly, the thug twisted the youngster's arm and pinned her against a wall before he made his escape from the property in Sutton Coldfield, West Midlands.
But thanks to Robyn's detailed description of the offender, officers were able to track him down and he was later convicted and jailed for four years.
She has now been given a bravery award by West Midlands Police for her heroic actions during the raid on June 20 last year.
Robyn had been returning from a swimming lesson with her mum Rachel when she saw the intruder loading up her rucksack with valuables.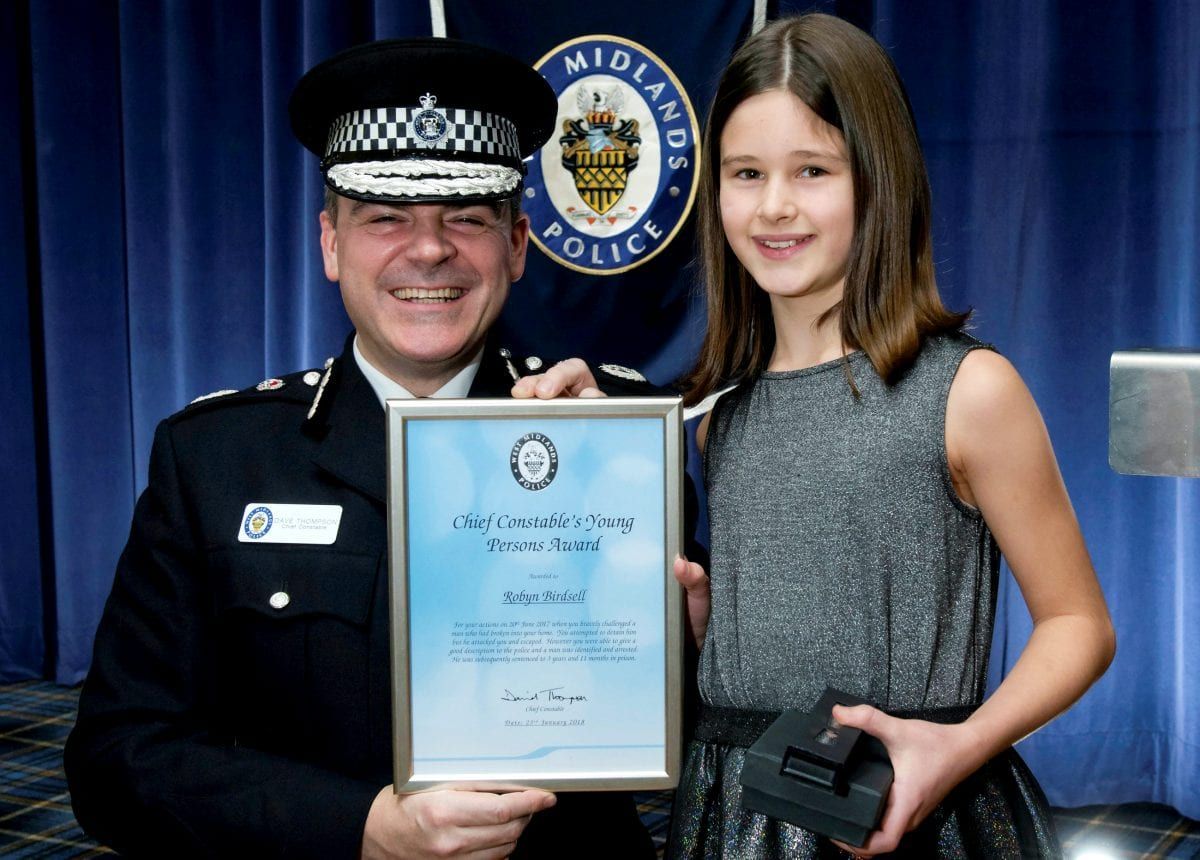 Without thinking she chased him into the back garden and tried to pull him backwards as he clambered over the fence.
Robyn, now 11, said: "I'd run out the door and after him shouting 'oi, give us our stuff back.'
"He kept on running and dropped a few things.
"And then I pulled his leg and he grabbed my arm and pushed me against the wall, hopped over the fence and disappeared."
Mum Rachel said: "We're immensely proud of Robyn: at the age of 10 to go chasing after a burglar who'd been in our house."
The pupil from Town Junior School, in Sutton Coldfield, received a Chief Constable's Young Person Award on Tuesday evening.
Chief Constable Dave Thomson added: "Robyn's fantastic. She is a brilliant ambassador for what we want the public to do, sort of.
"But actually she's been really brave and everybody's really thrilled to recognise her achievement."
West Midlands Police and Crime Commissioner David Jamieson, added: "What an incredible tale of bravery.
"For anyone to do what Robyn did would be remarkable, but for a 10-year-old girl to confront a crook in this way is quite exceptional.
"As soon as I heard her story and how it helped West Midlands Police get a conviction, I knew we needed to find a way to say thank you."