A pet owner says she owes her life to her beloved pooch when she went to the doctors after falling over the dog and found out she had cancer.
Pat Lacey, 73, had not visited her doctors for almost a year when she was tripped over by Staffordshire bull terrier Ice in her kitchen.
The former civil servant went to her GP after feeling her hand start to swell up following the fall on January 17 last year.
Doctors found that she had unusually high blood pressure and an unexplained mark on her arm – which she had previously believed to be a mole.
The pensioner was then referred to a skin clinic where she and husband Les, 73, got the devastating skin cancer diagnosis on March 24 last year.
Following successful treatment, she was told that, had she not visited doctors the day after the incident, she might not have survived until her next check-up.
Today Pat said she believes her nine-year-old pet, who she had only had for eight days at the time of the fall, was trying to warn her by tripping her up.
Pat, of Market Drayton, Shrops., added: "What happened is miraculous, it really is.
"We'd just brought Ice in from a walk, it was fairly early morning.
"I'd just gone into the kitchen to prepare some tea for Les and I, at which point I turned around suddenly, and Ice was there in front of me.
"I tripped over him, and fell flat on the kitchen floor. It was painful, but I didn't seem to be too badly injured, just a bit shaken.
"I'm not one of these people that enjoys going to the doctors at all, I only ever go for yearly check-ups, and that's just on account of my age.
"But the next morning I woke up with swelling to my arm, at which point Les said 'Right, I'm taking you to the doctor'.
"Thank goodness he did. They treated the swelling, and afterwards did some routine blood tests.
"They discovered concerning high blood pressure, and the mark on my arm.
"From there it was appointment after appointment, and all the while Les and I were just baffled by the worried looks on all of these doctors' faces. It was all very concerning.
"When we were told about the diagnosis, it was just staggering. I knew something was wrong with me, but I had no idea it was so serious.
"They operated on me that evening and removed the cancer.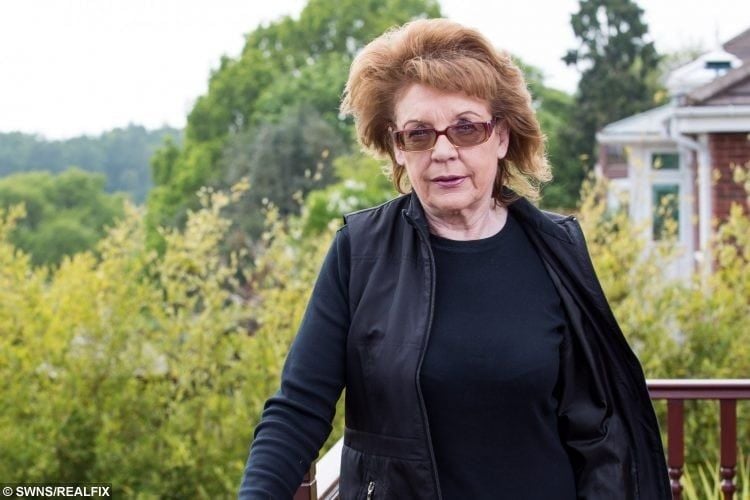 "Thankfully they treated me before it spread to the lymph glands, otherwise it would have been game over.
"Had it not been for Ice, that's almost certainly what would have happened.
"Les and I have had five different dogs over our 50 years of marriage, and very much see them as an alternative to having children.
"But that's the first time I've ever fallen over one. It's never happened before.
"Dogs are incredibly perceptive beings, and part of me thinks that Ice must have been trying to warn me that I might be ill.
"It all seems like too much of a coincidence.
"He's wonderful, and I call him my little guardian angel because of what he did.
"We rewarded him with a new memory foam mattress for his dog bed, which is the very least he deserves."
Les, a former engineer, said: "None of our previous four dogs had tripped her, but there was no major damage.
"What luck, we thought. Had we not rehomed Ice, she would not have tripped over him and her condition not identified, possibly not for many months.
"He had a little extra fuss and attention from us, including the new mattress.
"All this from tripping over our rescue dog.

"It went from us being thankful that he was responsible for Pat discovering her high blood pressure problem, to believing that in some way Ice saved her life."
The couple are both members of the Market Drayton and Whitchurch branch of the Guide Dogs charity.
Les added: "Since we have had Ice, we have found him so gentle, tolerant of other dogs and people, that we often take him along when we are collecting for Guide Dogs.
"His unusualness makes him stand out and he seems to generate more donations than the other dogs who help.
"And he certainly encourages and promotes the loving nature of the breed, and changes a few misconceptions
Read "Watch – Baby owls looking awestruck as they experience the world for the first time" Click Here
Watch Video Here