London's latest heritage attraction, The Postal Museum, has opened its doors to the public for the first time.
The opening marks the end of an ambitious year and a half project, which commenced on 4 February 2016, to convert a disused Clerkenwell printing factory into the new museum site, and bring the disused 'Mail Rail' tunnels back to life as a ride for the first time in their 100 year history.
Friday 28 July 2017 will see The Postal Museum site only open for visitors, with a family extravaganza running throughout the summer holidays.
Mail Rail will open on Monday 4 September 2017, with access to The Postal Museum's specially designed play area for the under eights currently scheduled to open on the same day.
Tickets for The Postal Museum and Mail Rail are now on sale, and can be purchased in advance through the organisation's website.
Adrian Steel, Director of The Postal Museum, said: "We are absolutely delighted to welcome our first visitors to The Postal Museum. We're anticipating an extremely busy first month, with lots of fun activities planned for families. Then, on Monday 4 September, Mail Rail trains will depart for the first time – a truly historic moment for London.
"The museum itself opens up the chance for people to gain an insight into some of the quirky social history behind an incredible British invention – the post, whilst Mail Rail affords people a once in a lifetime opportunity to explore a slice of subterranean London, previously hidden from public view."
About The Postal Museum
Celebrating the surprising and quirky history of Britain's earliest social network, the post, The Postal Museum contains five zones, leading visitors through five centuries of world-class curiosities and providing a different view on some of the world's most significant historical events.
Each zone contains interactive exhibits designed to bring the story behind the post to life, from a growling lioness telling the story of the time an escaped circus lioness attacked a Mail Coach, to an interactive game where visitors take on the role of a Mail Coach guard, to a cinema showing ground-breaking films by the General Post Office's own film unit, set up in the 1930s to promote the organisation's work. Among these films is the famous 'Night Mail', with words by W H Auden and music by Benjamin Britten. It is widely considered a masterpiece of the British Documentary Film Movement.
Other items on display include:
The sculpture of Queen Elizabeth II used to produce the iconic image replicated more than 220 billion times on stamps.
A five-wheeled bicycle invented by the Victorians to cope with a huge increase in post.
A gold Olympic post box.
A priceless sheet of the world's first stamps, the Penny Black – one of just a few sheets left in the world (all held by The Postal Museum).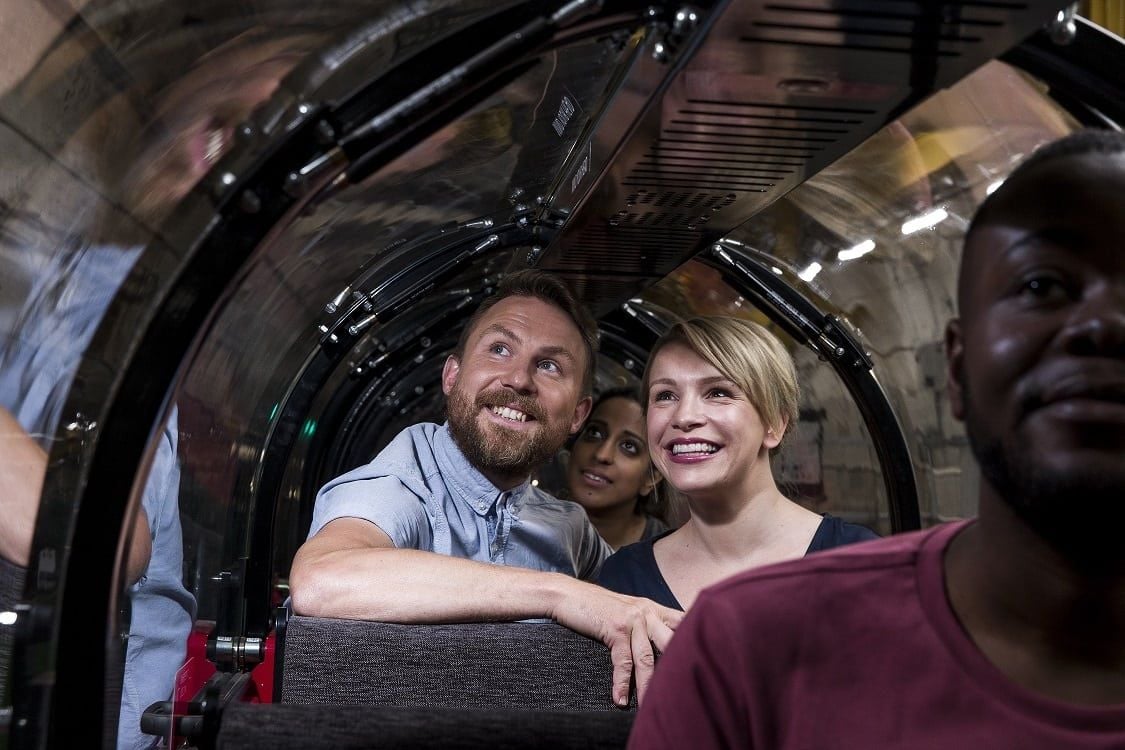 Visitors will also be able to decipher Morse code at a 1930s writing bureau, and write a message and watch it disappear through a system of pneumatic tubes, to be received by a stranger at the other side of the museum.
Larger items on display include a 1941 motorbike used by postmen, a Bristol to London Mail Coach from the 1800s and a 1980s Dodge Spacevan postbus.
About The Postal Museum's Family Opening Extravaganza
To mark its opening, The Postal Museum will be holding a family extravaganza on its Postal Museum site throughout the summer holidays. Ideal for families with children aged 0-11, as well as family friendly interactive exhibitions, a whole host of activities will take place every day from face-painting and storytelling to arts and crafts and costumed actors.
On the weekends of 28-30 July and 5-6 August there will be even more going on with multiple events taking place across The Postal Museum's site. Up to 4 children are included in a full-price adult or concession ticket and must be accompanied at all times. More information will be released shortly.
About Mail Rail at The Postal Museum
Across the street from the museum, situated in Clerkenwell on Phoenix Place, is a subterranean world that – up until now – remained hidden from the general public.
Visitors will descend into the former engineering depot of the one hundred year old Post Office railway and board a miniature train designed to transport them through its stalactite-filled tunnels. Mail Rail's interactive train ride lasts approximately twenty minutes and will pass through the tunnels that run beneath the Mount Pleasant sorting office, stopping at the original and largely unchanged station platforms where an impressive audio visual display will give an insight into how the railway kept post coursing through London for 22 hours a day.
Clever technology and projection mapping will transport people back in time to help them understand the impact of the railway on our ability to communicate with friends, family and business partners across the world today. Powerful events from our history, including the Blitz will also be revealed, and a theatrical experience will peel back the layers of time to bring the station back to its lively 1930s heyday.
After the ride, visitors will be free to wander through the cavernous engineering depot, turned exhibition space. Stepping into a replica of a real-life Travelling Post Office, the floor will start shaking as visitors try and sort the mail just like a real-life traveling postal worker.
Sound clips of real Mail Rail engineers will play as people wander the space and giant grids will expose the tunnels that run beneath people's feet. Interactive displays will allow people to race pneumatic cars, try their hand at keeping the network running and use time telescopes to explore the Mail Rail network as it was before the ride and exhibition were installed.
The remains of a Victorian pneumatic rail car – an 1860s predecessor to Mail Rail – will also be on display alongside some of the original rolling stock from the railway.
Families are Sorted! Too at The Postal Museum
Want to let your little ones exercise their imaginations and use up some excess energy? If so, The Postal Museum's dedicated family play area, Sorted! is for you! Designed especially for children aged 0-8, Sorted! allows kids to enter a miniature world of mail where they can play with trolleys, slides, pulleys and chutes, pretend to drive a wooden vintage post van, or play postman in a mini neighbourhood of streets and houses. For younger infants there's a separate play area along with baby-changing facilities, designated toilets, nearby buggy parking, lockers and a refreshment area for parents. Tickets are available on Thursday 13 July for sessions from September to the end of November.
Ticket Options – Friday 28 July 2017 to Sunday 3 September 2017
Adult

(including a voluntary donation)

Child

Concession

(including a voluntary donation)

The Postal Museum only
£11.00
N/A
£9.00
Ticket Options – Monday 4 September 2017 Onwards
Adult

(including a voluntary donation)

Child

(including a voluntary donation)

Concession

(including a voluntary donation)

General Admission to The Postal Museum and Mail Rail
£16.00
£8.00
£13.00
The Postal Museum only
£11.00
N/A
£9.00
General Admission plus access to Sorted!
N/A
£11.75
N/A
Sorted! Only
N/A
£5.00*
N/A
*No voluntary donation included in price
RELATED