Midi skirts are hot this season; boots are hot this season. Can you guess what's going to be super-hot this fashion season? Yep, you've guessed it: midi skirts and boots. Head to the fashion hotspots of the Northern Hemisphere – London, Pairs, Milan, New York – and you'll see that many of the world's fashionistas are donning this combination.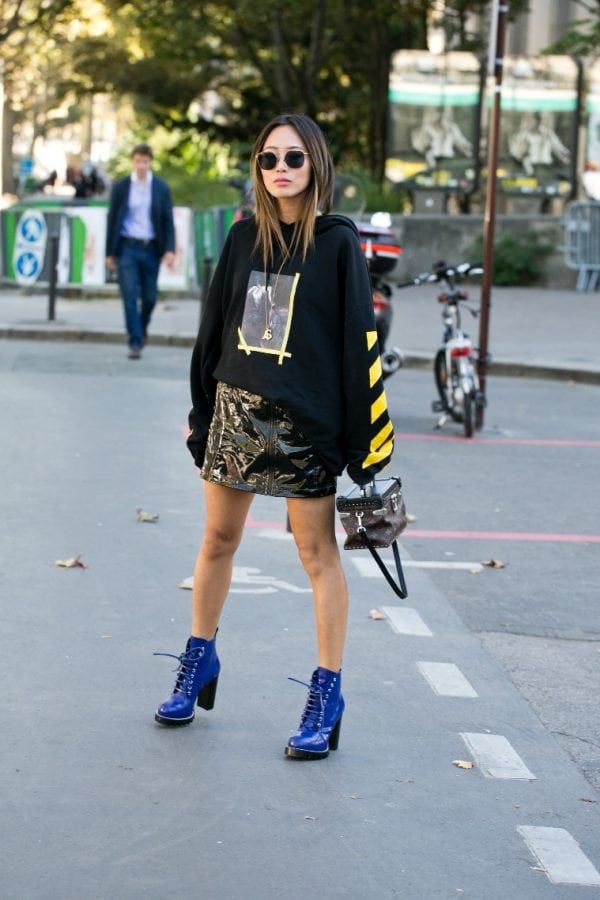 If it's something that you've been thinking of wearing too, but you aren't quite sure how to pull it off in style, then you've come to the right place. Below, we're going to look at some hot ways of teaming women's midi skirts with boots.
It's all about matching proportions and creating the illusion of a tall and slim silhouette – here are a few ideas on how to wear the look this season.
Above-the-Knee Boots & Midi Skirt
Arguably one of the most difficult looks to pull-off properly, you must be careful here. If it's your first time venturing out into a look that's quite "out there" (it's a look we all know, but very few are brave enough to attempt), then take everything else down a notch or two.
What do we mean by "taking it down a notch"? We simply mean that you should stick to plainer patterns initially. For instance, stick to a pair of plain black boots and a simple midi-skirt.
The most important thing with this look is that you create a clear definition between the boots and the skirt.
This is easy: all you need to do is have an inch of flesh (or if it's super cold, a pair of tights that clearly differentiates them from the rest of the outfit, e.g. tartan tights between a plain skirt and plain boots) flashing between the boots and the skirt.
This creates a break in the outfit, so avoids the "onesie" look, but at the same time, it elongates and flatters the legs.
Knee-High Boots & Midi Skirt
Without a doubt, the best look for knee high boots is the A-line look. It doesn't matter about the material used, the pattern on the skirt, or the embellishments, an A-line silhouette always carries an air of professionalism and sophistication.
It's the perfect look for creating a hot outfit for the office, without crossing the line in terms of clothing guidelines for the professional setting. At the same time, the same outline (i.e. the A=line silhouette) works fantastically well in the bars and clubs, too.
You can play around with various eras here too. E.g. team suede and denim (yep, either way around – denim boots/suede skirts; suede skirts/denim boots) to get that '70s look, add some leopard print for the '80s, and for those of you who are brave enough, consider adding a hoody for a '90s look. Be careful with this latter choice though – it might be a bit too wild for some people to handle just yet.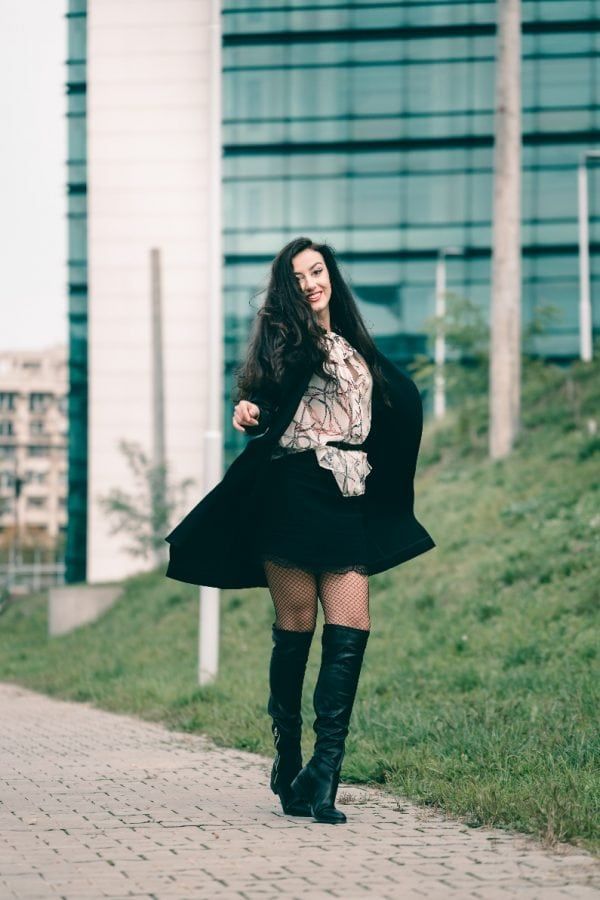 Chunky Boots & Midi Skirt
If you're looking for a look that's a little edgy, then try teaming your midi skirt with a pair of chunky boots, e.g. Mustang Military or DMs with a wedge sole.
Keep the rest of your outfit feminine in silhouette – so figure hugging, short skirts, and tight – but choose some edgy detailing. One of the best looks we've seen with chunky boots is tartan dresses.
There's something about this look that is absolutely awesome and bang on trend for the winter months. It is a brave look though, so you have to carry yourself with confidence if you want to pull it off well. Complete the outfit by adding a leather jacket.
This look is edgy, current, and best of all, it will have you standing out from the crowd.
Alternatively, if you do find this look a bit too outrageous, but you still want to wear chunky boots, team with understated and traditionally "wholesome" clothes, e.g. sailor stripes, cashmere jumpers, and roll necks. This helps to balance out the edginess for those of you who aren't quite ready to step out into that world just yet.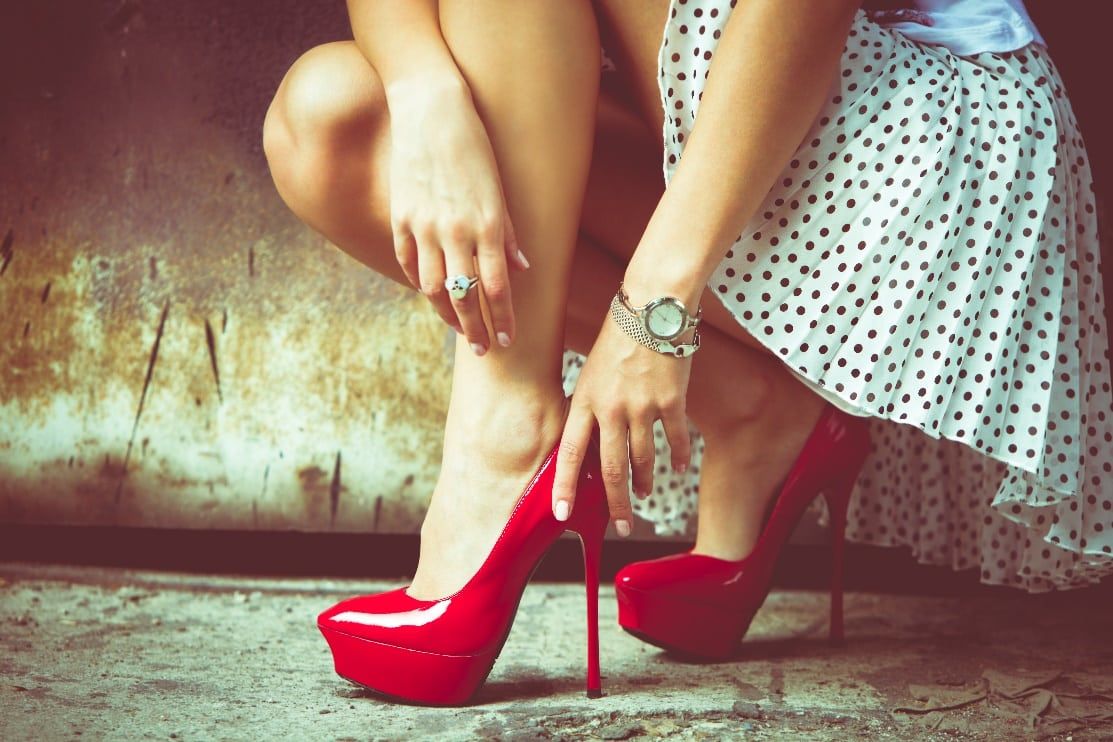 High-Heeled Shoes & Midi Skirts
High-heeled shoes are a great choice for teaming with a midi skirt. With many of these styles, the uppers bear a resemblance to boots because the uppers are fairly high, but they still fall below the ankle. This gives them a unique appearance that balances well. These are the type of professional shoes that you'll see on the power-professionals in Canary Wharf.
To pull this style off well, you need to carry yourself with plenty of confidence. Because the look is a professional one, this style is perfect for the office, but not so much for going out and about in town.
If you do want to adapt the look for an evening event, then go for boot and skirts that have slits in them. These are elongating, feminine, and add a touch of naughtiness to the outfit.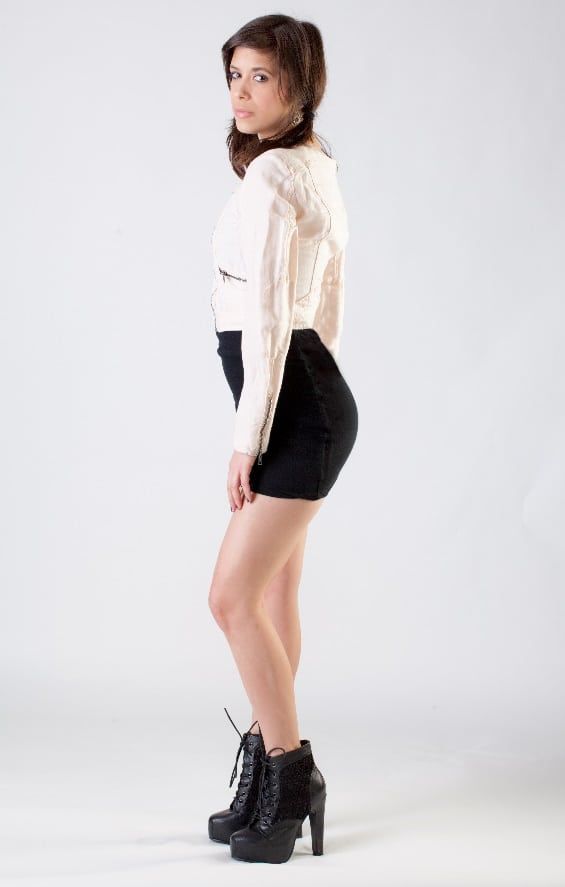 Ankle Boots & Midi Skirt
Ankle boots tend to sit just below the calf and they can look great when teamed with a midi skirt. You really have to be very careful with how you balance your proportions here, though. If you're trying to go for a slimming silhouette, then stick to a skirt that is well fitted, e.g. an A-line skirt.
Fuller skirts with ankle boots can serve to emphasise any problem areas, and by problem areas, we all know that means "wobbly bits". Most of us want to hide and downplay those parts as much as possible!
In terms of the choice of ladies ankle boots, keep those slim too. Choose a style that contours closely to the foot so that it maintains a slimming silhouette.
It's all about creating a slim and elongating appearance, so stick to clothing that flatters the frame – pointy ankle boots are better too, because they elongate the foot, which in turn elongates the legs. Each part of your outfit should flatter and suit the next part of the outfit. That's the way to create a flattering frame.
As ever, the most important thing about fashion is that you feel comfortable and you have fun with it. Wear those styles that "talk to you". Don't copy for the sake of copying, but because it's a look you admire. Then, it's not "copying" it's "getting fashionably inspired"!