A British couple have got married in one of the most remote places on Earth in the first wedding in the British Antarctic Territory.
Polar field guides Julie Baum and Tom Sylvester tied the knot in sub-zero temperatures surrounded by the continent's beautiful snowy mountains.
They shared their special day with 18 colleagues living and working at the British Antarctic Survey's (BAS) largest research station.
It was the first official wedding on the territory in Adelaide Island with magistrate and Rothera Station Leader Paul Samways performing the ceremony over the weekend.
Julie, from Birmingham, who sewed a patch from an old orange tent to her dress for "something old", said: "Over the last 10 years Tom and I have been working and travelling around the world.
"Getting married in Antarctica feels like it was meant to be. There is no better place really, I love snowy mountains and spending time in amazing places with awesome people."
Tom, from Sheffield, added: "Antarctica is an incredibly beautiful place and we have made such great friends here, so the setting couldn't be better.
"We have always wanted to have a small personal wedding, but never imagined we'd be able to get married in one of the most remote places on Earth."
The mountaineering couple were destined to be the first to wed in the territory after they were selected joined the BAS to manage deep-field science expeditions in 2016.
They kicked off their two-day celebration with a champagne breakfast as freezing 30mph winds howled over their station.
They had been engaged for three years and girl pals helped Julie to make her wedding dress sewing in a part of old orange pyramid tent for her "something old".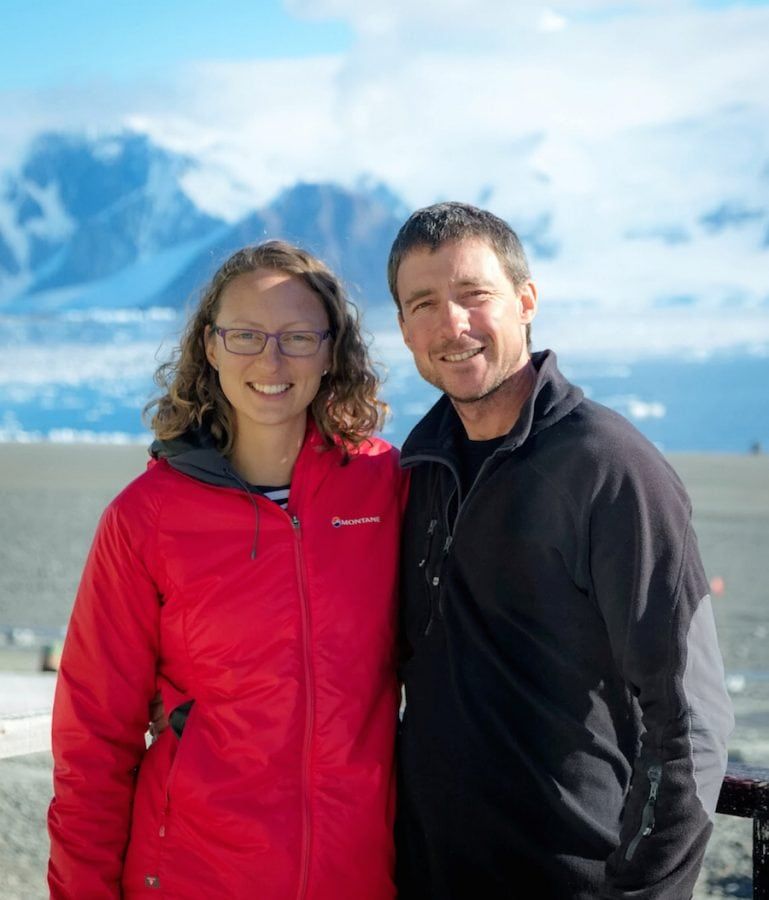 A BAS spokesman, who said the tent would "no doubt have a lot of history associated with it" said the ceremony would take place around lunch-time on the sunniest of Saturday or Sunday.
It would be followed by a "sumptuous" wedding menu prepared by the station chef and a party with live music from its "resident band".
The wedding will be registered with the British Antarctic Territory Government, based in the Foreign & Commonwealth Office and will be valid in the UK.
It was the first official wedding since its marriage law was simplified in 2016 and updated for same sex marriages.
Station Leader Mr Samways said: "Having spent time with Julie and Tom over the Austral summer and half of the Antarctic winter I feel amazingly privileged to be able to be part of their story.
"They are amazing people, and being responsible for joining them in marriage is an incredible honour."
Julie and Tom first met at an outdoor instructor apprenticeship scheme at the Plas Y Brenin Outdoor Centre in North Wales.
They both worked as expedition leaders around the world including Northern India, Nepal, Peru, Ecuador, Mongolia, Kyrgyzstan, Uzbekistan, Borneo, Cambodia, Laos and Vietnam.
Rothera Research Station is a centre for biological research and a hub for supporting deep-field and air operations sited on Adelaide Island to the west of the Antarctic Peninsula.