My absolute favourite thing about London, is the number of different types of food available to experience. As a result, we Londoners are able to travel the world, without ever needing to leave the city.
Señor Ceviche, for instance, is particular venue which allows us to sample distinctive national dishes from Peru. The brain child of Harry Edmeades, the restaurant originally started life as a pop-up and now has two permanent locations: one in Kingly Court and another just opened on Charlotte Street. Inspired by Edmeades' travels across Peru and his time at Lima's renowned ceviche restaurant El Mercado, the menu here includes national dishes such as ceviche (obviously), but also explores the Japanese and Chinese influences on Peruvian cuisine.
Set over three floors, the Charlotte Street venue's décor fuses a mixture of components evocative of Japanese sushi houses, speak easy bars, and South American eateries. The music is a mix of salsa and Motown, giving a relaxed al fresco dining ambience to a venue which gets fairly busy over the course of dinner. The mezzanine, where we sit, is light and airy – but the lower floors (with a Pisco Bar on the lowest level) get progressively darker and louder. Our waiter is refreshingly friendly and extremely knowledgeable about the menu, explaining each dish and its origins, helping us to select cocktails based on our individual tastes. So, with his help, we select three tapas-style dishes each, which we are told to expect as they are ready, and our first Pisco-based cocktails.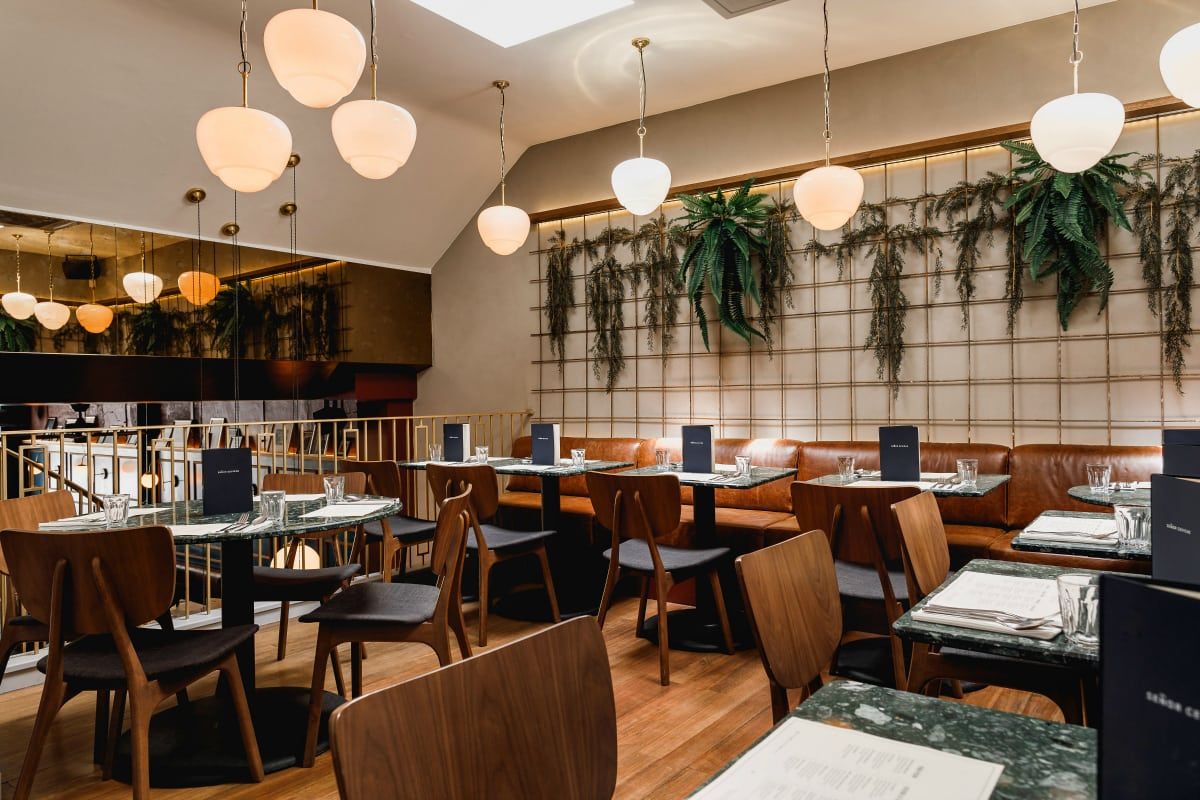 Selecting a dish from each of the four headings (starters, Ceviche, BBQ and sides) – the food eventually arrives in three stages: starters, ceviche and BBQ, along with the sides. This works quite well, as we're able to enjoy the menu in phases, with time to finish and savour each dish before the next one arrives. First, Calamares (£7) could be a crispier on the outside. Served with slices of raw onion, coriander stalks and a jalapeno miso salsa, the raw onion on calamari is a new experience for me, but brings crunch to the dish, which would be otherwise lacking. The star of the show though, is the salsa: fresh, fruity and with a light chilli kick.
Round two: 'Señor Ceviche' – sea bass and octopus ceviche with sweet potato puree, avocado, crispy baby squid and aji amarillo tiger's milk; and 'Nikkei Ceviche' – yellowfin tuna, sea bass, ponzu tiger's milk, yuzu tobiko and a langoustine cracker. At £9 each, the dishes offer both promised South American and Japanese influences. The seafood is unbelievably fresh, lightly cured and with two very different sauces (one miso-based and one reminiscent of a fruity salsa), both elevating and rounding-off the dishes at the same time. I also spot more raw onion and coriander and start to worry not only about my breath for the evening, but also that the dishes are starting to become uniform.
The coriander does, nonetheless, marry the three dishes together, while the other ingredients set them apart. I needn't have worried, as – luckily – there is no sign of onion or coriander in the hot courses. Grilled beef heart (£7.50) is an absolute winner. The whole dish is earthy, thanks to the olives and sweet potato, smoky thanks to the grilling of the offal, but incredibly fresh. I'm told by the staff that this is a divisive dish because of the main ingredient, but it's so moreish. The 'Charlotte Street Special' (£16) features beef short rib that's well-cooked, served off the bone (though confusing, with the bone on the side of the dish) with Japanese-style pickles. The melts in the mouth, yet tastes a little plain when eaten without the pickles.
At this point, we're comfortably full, yet unable to resist a peek at the dessert menu. A choice of two puddings (both £6) includes 'Barranco Brûlée' and 'Maiz Morado y Lucama'. The dolce de leche crème brûlée is light but decadent, served with a yuzu and pineapple granita, which although unusual, cuts through the richness of the brûlée with a hit of acidity. Maiz Morado y Lucama is a purple corn cake, with caramel and a scoop of ice cream rolled in popcorn. It falls somewhere between a fudge brownie and a sticky toffee pudding, with a little bit of fairground, aided to the ice cream and popcorn combination.
As far as drinks are concerned, from the Pisco bar, the cocktails take some time to arrive, with the last ones set on our table after we've finished dessert (although ordered a fair bit in advance). I notice the same issue on other tables, too, but when they do arrive, everyone is satisfied – though the drinks vaunt too many decorations on each glass. The cocktails speak for themselves, without needing to have half a chilli pepper balancing on the edge of the glass, threatening to poke our eyes out.
The cocktails are somewhat disappointing, but Señor Ceviche's Peruvian food with a Japanese twist is done brilliantly. The ingredients are fresh, the dishes are balanced but interesting, and everything is tied together for an entirely wholesome experience.
Photography: David Griffen
Señor Ceviche can be found at 18 Charlotte Street, London, W1T 2LZ.
–