As a long term resident of Soho, I always notice a change in the air when you cross over Regent Street into Mayfair.  It has a luxuriant feel, as fun and naughty as Soho, but a lot, lot richer.  I have generally preferred the Soho side for eating as well as drinking, with a wonderful array of eclectic restaurants, but once in a while, you get to experience what real money can do if used with skill, taste and culinary excellence.
Bocconcino is a perfect example of this.  From the outside, the restaurant looks spectacular, in an area filled with spectacular venues.  An arboretum of dark, dark red roses clothe the entrance as if it were a fantasy woodland grotto.  Once inside there is a large basement area to the left, which is opened up to the full height of the restaurant and as a result, is wonderfully airy and light.  The wood-fired pizza oven opens directly onto the tables here as does a counter of glistening fresh fish and shellfish.  The whole thing gives off a surprisingly plausible feel of an Italian market while being undeniably Mayfair in the elegant seating and clever lighting.
During parts of the week this area is reserved for the justly popular pizzas, particularly at lunchtime.  I know several hedge fund guys and girls who eat here three or more times a week.  I had thought it was because they had no imagination being, you know, hedge fund people.  But I was wrong and they are the smart ones (who knew….) because the pizzas here are simply epic.  Seared bases with dark, enticing bubbles of crust and generous, full-bodied toppings. About £18 a pizza but my god why would you even think of trying to find cheaper pizzas?  Once you have tasted these its better to go hungry.  At the weekend, when I think they offer the full menu here, they even get in DJs and musicians and the place becomes quite a party.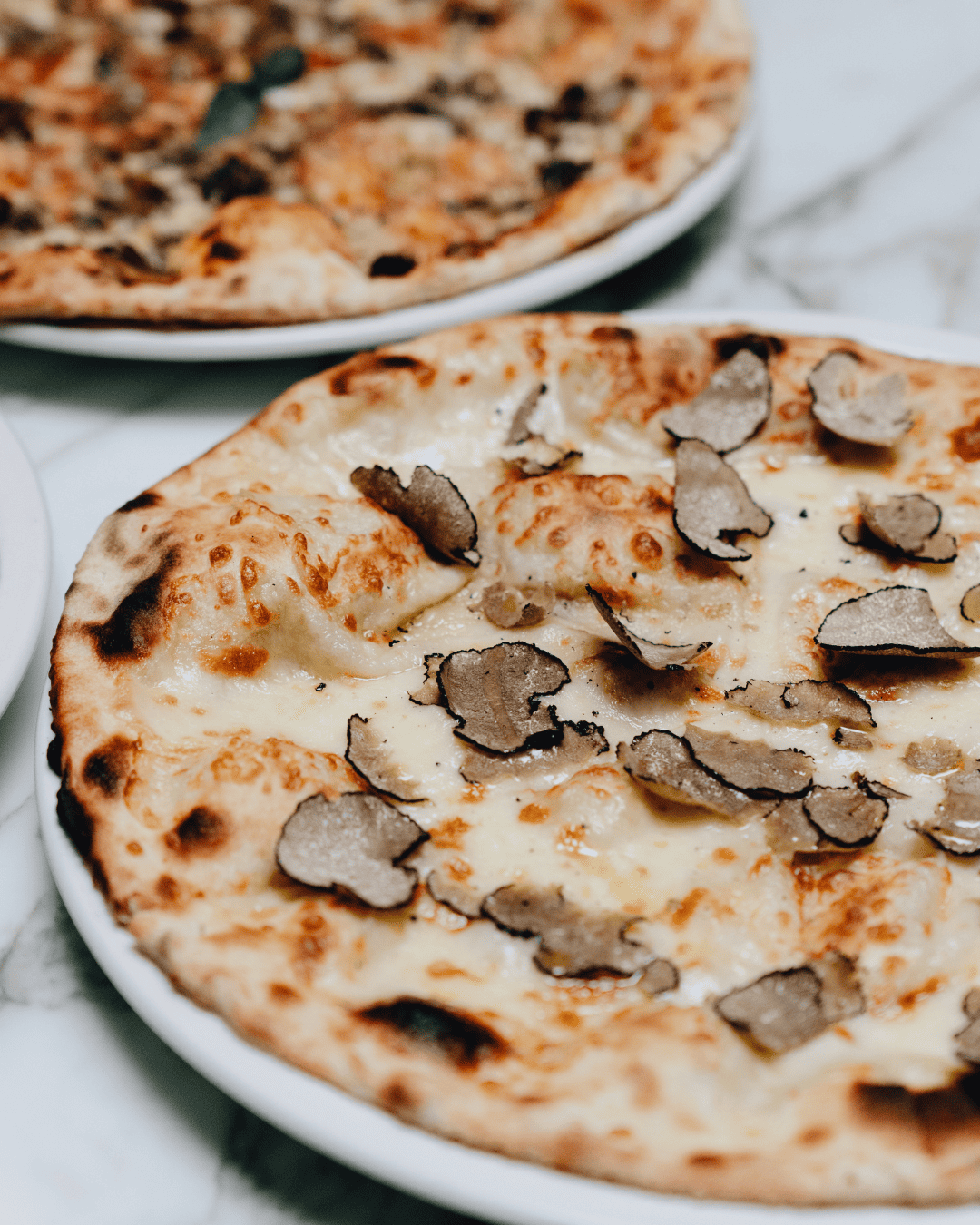 Anyhow, we floated past this temple to the elegantly simple, and emerged from a long corridor into a large, comforting and more conventional restaurant space.  And so to the menu.  Don't you love it when you could order everything on a menu?  I don't. Because it leads to indecision, regret and envy.  Far better to be happy choosing halibut not just because I love it but because everything else on the menu is made out of sea urchins or goats entrails. 
This menu here was a veritable greatest hits list of classics with a few of the many starters including Andria burrata with baby plum tomatoes & pesto; seared scallops, Jerusalem artichoke, shimeji mushroom & veal jus; beef fillet tartare with homemade crisps & black truffle shavings and crab salad with radicchio, celery and anchovy dressing. My guest and I both had raw fish in mind.  His tartare trio of tuna, salmon and yellowtail glistened and had that al dente bite of fresh fish being served at exactly the right moment.  He loved it.  
I had avocado filled with salmon and crab tartare with quail egg. The quail egg was actually with the salmon, which in addition to the salmon tartare filling one half of an avocado had an eruption of salmon roe bursting from one side. Delicious. Even better was the other half of the avocado which had white crab meat freshly picked in the kitchen with lemon and mayonnaise in exactly the right quantities to enhance rather than overwhelm the crabmeat. Not necessarily as easy as it sounds. In addition to being wonderful food, there was one other adjective that has to be applied here is "generous". As in portion size. There is no way of putting it other than these are some of the most generously sized plates I have seen in a while. And not that either of us left a drop on them. Just very, very generous and that is a good thing.
From the main courses they had that now-rare offering of lamb cutlets.  Everyone loves rack of lamb.  I cook it often, yet you rarely see it on menus outside of slightly old-fashioned country house hotels.  A great shame, but to their eternal credit they had it here. Which I think underlines the point about it being a menu of my dreams. However, I ordered the Scottish beef fillet with green pepper sauce & truffle. Technically this is a secondi piatti albeit my guest ordered homemade tagliatelle with black truffle pasta which is, er, pasta and therefore a primi piatti but which was naturally served alongside my secondi piatti.  We may love Italian food but we struggle to eat it in the Italian fashion.  This is in my view a mistake.  We are missing out on a whole extra course each.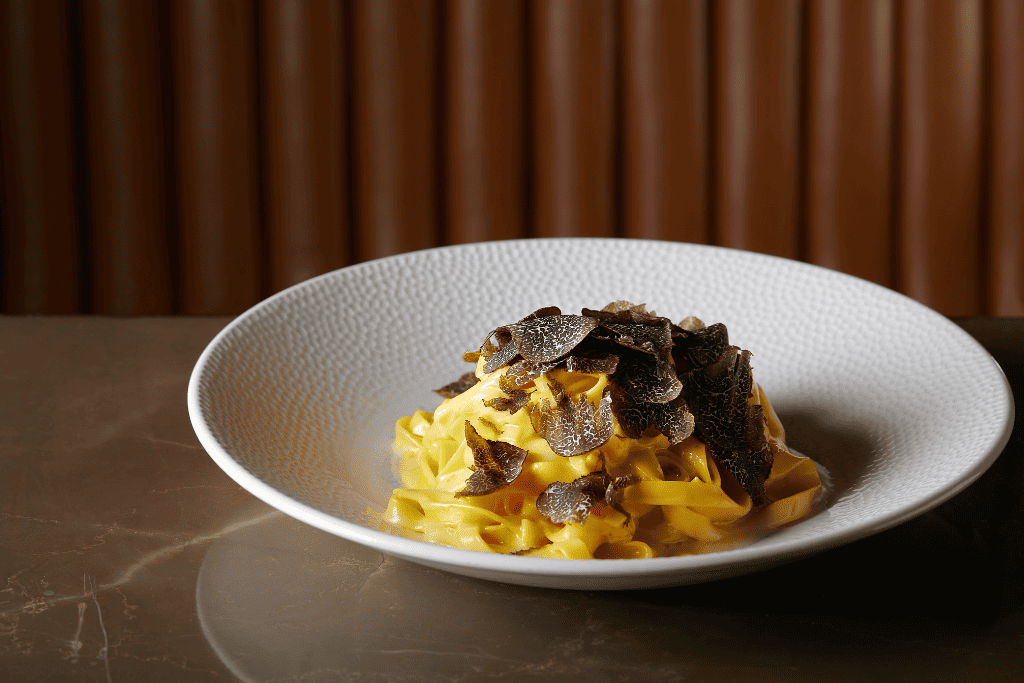 But on the other hand, with both the quality and quantity of what was on offer here could I have eaten another course? We could tell the main courses were on their way when a deep, fungal aroma of truffle drifted across the table. His pasta was delicious and had a lot of black truffle shavings. If you like truffle (My wife does not. She may be the only person in England who does not) then it is probably worth a trip for this dish alone as the simplicity of the pasta and cheese just allows you to wallow in all that wonderful truffle. My beef fillet was a very good cut of meat, perfectly medium rare and with an excellent peppercorn sauce. I cannot think of a dish which almost sings Mayfair to you more than that. For the record, it was delicious.
Puddings, a fig and almond tart with vanilla ice cream and a tiramisu were, you guessed, it generous and delicious. A mention is also due to our waiter who was friendly, informative, relaxed and chatty while still keeping several tables full of quite moneyed clientele fed, watered and happy. Once again, not as easy as it sounds.
Now on the downside, Bocconcino is not cheap, with starters at around £15 to £20, primi piatti £20 to £30 and secondi piatti £30 to 40, with some dishes north of that. But I have certainly eaten worse for more, and this really is proper cooking and one of the few occasions where the phrase "we use only the finest ingredients" is self evidently true. The head chef is Italian and experienced and it shows. The maitre d' was charm itself but I suspect could also organise the D-Day landings. It's a proper restaurant. It's Mayfair. It's simply superb.
P.S. They are apparently opening a branch in Soho in September.  Will be very interesting to see what that is like.