Of all the square mile's high-rise restaurants, Angler seems alone without a sole selling point that harks on about the view. Let's be fair – even when the windows are (rarely) clean – the only real scenes observable from the top of the South Place Hotel are into the dreary lives of office clerks, or skyscrapers with ballistic lifts that blast unlucky diners into some of London's worst restaurants.
At Michelin-starred Angler, however, the main focus is on the food and service – as it should be at such a place. Here, the main focus lies within sustainable seafood sourced from British waters. Since my last visit, in 2015, the restaurant has recruited a new Executive Chef, Gary Foulkes, who joined last year, with previous experience in the kitchens of William Drabble's Aubergine and The Square, now closed. As for the décor, little – if anything – has changed. Floor-to-ceiling windows allow light to flood the narrow dining space, without the need of excessively commanding artificial lighting. This is joined by the ceiling's mirrored tiling, profoundly starched linen and heavy dining chairs with humbug-striped upholstery. As a result, the interiors here do lend an air of stuffiness, though the waiters do attempt to make us feel a little more comfortable. The sommelier on hand is particularly approachable.
To celebrate the change of season, a brand new 'Taste of Autumn' menu has been launched, offering four courses for £45 per person. (The additional wine pairings are also refreshingly experimental; mackerel is paired with Manzanilla sherry, cuttlefish with Greek Assyrtiko from Santorini, South African Pinotage with cod, classic Sauternes with dessert.) To begin, a glass of Champagne arrives with a delicate onion gel-topped garlic cracker, which is then followed by a small tranche of mackerel.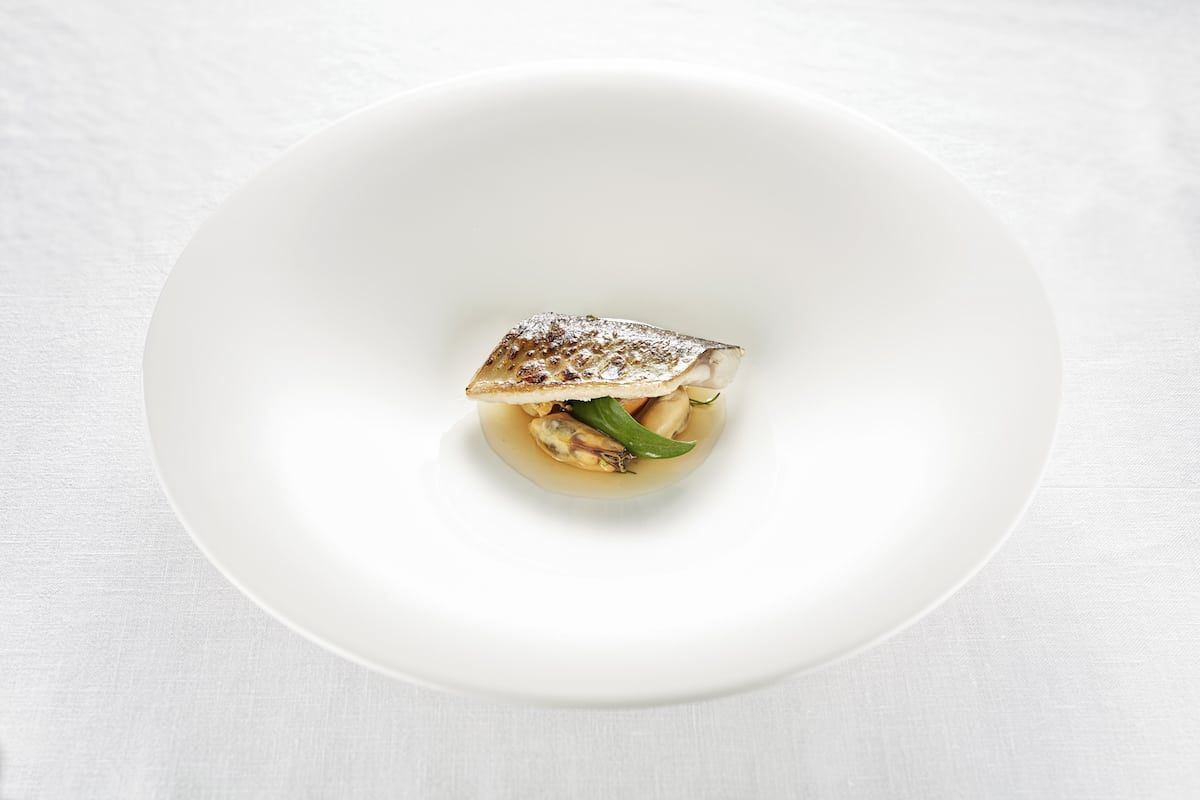 Most extraordinary of trawl, mackerel can be enjoyed twice: while eating, then when it repeats on you six hours later. Here, the mackerel is cooked well with a shard of crisp skin draped over a handful of fleshy mussels and is accrued by a brackish sauce of seaweed-infused butter. A similarly buttery sauce accompanies the next course – a refined, fishy take on spaghetti Bolognese. In this instance, orts of cuttlefish have enough bite to contrast a mattress of vivid green farfalle bows, also drenched in the aforementioned sauce. A modest grating of Sardinian Bottarga also manages to enhance the dish, instead of acting as a mere visual aid.
The main course harbours a sizeable hunk of Cornish cod rescued from the pan mere seconds away from being overcooked. The cod is fine, though it's the convoying 'Garbure' of cabbage, bacon and ox tail that melts on the tongue, which is the jewel in the dish's crown. Though the presentation is somewhat clumsily disjointed, the flavours from each of the two elements work in harmony, further enriched by two sidelined smears of celeriac puree. To finish, a blithely poached Mouneyrac pear is accompanied by some richness of French toast, capped with a scoop of inspired roast Brioche ice cream. Fortunately, the dessert is sweet, but without being overbearingly toothsome or patently decadent: a fine end to an impressive lunch with recurrent flourishes of competent cooking and respect for ingredients.
Angler can be found at South Place Hotel, 3 South Place, London, EC2M 2AF.
RELATED
https://www.thelondoneconomic.com/food-drink/galvin-at-windows-review/18/09/
https://www.thelondoneconomic.com/food-drink/restaurants/review-holborn-dining-room/29/08/
https://www.thelondoneconomic.com/food-drink/restaurant-review-padella/28/09/