With contributions from: Christopher Marchant (CM), Jim Mackney (JMack), and Linda Marric (LM)
Even for those of us who are fortunate enough to spend many-a-day indulging in our love of film, Awards Season is more a marathon than a sprint; an annual slog through the year's most entitled set of cinematic releases. This year's honours culminate this evening with the 90th Academy Awards, and one can't help but be gripped by a cynical sense of celebration that I won't have to put up with friends constantly asking me who I think will triumph at this year's ceremony.
And yet, this year that's a question that has me somewhat stumped. While the Bafta Awards, which took place in London a fortnight ago, showed no signs of wishing to evolve – continuing to primarily acknowledge routine awards fare, and ignore the more obscure titles – this year's Oscar nominations more consciously hint at a progressive change in attitude towards representation; underlining the overwhelming significance of those within the industry finally having this conversation.
As such, this year we've decided against futilely trying to predict who will pick up a golden figurine at this year's Academy Awards, and have instead decided to give you our own personal picks from each category. The films that should – and hopefully will – triumph tonight.
Best Picture
Lady Bird
Greta Gerwig's Lady Bird is a sensitive and almost perfect piece of cinematic nostalgia. The story has been told before but never this well and never with such laser-eyed clarity. Saoirse Ronan shines as Christine 'Lady Bird' McPherson and through Gerwig's clear direction she is able to imbue the character with a fully formed sense of self that is so often lacking in such teenage stories. If you're going to watch any film this year about growing pains, make sure you check out this compact and lovely masterpiece. JMack
Three Billboards Outside Ebbing, Missouri
A strong year with four great contenders I'd be happy to see take the statuette. My vote would go to Three Billboards as a truly different film that captured a small-town America, challenged the audience at every turn and featured some phenomenal performances (the single let-down is a miscast Abbie Cornish). CM
Best Director
Dunkirk, Christopher Nolan
A tight decision for me, with honourable mention to Del Toro and The Shape of Water. Yet Christopher Nolan created something masterful with Dunkirk, able to integrate a multitude of timelines and experiences in a film that both echoed the raw footage of the event while escalating what a war film can do in reflecting the chaos of conflict. CM
Lady Bird, Greta Gerwig
Queen of mumblecore and long time Noah Baumbach collaborator, Gerwig has had one of the most enchanting acting careers in Hollywood so far. Picking and choosing her roles meticulously every time, the actor managed to make a name for herself as one of the most likeable performers of her generation. However, it is her first solo directorial project Lady Bird which could finally see her become the second ever female nominee to win in this category. Facing stiff competition form Guillermo del Toro, Christopher Nolan and Paul Thomas Anderson, Gerwig could however still be with in a chance in a year where female voices are finally being heard loud and clear. LM
Best Actress
Three Billboards Outside Ebbing, Missouri, Frances McDormand
How do you convey grief on screen? For a master class in doing so look no further than Frances McDormand's portrayal of Mildred Hayes in the feisty, pitch-black dramedy Three billboards Outside of Ebbing, Missouri. The performance is able to encapsulate both strength and weakness and having them counter-balance each other to ensure the humility the character does possess beneath her gruff exterior, shines through. Not everyone will like her, you're not supposed to, but bloody hell do you root for her. JMack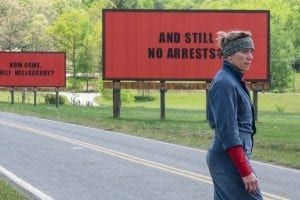 The Shape of Water, Sally Hawkins
Perfectly pitched without uttering a single word, Sally Hawkins phenomenal central performance in Guillermo del Toro's extravagant retro fairy tale, The Shape of Water, is spirited, strong-willed, and thoroughly deserving of a shiny statuette. The evidence may suggest that McDormand is unbeatable in this category, but Hawkins' emotionally expressive turn as a custodial mute who forms an intimate connection with Doug Jones' amphibious anthropoid is arguably the more involving. JMcA
Best Actor
Phantom Thread, Daniel Day-Lewis
It may seem a little bromidic to declare that Daniel Day-Lewis should win another Oscar, but his extraordinary rendering of Reynolds Woodcock – the renowned dressmaker at the centre of Paul Thomas Anderson's coolly seductive quasi-rom-com, Phantom Thread – is not only likely to be the distinguished actor's last performance, it's also one of his best. A tale of toxic masculinity, set in a fixated world of fashion and discipline, it's a towering testament to Day-Lewis' extraordinary talents that he manages to compose Woodcock's character with an extravagant charisma, whilst retaining a profound air of vulnerability. Sure, it's not as showy as some of the other performances nominated, but it's easily the most striking. JMcA
Call Me By Your Name, Timothée Chalamet
Putting in one of the strongest and most natural performances of any actor in his category, Timothée Chalamet has had an extraordinary couple of years for an actor of such a young age. At 22, the Call Me By Your Name and Lady Bird alum is the youngest Best Actor nominee in over 8 decades, and will have to beat off competition from acting greats such Daniel Day Lewis and Gary Oldman to be in with a chance of taking home one of the biggest prizes of the night. Although Oldman is said to be a shoe-in for this particular award, this being the Academy Awards, who knows what surprises are in-store. LM
Best Supporting Actress
Phantom Thread, Lesley Manville
The perfect foil to Daniel Day-Lewis, Lesley Manville is nothing short of extraordinary as Cyril, the sister and enigmatic confidante to Day-Lewis' Reynolds Woodcock in Paul Thomas Anderson's deliciously dark, and deftly humorous Phantom Thread. It's a brittle and robust show of strength from Manville, her strident demeanour and silver-tonged delivery allowing Cyril to effortlessly command the attention of the audience, as well as all those who are in her presence, including Reynolds. JMcA
Lady Bird, Laurie Metcalf
Laurie Metcalf's character is one you only like with a certain degree of hindsight. If you're a teenager going through the growing pains similar to Saoirse Ronan's Lady Bird then you are going to feel the same amount of anger and resentment she does but if you're removed from that time period, you may even have kids yourself, you're going to see a stressed but ultimately loving and caring mother only trying her best for her impatient and wide-eyed daughter. Metcalf will probably not beat other nominee Allison Janney, but she should. Honestly. You won't find a better depiction of motherhood on screen all year. JMack
Best Supporting Actor
Three Billboards Outside Ebbing, Missouri, Woody Harrelson
Some might prefer Sam Rockwell's performance as the boorish cop Dixon, but Harrelson gives great pathos to Chief Willoughby. He is able to match Frances McDormand in every scene and more, while his letter to Dixon is one of the most affecting moments of the film. CM
Three Billboards Outside Ebbing, Missouri, Sam Rockwell
The criticisms of Three billboards Outside of Ebbing, Missouri predominantly stem from Rockwell's character, Dixon. He is a small town cop and big time racist. There film pulls no punches with the character and although some people feel the character is redeemed in the narrative, I cannot get on board this opinion. The character at no point is explicitly redeemed and is written, in a literary sense, as a grotesque character, one that should allow audiences to feel empathy and disgust at the same time. Dixon has to make difficult choices in the film and all of them are for his own gain and no one else's. He is a selfish and abhorrent person who also happens to be funny and a little slow on the uptake. People are complicated, they can hold opposing views and carry out opposing actions and Dixon is the embodiment of this principle. Rockwell's performance is a successful depiction of a grotesque character, and it is testament to Rockwell that he is able to pull this off. JMack
Best Original Screenplay
Three Billboards Outside Ebbing, Missouri, Martin McDonagh
Three Billboards is a competently directed film, but its screenplay is one of the best of the century so far. McDonagh is able to heighten the conflict in every scene, and make a viewer question yet understand the decisions of every character. Since In Bruges, McDonagh has challenged himself to create a difficult character and make an audience feel for them, and with Three Billboards has achieved his masterpiece. CM
Lady Bird, Greta Gerwig
Every so often a screenplay comes along that clearly was meant to be written by the person who wrote it. So much so that it can feel as if the actors are living out the writer's story rather than the characters'. Gerwig's Lady Bird manages to not let this happen whilst also clearly being indebted to her own history and experiences. The characters are written with an energy that replicates real life excellently and all of them are fully realised in ways that characters in teenage 'coming of age' films are often not. The film is able to one minute be belly laugh funny and reduce the audience to a silent cry the next. It is a near-perfect story. JMack
Best Adapted Screenplay
Call Me By Your Name, James Ivory
James Ivory's swooning screenplay gorgeously captures the emotional nuances of André Aciman's coming-of-age romance between Timothée Chalamet's precocious teenager, and Armie Hammer's slightly older man. Many will inevitably be reminded of Ivory's late-80s adaptation of EM Forster's Maurice, but this is a more tender, and one would argue more hopeful exploration of gay love that culminates in a piercing moment of emotional wisdom from the magnificent Michael Stuhlbarg, explaining to his son (Chalamet) how "nature has cunning ways of finding our weakest spot". JMcA
Mudbound, Dee Rees and Virgil Williams
Adapted from Hillary Jordan's novel of the same name, the screenplay to Mudbound – collaborated on by director Dee Rees, and Virgil Williams – is a penetrating study of historical racial intolerance between two families – one white, the other black – working the same farm in rural Mississippi. The story may be a work of fiction, but it's a subject that continues to hold a global relevance in the present day, the writing of Rees and Williams landing with a powerful, gut-wrenching force. JMcA
Best Animated Feature – Loving Vincent
The world's first fully painted animated feature, produced by Oscar-winning studios Breakthru Films and Trademark Films, Loving Vincent adoringly embraces the style of Vincent van Gogh to tell the story of the painter's life, and more specifically the circumstances surrounding his death. Following five years of pre-production, it took 125 artists a further two to bring directors Dorota Kobiela and Hugh Welchman's labour of love to life – each of the film's 65,000 frames being painted by hand. There may be flaws within the narrative, but as a visual achievement it's unrivalled in this year's competition. JMcA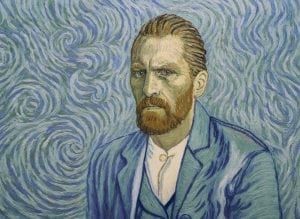 Best Documentary Feature – Icarus
Bryan Fogel's fascinating investigation into Russia's state-sponsored doping program may be clunky in structure, but it certainly makes for compelling viewing, as a burgeoning friendship with Grigory Rodchenkov, the director of Moscow's Anti-Doping Centre, gives Fogel a front-row seat to one of the biggest sporting scandals in history. JMcA
Best Foreign Feature – Loveless
Should caveat by saying I've only seen one other submission for this category. Saying that, Loveless is a masterfully shot piece of cinema that brutally exposes a narcissism at the heart of Russian society and the vulnerable that suffer for it. CM

Best Cinematography – Blade Runner: 2049, Roger Deakins
Rewarding an artist for a single film when in reality honouring a career's work has led to some questionable decisions in the past, but Roger Deakins truly has put in some incredible work here. Able to not just capture the feel of the original Blade Runner but expand upon it. Highlights include the now famous shots of Agent K (Ryan Gosling) entering Vegas and the massive projection of Joi (Ana de Armas). CM
Best Film & Sound Editing – Baby Driver, Jonathan Amos & Paul Machliss (Film), and Julian Slater (Sound)
This blissfully boisterous blockbuster from Edgar Wright is a film fuelled by both a visual and auditory panache that's so perceptible within the editing of Jonathan Amos & Paul Machliss (Film), and Julian Slater (Sound). The chase sequences are conducted with a fast and furious fluidity, allowing Wright's eclectic soundtrack to motivate the action with an edgy, ecstatic excitement. The tyres screech, the bonnets fly, the chassis flip, and from all this scorching mayhem, Baby Driver makes sweet, sweet music. JMcA
Best Sound Mixing – Dunkirk, Mark Weingarten, Gregg Landaker, and Gary A. Rizzo
It goes without saying that it's best to experience Christopher Nolan's daring recreation of the Dunkirk evacuations – a pyrrhic victory for the Allies during World War Two – on the biggest screen possible, but one would also be wise to find one with an equally as impressive sound system. Not just to experience to full, booming rigour of Hans Zimmer's score, but also to appreciate the meticulous precision of Mark Weingarten, Gregg Landaker, and Gary A. Rizzo's startling sound mix, which allows the enemy to feel like a relentlessly intimidating presence without the audience ever seeing a single Nazi soldier. JMcA
Best Original Score – Dunkirk, Hans Zimmer
Zimmer's crafting of the 'shepherd tone' is not just an interesting aural illusion, but integral to the pacing of the whole film. Also integrating of Nolan's toying with time, and not to mention tracks like 'Supermarine' are just damn good to listen to on their own. CM
Best Original Song – "Remember Me" (Coco), Music & Lyrics by Kristen Anderson-Lopez and Robert Lopez
This moving, musical composition from Kristen Anderson-Lopez and Robert Lopez – who also wrote the lyrics – perfectly captures the heart and sadness that's so profoundly ingrained within Pixar's latest pleasure. Best listened to whilst holding on to a bunch of tissues for ease when mopping up your tears. JMcA
Best Production Design – The Shape of Water, Paul Denham Austerberry (Production Design), Shane Vieau and Jeff Melvin (Set Decoration)
Del Toro and company evoked a sixties environment, a highly ambitious fantasy aspect, underwater shooting, and extensive prosthetics in The Shape of Water. That they were able to achieve all this on an $19.5 million budget might just be the most impressive aspect of all. CM
Best Make-Up & Hairstyling – Darkest Hour, Kazuhiro Tsuji, David Malinowski and Lucy Sibbick
It's a testament to the work of Kazuhiro Tsuji, David Malinowski and Lucy Sibbick that many, myself included, failed to realise that it was the slender figure of Gary Oldman to be found underneath the weighty form of Winston Churchill when we first caught sight of him in the trailer of Joe Wright's impressively-mounted wartime drama. It may be a commanding performance, but it's the extraordinary prosthetics that truly gives Churchill his sense of presence here. JMcA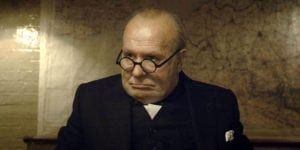 Best Costume Design – Phantom Thread, Mark Bridges
A feast for the eyes, Mark Bridges' immaculately coutured costumes is what allows Phantom Thread to hold its audience with such a strong, captivating grasp. They're so seductive, and so entrancing: Reynolds Woodcock would be proud. JMcA
Best Visual Effects – Star Wars: The Last Jedi, Ben Morris, Mike Mulholland, Neal Scanlan and Chris Corbould
As we see the galaxy far, far away expand, the work of Ben Morris, Mike Mulholland, Neal Scanlan and Chris Corbould is ever more integral in bringing this beloved universe to life. A particular highlight on this occasion were the squawking Progs, a cute cross between a chicken and a Furby that provided great comic relief in amongst the many moments of darkness. JMcA