"I'm sweating here. Roasting. Boiling. Baking. Sweltering. It's like a sauna. Furnace. You could fry an egg on my stomach," narrates Ray Winstone's Gary "Gal" Dove, before The Stranglers "Peaches" kicks in and he takes a break from crisping himself under the white-hot heat of the Spanish sun to place an iced hand towel over the nether regions he has concealed behind a skimpy pair of yellow swimming trunks. So begins Jonathan Glazer's cooler than cool, gangster-heist, love story hybrid: Sexy Beast.
Jonathan Glazer's feature debut, coming from the script of writers Louis Mellis and David Scinto, was made off the back of his reputation as a commercial and music video director, with credits including everything from Radiohead's "Street Spirit" and Jamiroquai's "Visual Insanity" to ads for Guinness, Levi's and Volkswagen. The result is a film that balances the stylistic flourishes, clearly born from Glazer's previous experience, excellently against a gangster narrative and character-driven film.
Ex-safe cracker, Gal, has retired to the sunny Costa del Sol with his beautiful wife and former porn-star, Deedee (Amanda Redman). Days are whiled away on lounge chairs, oiled up and baking, poolside, under the Spanish sun and evenings barbequing in the warm, summer air with married couple and friends, Aitch (Cavan Kendall) and Jackie (Julianne White).
Winstone plays Gal with such a gentle tenderness that he evokes a simplicity and modesty in the retired bliss in which he exists. He has forgone excess for a quieter happiness. He has his friends, the weather, calamari and his wife, for whom he has a deep love. He has carved out a little slice of paradise and wants nothing more than to maintain it.
When an enormous boulder crashes into Gal's pool, missing him by an inch, a cosmic karma is disturbed, setting into motion a whirlwind of disaster. Enter Don Logan (Ben Kingsley), a former associate of Gal's, who comes screaming into the picture with fastidious precision and rigidity as a psychopathic, sweary tormentor threatening to disrupt the calm waters of an idyllic life.
Don has come with a proposition, a heist job back in London breaking into the world's most secure safety-deposit box bank, organized by the notorious crime boss, Teddy Bass (Ian McShane) and he won't take no for an answer. And, so, Gal must battle to protect all that he holds dear without compromising the future of his loved ones and lifestyle.
Sexy Beast is a smorgasbord of filmic delights, from its soundtrack to the film's slick visual style and narrative flourishes. It's coated with the veneer of a music video-cum-advertising aesthetic that gives the traditional gangster narrative a sexy new sheen that marries well with Glazer's quick-fire editing and pacing.
There is a surreal thread involving a demonic rabbit-man sown into the fabric of the film that adds a shade of anxious unease and works as a nightmarish personification of past sins trying to force their way back into the present. This allows for Sexy Beast to deviate further from its straight categorisation as a gangster-heist picture and into a dramatic, redemptive tale of love.
But, it's the performances that bind everything together and really make this film sing. Ray Winstone's leathery, pink-bellied, corpulent expat who's dived, arms open into the soft, boozy pleasures of retired life in the sun is a side step from the characters' he portrayed in War Zone & Nil by Mouth, and more aligned to the kind-hearted, affectionate Harry of There's Only One Jimmy Grimble.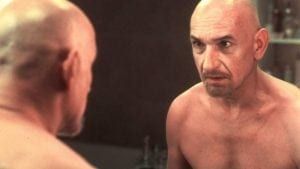 Kingsley, by contrast, revels in the straight-backed, raging violence of a pressure cooker stuffed with live ammunition that is Don. He carries himself with the kind of powerful aggression and rigid tension that beams from twitching eyes and a body that always moves ferociously from the waist. A real highlight is a scene involving the refusal to put out a cigarette on an airplane followed by accusations of being touched on the "front bottom," further underlining the sheer sociopathic tendencies of this truly despicable character.
The heist itself is on a par with the best of them, Rififi and The Asphalt Jungle, with an intricately imagined underwater drilling set piece that is physical, tense and dripping in more cool. Sexy Beast is undoubtedly one of the best British gangster films of our time.
Out Now In Cinemas