Over the years, as it has accumulated two sequels and as Robert Rodriguez' career has grown and diversified, El Mariachi's backstory has arguably become better known and more important than the film itself. I had seen Desperado and Once Upon A Time In Mexico, but until watching it to research this piece, I had never seen El Mariachi before, but I was very much aware of the legend of how it was made, with Rodriguez literally selling his blood in order to raise the $7000 that it cost him to finish shooting the film. Perhaps the biggest achievement of the film is that, even with that knowledge, the backstory of the film's making means that a lot of it feels impressive, but the story behind the film never gets in the way of your engagement with the action.
El Mariachi finds a young guitar player (Carlos Gallardo) turning up in a small Mexico town looking for work as a musician. At the same time, a mobster named Azul (Reinol Martinez) has escaped from jail and is killing his way through minions, on his way to vengeance on his old boss Moco (Peter Marquardt). Unfortunately all the information Moco's gang have on Azul is that he wears black and carries his weapons in a guitar case, leading to them mix him up with the Mariachi, who doesn't help himself by seeking shelter, unwittingly, with Domino (Consuelo Gomez), who Moco wants as his girl.
In some ways, El Mariachi feels like a film made on a shoestring. The stock is grainy, and the performances sometimes belie the fact that Rodriguez would often have had time and money for only one take, but just as often the film finds virtue in its limited resources. There is a restless energy that pulses through every shot of the film. You can feel it in the way the camera sometimes zooms and cuts like a hyperactive child, unable to sit still even for a shot of a beer bottle. This isn't the shakycam rubbish of recent action cinema though, Rodriguez always retains a sense of geography and flow, it's just that it often feels as though he's so restless to make this film that the energy is trying to escape the frame. This jittery restlessness might also be put down to some of the very basic cheats to which Rodriguez had to resort in order to keep his budget down, such as being pushed around in a second hand wheelchair to get moving shots, which obviously lends a very different feel to a smoothly tracked dolly or a deliberately shaky handheld shot.
His budgets may have increased and he may have smoothed the edges thanks to those extra resources, but El Mariachi demonstrates that from the start Rodriguez had a personal style. He's often, thanks to the timing of their breakthroughs, their friendship and their collaborations, lumped in with Quentin Tarantino, but this film feels more personal, at least visually, than Reservoir Dogs (in which Tarantino's wearing of his influences sometimes skirted near the line of outright plagiarism). Always good at staging action in his later films, Rodriguez pulls off some excellent action beats by simply using the environment around him. In one chase sequence he's got good enough instincts to slow his camera style down and allow us a full length shot of Gallardo doing an impressive stunt, jumping from one set of stairs to another, before immediately picking the pace back up. The gunfights are also generally impressive, from Azul's brutal execution of four of Maco's goons in a bar to the Mariachi hiding in traffic before picking up a dropped gun that he ends up being surprisingly proficient with.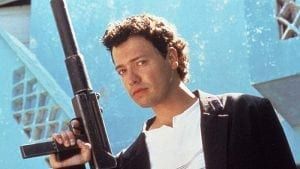 Rodriguez gets every cent of his $7000 up on screen with his visuals, but he's less well served by the cast. You can see why Gallardo's shoes were filled by Antonio Banderas for Desperado and Once Upon A Time In Mexico. Gallardo has a guileless persona that works well enough for the Mariachi as he falls into this world, but he lacks the intense charisma – for want of a better phrase, the movie star quality – of Banderas. The same is true of Consuelo Gomez, who never quite gets the intense toughness that you feel Rodriguez is looking for in Domino and, again, stacked up against Salma Hayek, lacks the ability to immediately draw the camera and the audience to her. Like Gallardo, Gomez isn't bad, but it just seems clear that she's an amateur doing her level best. The truly weak link in the cast is Peter Marquardt, biting off all the scenery he can chew and then some as Moco. He's a weak villain, though Rodriguez seems to have recognised that, as it pays off in an interesting and amusing way at the end of the film.
The fact that El Mariachi has become somewhat overshadowed by its mythology and its sequels (especially Desperado, which is really part sequel, part refined remake – in essence Rodriguez' Evil Dead 2) probably doesn't displease its director all that much. This is clearly a film that was always intended as a calling card; a way of saying "this is what I can do with $7000, imagine what I can do with $7,000,000". It absolutely served its purpose, it granted Rodriguez an unpredictable 25 year career, full of ups and downs, in which he has remained fiercely independent and retained his own style and voice. We'd probably have a healthier film, or certainly a more interesting, industry if more directors were given the freedom to follow his template.
RELATED
https://www.thelondoneconomic.com/film/flashbacks-93-groundhog-day/05/02/