It is fair to say that Brawl in Cell Block 99 delivers on its title. It's the kind of film that makes you feel like a bad person for liking it. Set in the Sothern states of the USA, the film opens with Bradley Thomas (Vince Vaughn) losing his job as a tow truck driver. He goes home to find that his wife Lauren (Jennifer Carpenter) has been having an affair. After deciding to forgive her, he promises her a better life and calls Gill (Marc Blucas), as drug dealer, for a job.
Eighteen months later they are living in a large expensive home and Lauren is pregnant. After an assignment from Gil goes wrong, Bradley is arrested and given a seven year sentence. While in prison Lauren is taken hostage and her kidnappers tell Bradley to kill the man in cell block 99 or else she will be murdered.
The film hangs on a single line delivered by the detective who questions Bradley after his arrest: 'Every once in a while I see a man in that chair who could just as easily be on this side of the table.' It is a line that seems to sum up Bradley's fate. The course of life has gone against him and instead of being a respectable figure with a good job he is battling his increasingly horrific surroundings.
Brawl in Cell Block 99 succeeds because it manages to make the violence that at times consumes it understandable. So much time is spent carefully constructing Bradley's character and motives that we are able to sympathise with him even when his actions are questionable. There is a reason behind the damage he inflicts and for the most part we will him to do it.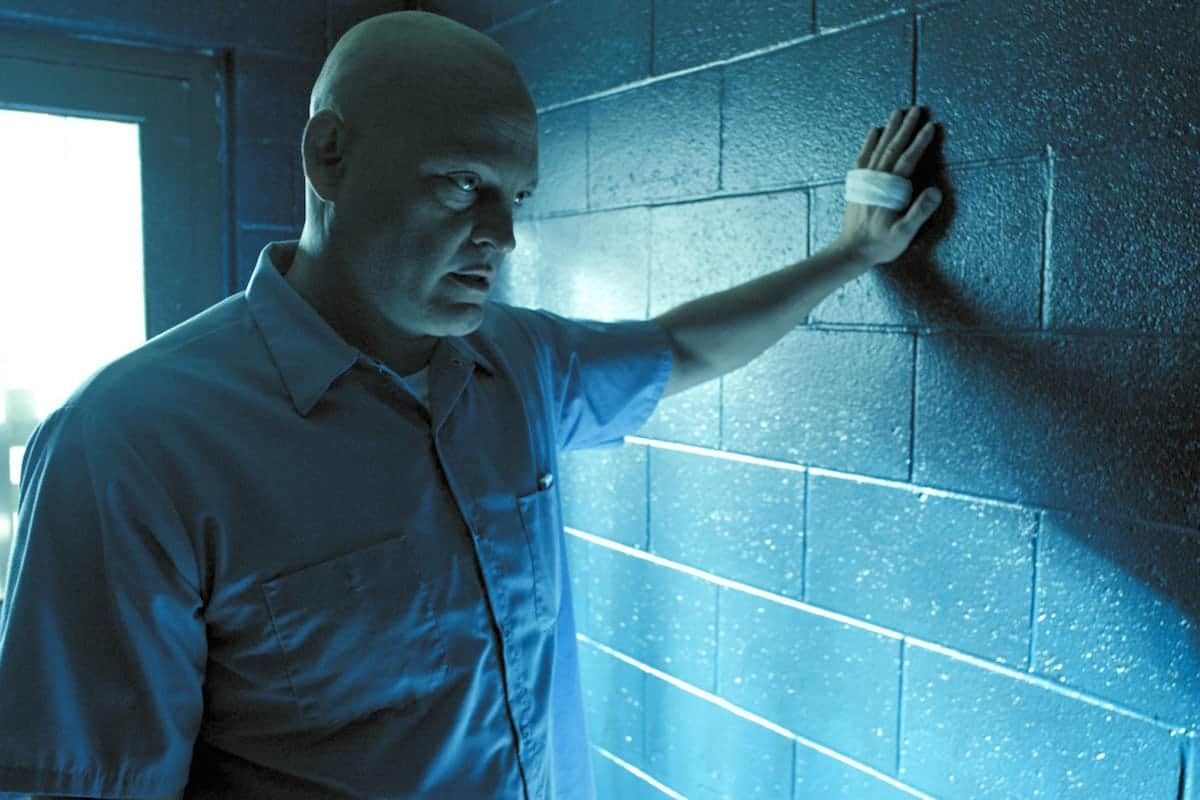 It will come as a surprise to some but much of our empathy for Bradley comes from Vince Vaughn's central performance. Oddly Vaughn, who has spent most of the last decade wallowing in a long line of poorly reviewed films, has recently started accepting good roles in projects like True Detective and Hacksaw Ridge. It would be an overstatement to say that Vaughn is experiencing his own Matthew McConaughey style renaissance but he is definitely showing more of the charm and subtly that made him a star more than 20 years ago. Images from bad comedies like The Dilemma, The Watch, and The Internship may still linger at the back of your mind but if this trend continues they may not stay there much longer.
Vaughn's performance may grab the headlines but director S. Craig Zahler's work should not go without mention. Having previously shown his filmmaking credentials with his debut feature Bone Tomahawk, which was released in 2015 to a number of very good reviews, Zahler is able to bring a grindhouse flair and sensibility to proceedings. In a fairly short space of time Zahler has been able to create a recognisable visual and narrative style for himself. There may be times when the cinematography is overexposed or when the dialogue is a bit awkward but these moments are easily forgotten when another skull cracks against the floor.
Brawl in Cell Block 99 is a brutally violent and surprisingly entertaining film. There are moments when you may have to shield your eyes but it is quite likely you will also be simultaneously shaken and energised.
In cinemas from Friday 20th October .
By Wyndham Hacket Pain @WyndhamHP
https://www.thelondoneconomic.com/film/film-reviews/
https://www.thelondoneconomic.com/film/film-review-dina/18/10/