The Vaccines have been confirmed as the headline act at this year's Goose Island LDN Block Party. 
A complete road closure at The Oval in Bethnal Green will be put in place allowing people to dance the night away in a true Block Party fashion. Expect an eclectic mix of music, a tasty variety of food, and, of course, lots of great beers.
The Vaccines first formed in West London in 2010 and the intervening years have seen the band gain new bandmates, awards, and four albums – the fourth being the sounds of one of the defining British rock and roll bands of their generation at full throttle. Combat Sports, their latest album, is a return to the music they love to play live: rock'n'roll; heavy on the guitar and breathless excitement.
LDN Block Party attendees will also be treated to performances by: Willie J Healey, bringing sounds of lo-fi rock, three piece female punk rock band, Dream Wife with their signature 90's alt-rock inspired guitars, singer-songwriter and multi-instrumentalist, Laura Misch, female DJ duo Four Tit, will be bringing the party vibe and Ghostpoet (DJ set).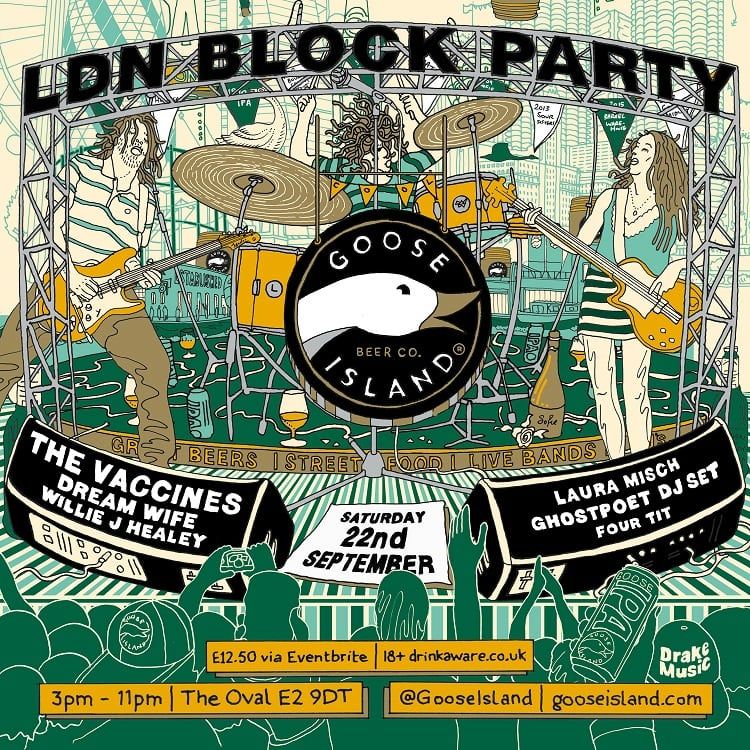 The Vaccines said: "Can't wait to be headlining London Block Party 2018! London is our home town so it's always special and we're playing better than ever, having more fun than ever. It's gonna be sweeeeet. Hope to see you there!"
Josh Smith, European Brand Ambassador at Goose Island, said: "LDN Block Party is hands down one of the biggest and best highlight of the year for us. We are so excited for to be returning for a third time, we've got a new venue, the best music we have ever had and some very special beers that we can't wait for people to try. Block Party is our way of thanking our Goose Island drinkers and friends for being the great people they are, it's our 30th birthday and we want you to come celebrate it with us."