Watch PMQs carefully and see if you can spot what has been dubbed Theresa May's "kill team" or "K-team."
The Sunday Telegraph recently exposed a "precision bombing exercise" choreographed by new Chief Whip Julian Smith to "shout Corbyn down and put him off his stride".
Due to worries about Jeremy Corbyn and the Labour Party's going confidence at Prime Minister's Questions as they land more punches on the Prime Minister, and concerns about Theresa May's ability to defend the government's record, the 'K-team' have been making it increasingly hard for the Leader of the Opposition to be heard.
Last week just before one of Theresa May's aides was read the riot act by Speaker of the House of Commons John Bercow for bellowing across Jeremy Corbyn's words, he was spotted listening to whispered orders from the Tory Chief Whip.
"A concerted effort" to shout parliamentarians "is totally undemocratic and completely unacceptable," Bercow warned the House of Commons.
But PMQ's is becoming increasingly fractious as certain MP's have been ordered to come to an increasingly beleaguered Theresa May's aid.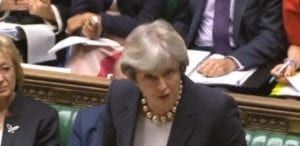 Conservative sources revealed to the Sunday Telegraph how this is done:
The "K-team" shouting down the Labour party leader or try to put him off his stride with loud guffaws
To distract another team stand bizarrely in a row across the front of the House of Commons Chamber, including female staff to look friendly and supportive of the PM for cameras.
We noticed one more tactic – hide Health Secretary Jeremy Hunt at the back out of the way of cameras in case anybody mentions anything about the state of the NHS:
See if you can spot them in this week's Prime Minister's Questions:
https://www.facebook.com/ParliamentTodayUK/videos/365664200547271/