Brexiteer Michael Gove last night revealed his Game of Thrones 'soulmate' is Tyrion Lannister as negotiations over Britain's exit from the European Union reach a crucial juncture.
The environment secretary was criticised after he posted on Twitter the results of a quiz entitled "Who's your 'Game of Thrones' soulmate?" last night.
He got Tyrion Lannister, who known as being an instinctive schemer.
In a 2014 interview, Gove said: ""My favourite character in Game of Thrones is undoubtedly Tyrion Lannister, and the moment I love most was when he leads what is apparently a hopeless charge of his troops in defence of King's Landing, against the forces of Stannis Baratheon, and you see there that that this misshapen dwarf, reviled throughout his life, thought in the eyes of some to be a toxic figure, can at last rally a small band of loyal followers…"
But many on Twitter tend to disagree with Gove's assertion that he has a likeness to Tyrion Lannister, saying he's more like the scheming and ruthless Game of Thrones character Petyr Baelish, nicknamed "Littlefinger".
Gove likes to be close to power, and ditched his support for Boris Johnson in the 2016 Tory leadership contest in order to launch his own bid to become prime minister, hanging the former Mayor of London out to dry.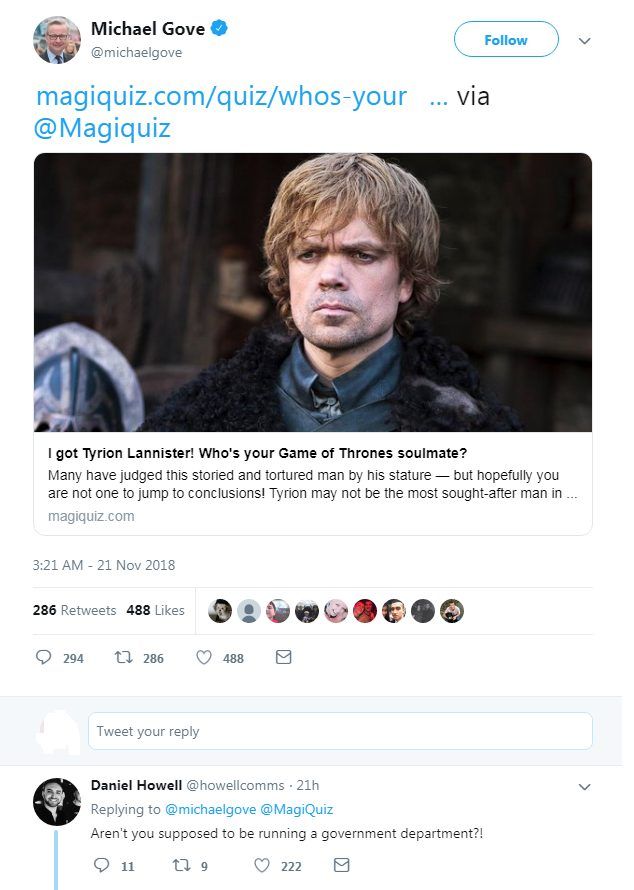 RELATED
Labour MPs unlikely to back May's withdrawal bill, McDonnell claims
If Labour really wants to help the poorest in our society they need to stop Brexit