Setting a film in an orphanage, one expects a tale filled with suffering. My Life As A Courgette is a creative accomplishment, managing to be heartwarming and light, even when it's touching upon the dark subject matter of childhood pain and abandonment. This beautifully animated film is based on a novel by French writer Gilles Paris, and director Claude Barras and screenwriter Céline Sciamma have skilfully managed to create a tender coming of age story, where the loss and abuse children suffer are outweighed by their resilience and compassion for one another. Unlike most contemporary cinematic depictions of residential care homes, this orphanage is a place of safety and respite for the children: in the outside world is where neglect happens; inside offers reassurance and recovery.
Icare, nicknamed Courgette, accidentally kills his alcoholic mother and is sent to a children's home for orphans, where he joins a small group of similar-aged children. Like Courgette, their lives are also troubled: all neglected and mistreated in their own way. One had junkie parents, another was abused, another was left alone after their mother was deported. All are having to survive with their wounds, emotional or otherwise; these are children having to be adult due to the trauma they have suffered. The tragic experiences they have had bind the children together and there is an implicit understanding and empathy between them. When Courgette learns that the father of fragile new arrival Camille is in prison for murdering her mother, he notes that 'It shines in her eyes that she saw it all', and his affection for Camille deepens. It's a double-edged sword that these young children, emotionally battered, and filled with such loss, are so sensitive to what's around them: when pseudo-bully Simon glumly acknowledges 'There's nobody left to love us', it's utterly heartbreaking for all of them, and for us watching.
Dealing with this difficult subject matter in a live action film would be quite a hard watch, but it works magnificently as stop-animation. The sweet puppet model characters are treated with such love and affection, and their wonder at the circumstances they are in is a joy to behold; it's enchanting seeing the world through these children's eyes. My Life as a Courgette manages to tenderly yet expertly cover sensitive issues like death, pain, and abandonment, as well as exploring childhood curiosity in sex, which it does so with a light touch and much humour. It's a wonderful, life-affirming film, offering deep compassion for neglected children and their ability to survive, and it offers a central message to us all: kindness, understanding and love go a long way.
My Life as a Courgette is out in cinemas from Friday 2nd June.
Review by Zoe Margolis.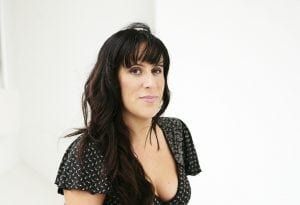 Zoe Margolis is a London-based author, journalist and commentator on sex, feminism, film, and popular culture, working across books, print, television, radio and the web. She is the author of the bestselling books Girl with a One Track Mind and Girl with a One Track Mind Exposed, and you can find her at @girlonetrack.