Camden, London
03/05/2019
Pictures: Graham Berry (@blktphotography)
And thus those who unite to worship at the great temple of riff descended onto London for the eighth edition of Desertfest – a now firmly established and oft unmissable date in the festival calendar (and perhaps the best – as there's not a portaloo in sight).
Friday's line up is arguably one of the most 'on brand' to date; most of the bands on the slate deal with some form of blues-tinged, fuzz drenched stoner riffage. Sweden's Vokonis, who open up the Underworld, sit right in that particular pocket; their easy, rolling grooves are backed by Jonte Johansson's hefty bass and pulsing kick drums. Cascading, beefy drum fills spur on pacey riffs and climbing, wailing solos before slowing down into a shuffling bluesy stomp. The only let down is the bellowed vocals, which are perfectly serviceable but leave you thinking maybe they'd be a more solid instrumental act. Still, they get heads nodding appreciatively.
Portland's Blackwater Holylight are wonderfully dynamic – wicked, triton riffing snakes around plodding, tom heavy drums and breathy vocals, their drifting, dreamy tempos and crunchy-yet-bright guitars evoke both classic denim clad doom and golden age grunge vibes.
Speaking of grunge vibes, it's a crying shame that Oxfordian oiks Drore have had to pull out due to their guitarists' mangled mitt. We wish him a speedy recovery so they can get back to business.
Zig Zags do both of those things as the first true departure from the so-far so-stoner line up. Their clattering classic take on hard rock riffing is high octane, racing drums and blazes of guitar tapping descending into brief moments of tumbling chaos. They stir up a slightly older-skewing crowd with entreaties like "lets have some fuckin' fun already", proceeding to do just that with their tightly locked, breathless sub-thrash rhythms which sees them tearing all over the stage.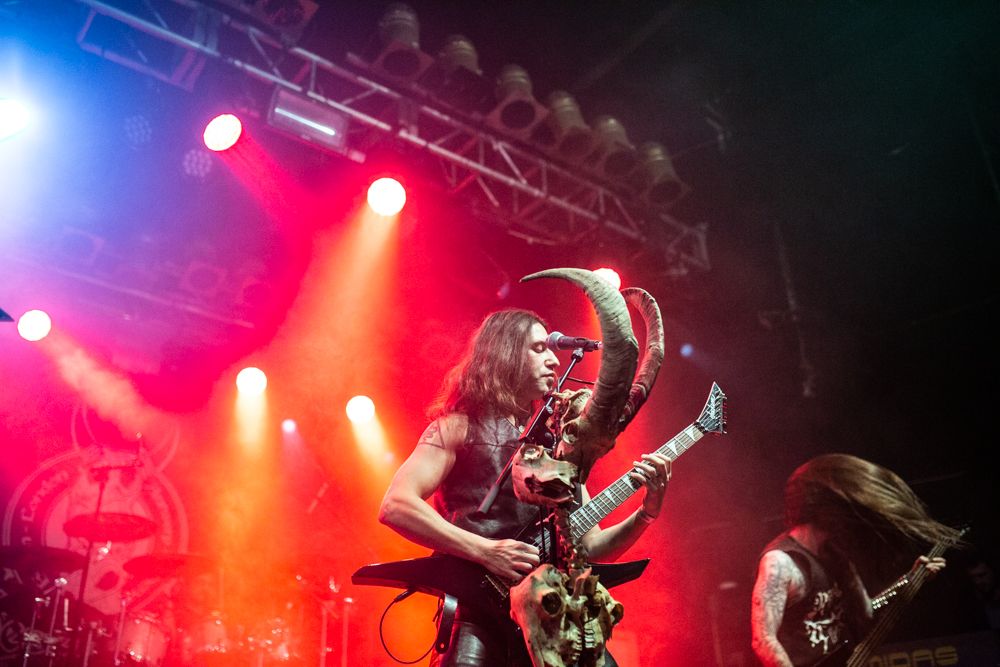 One For Sorrow throw out some relentless tempos with their filthy blues-infused sound. Skipping cymbals and sludgy, swinging grooves are shot through with hefty palm-muted chugging and sleazy soloing. Frontman Joe Thompson admits that the band "don't really have a setlist tonight, we're kinda winging it", but this doesn't seem to hamper their burly rhythmic assault.
There's a lot of buzz around the Electric Ballroom in anticipation of Grave Miasma's set, and with good reason; their ripping blackened-death metal is like a blast of necrotic air that blows clean through the hazy cloud of devil's lettuce smoke blanketing Camden. Tumbling, stuttering blast beats and spikey tremolo riffs measure a relentless pace under Yoni Ben-Haim's guttural growls, his audaciously behorned mic stand and squealing guitar dive-bombs adding a dramatic flair to their dominating performance.
Wovenhand tease with a long intro tape, rhythmic chanting building anticipation. Shimmering cymbals build into driving rhythms, guitars rising and falling like a natural landscape, their gospel and country roots laid bare through their climbing, ascending riffs, twanging southern gothic tones and lurching, bluesy rhythm section skiffle. David Eugene Edwards's is clear and strong, but suffers from being too high in the mix, booming out, struggling to dovetail with the instrumental as it should. Still, a minor gripe in the face of their infectious, communally rhythmic grooves.
Down at The Dev Canvey Island's finest Whoremoan dish out Kyuss-inspired buzzing fuzzing like it's going out of fashion. Gruff vocals and bouncing rhythms punctuate their stop/start riffing, big, brash and ballsy drives coming off like a slightly less boisterous Truckfighters. Certainly entertaining after a few shandies; you get the sense that the pub might be Whoremoan's natural habitat.
OM descend onto the ballroom like a cool breeze, their deep, syrupy grooves settling the audience into hushed reverence. Skittering, jazzy drums run the dynamic gauntlet between tentative restraint, cymbals hissing, and full on thumping, rolling toms. Al Cisneros' stands larger than life, his flatulent bass plucking a meditative metre, his muttered vocals near spoken word. Their winding grooves are trance-like, hypnotic, burbling along with a lulled atmospherics. Sure, they don't have the bombastic dynamism of previous headliners like High On Fire, but they're a welcome ease into the rest of the weekend.