Camden, London
05/05/2019
Pictures: Graham Berry (@blktphotography)
Sunday is ever considered a day of rest, to look upon the week's achievements with your feet up and Countryfile on the TV. Unfortunately there's no rest for the wicked, and those powering on through another day of towering riffs are certainly that (wicked hungover, mostly).
London locals Mountain Caller might be new to the scene, having only formed in 2017, but their considered, windingly-progressive stoner doom evokes the sounds of some established genre stalwarts. Chiming, echoing guitars wander through heavy reverb, propelled along by shuffling snares and easy bass. Picking up the pace, they start to climb as one would their namesake, steadily building tension to near unbearable levels before breaking into stuttering drives and wahh heavy guitar noodling. With lots of varied dynamics, spacey pacing and slow revolution, they're a gentle but impressive start to the day.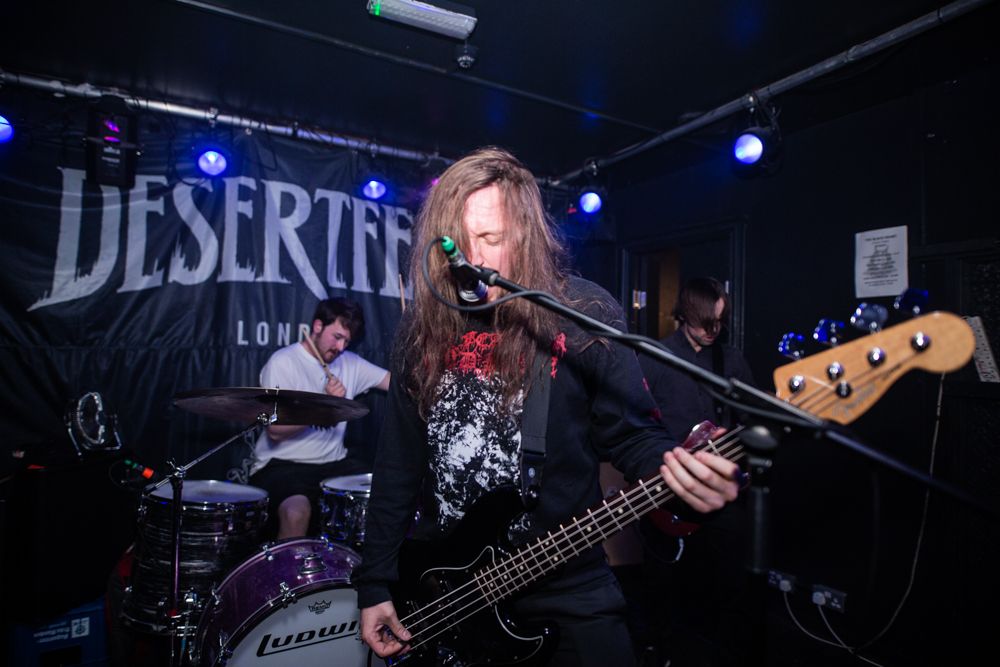 If Mountain Caller are the sun-kissed uplands of the great progressive landscape, Sūrya are their vaulting, cavernous depths. Their drifting, cinematic post-metal spirals and coalesces, crashes and draws as projections of natural and industrial processes invoke struggles of man versus environment. Fluid, graceful drums and rushing cymbals induce constant movement, slabs of chords ringing out as guitars build and soar from an Underworld stage groaning under the weight of a multitude of effects pedals. Think 5ive and Sea Of Bones had a lovechild raised entirely nocturnally.
Wren continue the theme of ascendant post-metal, but the Black Heart might just be too small a room to contain them. Shimmering, droning noise blossoms, cut through by lances of feedback and amp noise as cascading drums usher in buzzing riffs. Bristling, burly and muscular, this might be the most rhythmic we've seen them, their murderous, thick palm muted riffs effortless rising as if to escape pounding, clattering drum fills and a sludgy bass undertow. Irresistible.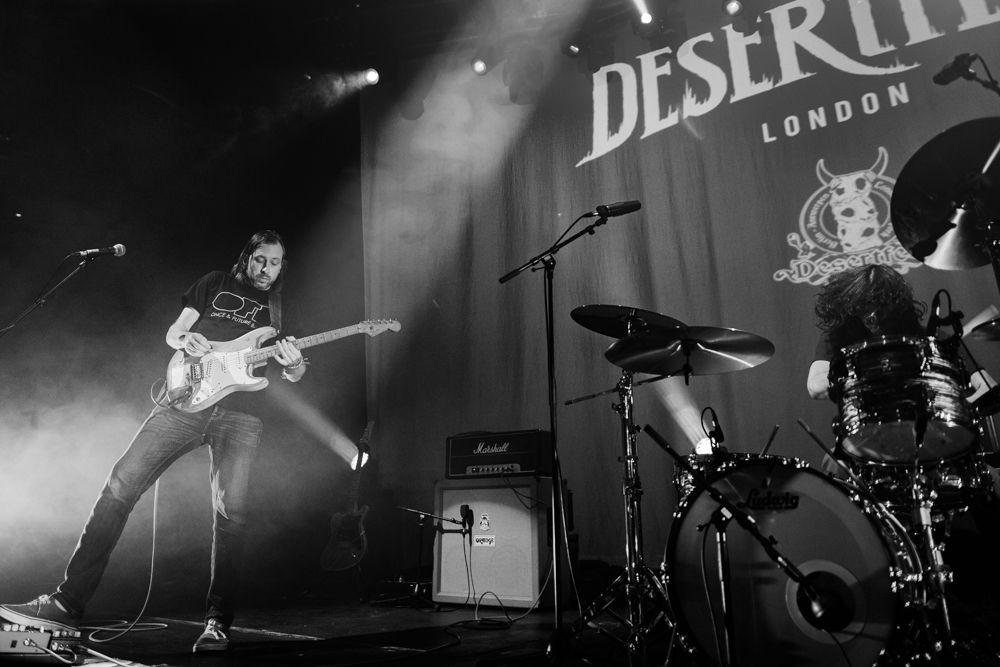 San Diego's Earthless seem to be trying their absolute hardest to fill up the entire surface area of the Roundhouse with big, bombastic grooves. Their buzzing, blazing guitar gymnastics ride atop bouncing, swaggering rhythms, swaying like bellbottoms through Zeppelin worship and psyched out acid swagger. Mario Rubalcaba's drums never stop for breath, constantly moving, Mike Eginton's steady bass acting as a bridge between rhythm and melody, holding things together perfectly. Isaiah Mitchell's guitar doesn't so much gently weep as full throated wail, jetting off over the restless rhythms to throw out blistering tones before reconvening to focus on rampant, driving riffs. Mostly instrumental with moments of soulful clean vocals, their long form jams and breathless stamina delight the receptive crowd.
Enough with such upbeat pleasantness – Sheffield's Kurokuma drag things forcibly back down into the gutter with their oppressive and brooding take on noisy doom. Hissing cymbals cut through a thick kick/snare groove as guitars grind and whine over the top of hefty bass growl, an air of threat ever present. They start with little fanfare, letting throbbing bass churn and sickened, scraping guitar fills do the talking. Throat shredding, feral screams pitch above darkened psych-guitar as drums twitch between cavernous echoes and sneaking, snaking beats. Murderous, hypnotic and organic.
For a festival known for roaring riffs and stacks of speakers, CHVE x Syndrome manage the impressive task of getting a room of metallers so quiet you could hear a pin drop. The two separate musical side projects of founding Amenra members Mathieu J. Vandekerckhove and Colin H. Van Eeckhout are here united to create something shimmering, lilting and otherworldly. Restrained, sombre and fragile, their ethereal noisescapes of drone conjured by twanging, folkish guitar and droning hurdy gurdy. The monochrome, stark lighting reflects the stripped-bare nature of the project, a stark, aesthetic simplicity of muttered vocals and trance like musicianship. A few people leave confused, but those that stay are enraptured by a music box sound fit for the great old ones.
Nashville's All Them Witches (or 'All Of Those Witches' for the non-grammatically flexible) bring the good times to the Roundhouse, switching between summery, laid back grooves to towering, fuzzed out stomps with consummate ease. It's feelgood stuff peppered with squalls of heady psych and near spoken-word vocals that do battle with rising, blues soaked guitar. The moments of winding, low'n'slow grooves are tentative and soulful, and their triumphant, buzzing walls of riff and sudden, shouted vocals are just jarring enough to remind the punters what Desertfest is all about.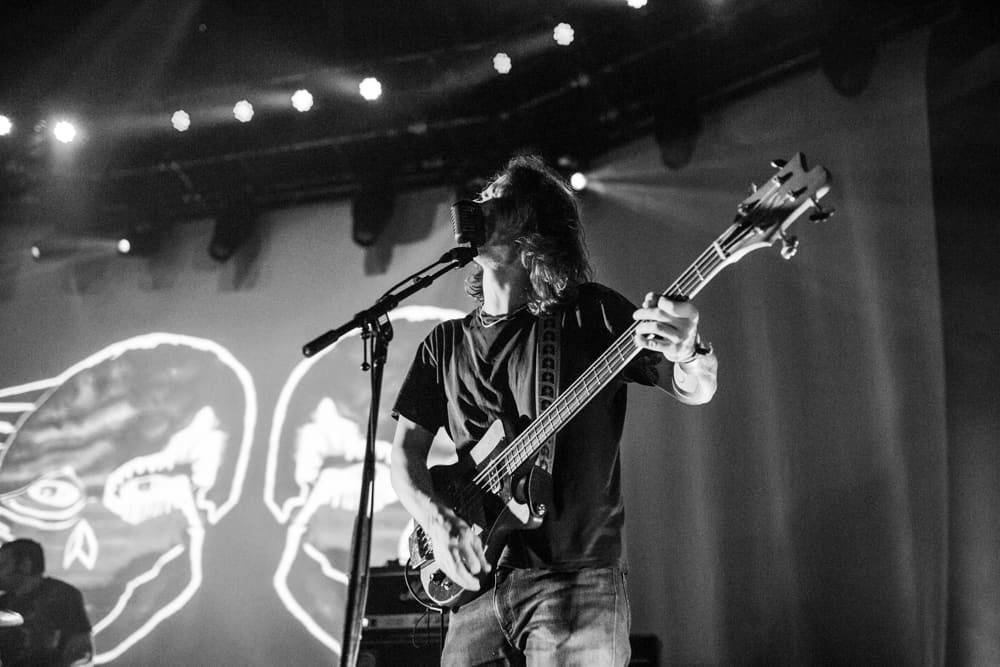 As ever, Desertfest has summoned a wealth of international talent to Camden to celebrate a shared love of riff. We've all had the luck to be at gigs where there's a sense of history being made; Desertfest packs in many such moments over the full three days. A diverse, deafening and delightful lynch pin in the festival calendar. Bring on next year.