Camden, London
04/05/2019
Pictures: Graham Berry (@blktphotography)
Slightly jaded from yesterday's proceedings but unbroken, back down the rabbit hole of the London Underground to emerge in Camden for Desertfest Day Two. Luckily Elephant Tree are on hand at The Electric Ballroom to ease us into the day gently, clearly understanding the need to be a bit on the gentle side when they ask "How you doing? Who's hungover?". Throwing out bouncing stoner grooves, fat and fuzzy bass soloing and wailing, climbing guitars, they grin their way through the whole set, clearly loving it just as much as the punters.
If Elephant Tree were all about the gentle ease in, Brighton's Kalloused are more about extracting every single one of your teeth with a cinderblock. Frontman Les Makepeace prowls the front row of the Underworld crowd as the band onstage tear into new material, James Reuben a whirl of spiteful arms, hammering out rumbling rhythms. Sludgy riffs lurch from crushing grooves to snarling, frantic hardcore, their command of stop/start tempo truly impressive. Makepeace is terrifying, his effortless roars and barks intercut with more lucid, commanding spoken word, and the rest of the band get in on the act too, each taking turn to add to the furious vocal melee. A magnetic performance from a band clearly hungry and out for blood.
Somewhat ironically things settle back down to earth with DVNE's cosmic psych-doom. Fuzzing, phasing bass and droning guitars coalesce into blissful wandering prog like a nebula gas cloud, drums keeping a pulsing beat as they barrel into a head first rush, spiralling off into beautifully clear solos. Throaty, bellowed vocals keep things heavy while soaring, harmonious cleans take flight over droning keys. Smooth and atmospheric.
We've never seen anything quite like Arabrot. Coming onstage to a literal fanfare of blaring trumpets, the rhythm section get down to business, with tub thumping toms keeping time under swaggering bass licks. The outrageously behatted Kjetil Nernes growls out spoken word vocals with the flair of a southern gospel preacher before slinging into jagged, squealing riffs. He's the most pissed off Amish looking fellow you've ever laid eyes on. In a word, odd, but certainly memorable.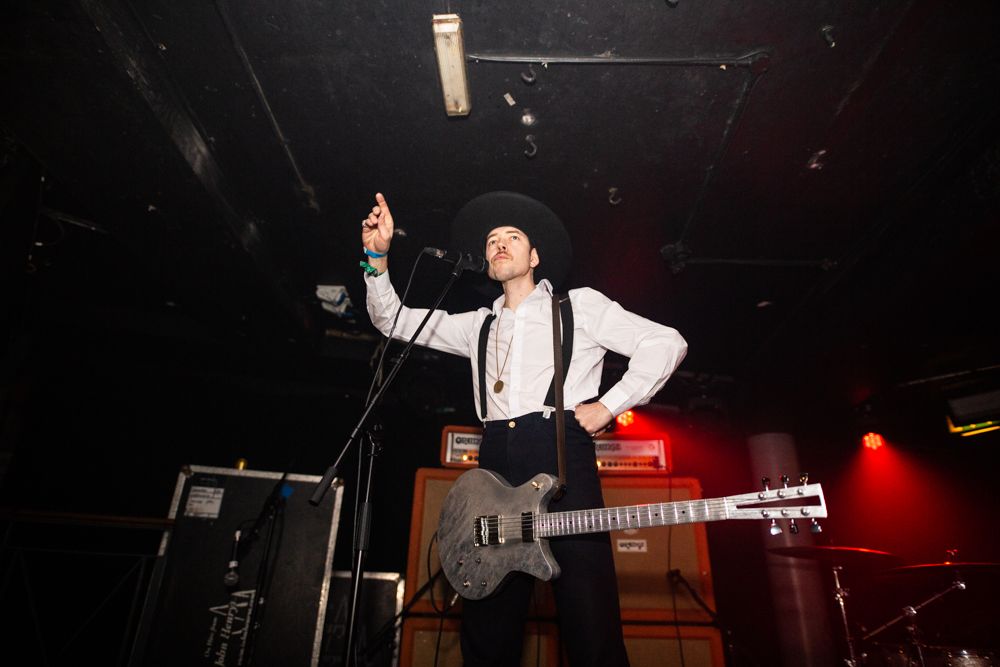 When Glasgow's Headless Kross say doom, they mean doom. Their lurching, sea sick grooves mutate from leaden trudge to driving, racing riffs, phasing guitars breaking into full on psychedelic freak outs. Derek Sexton 's wretched screeches pitch over the top of churning tones, making all sorts of unholy racket for a three piece. Kross is definitely an understatement for their seething, raging doom.
Speaking of Glaswegians making a racket, party punk duo Acid Cannibals manage to blow the bloody doors straight off the Underworld. Their noisy, tumbling high-tempo sludge is hugely infectious, their bouncing grooves, hoarse shouts and spasmodic drums pitching them as a stoner slanted Scots answer to Lightning Bolt or Black Cobra. The barely controlled chaos onstage is fuelled by swigs of buckfast, the two piece clearly embracing the full spirit of the Desertfest weekend as they roll through explosive turns of speed and filthy, buzzing grooves. Their tracks range between themes of railing against Orange Order sectarianism to "being from Scotland and going to other places and being like 'It's alright. It'll do.'" Well, Acid Cannibal's set is more than alright; one of the best of the weekend.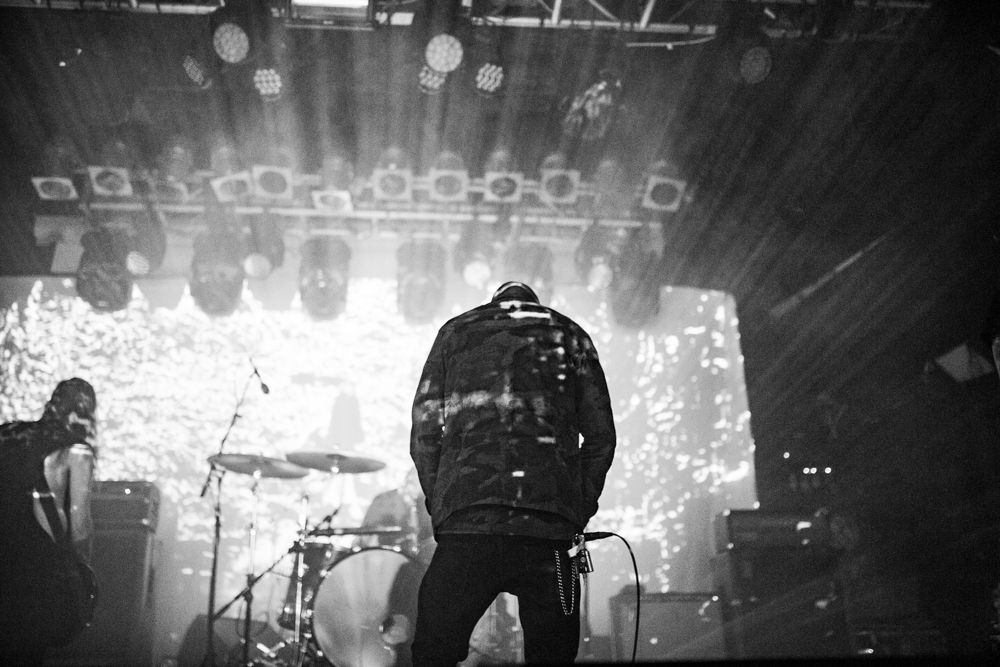 For many the high point of the weekend will be the opportunity to celebrate 20 years of worship at the church of Amenra. Anticipation hangs around the Electric Ballroom like the dry ice pouring from the stage and the band's atmospheric intro tape begins to creep in. Frontman Colin H. Van Eeckhout takes to the stage and settles onto his knees to intone the ringing percussive intro to 'Boden', which is joined by a steadily building riff. Pungent incense wafts from the stage, shifting projections distort the band, creating a multi-sensory experience as they move through oppositional movements of maelstrom and movements of calm. 'Razoreater' is explosive, accompanied by violent synchronised headbanging t it's world-striding, chugging riffs. Cuts like 'A Solitary Reign' prove not only that the band are still creating vital, moving music two decades into their career, but showcase the vulnerability in Van Eeckhout's fragile cleans. With an abrupt ending leaving the crowd literally demanding more, mere applause seems worthless in the face of such a raw emotional gamut of exultation and catharsis. A triumphant exercise in quasi-religious elegance and damnation, Amenra are untouchable.