PWR BTTM have unveiled the music video for 'Answer My Text' from forthcoming LP Pageant (May 12, Big Scary Monsters/Polyvinyl).
Directed by H.S. Naji (who also directed 'West Texas' taken from Ugly Cherries), the video sees Liv Bruce bring to life the colorful lyrics of 'Answer My Text' as the rage, sadness, and anxiety of a text message relationship takes over with escalating internal and external drama.
The vid is also accompanied by some pretty snazzy PWR GIFs, available here for your viewing pleasure (here's out fave).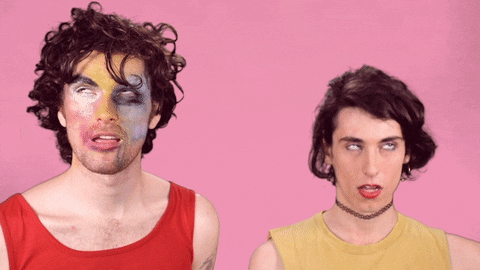 UK tour
Mon, Apr 10 – Dublin, Ireland – The Workman's Club*
Tue, Apr 11 – Manchester, UK – The Deaf Institute*
Wed, Apr 12 – Sheffield, UK – The Harley Hotel & Bar*
Thu, Apr 13 – Birmingham, UK – Hare & Hounds*
Sat, Apr 15 – Glasgow, UK – Centre for Contemporary Arts*
Sun, Apr 16 – Bristol, UK – Exchange*
Mon, Apr 17 – Brighton, UK – The Haunt*
Tue, Apr 18 – London, UK – The Garage*
Thu, Apr 20 – Nantes, FR – Stereolux
Fri, Apr 21 – Bourges, FR – Printemps de Bourges
Sat, Apr 22 – Paris, FR – La Gaîté Lyrique*
Mon, Apr 24 – Lille, FR – L'aeronef*
Tue, Apr 25 – Rouen, FR – 106*
Sept 31 – Aug 3 – Dorset, UK – End Of The Road Festival