A budding artist is creating masterpieces on the muddy surfaces of white VANS up and down the country.
Ricky Minns, 42, who goes by the name of Ruddy Muddy, spruces up vans in need of a wash by drawing works of art with his fingers.
His most recognisable designs are those of Prince Harry, Leonardo Di Vinci's Mona Lisa, Prime Minster Teresa May, and Labour leader Jeremy Corbyn.
Ricky said: "My little one told me that I'd never be a real artist until I was as famous as Da Vinci, so I really like the one of the Mona Lisa.
"I'm also a fan of the royal family, I really admire the work that they do, in terms of supporting charities and stuff like that.
"I do like the battles that are going on in politics right now, but I try to steer clear of it in general where I can."
He also recently drew a piece to remember the late Bruce Forsyth following the TV presenter's death last month.
Ricky said: "I just thought it was really tragic news about Bruce.
"He's that one TV presenter that everyone grew up with and is still there, he's the last of the last of those.
"I feel like everyone was expecting it, but usually, when it happens, you're never quite ready for it.
"I don't always get the opportunity to pay a tribute and so I wanted to show my respects I the only way I can."
Ricky, who is a delivery driver for a flower company, started drawing on vans eleven years ago to stop his children seeing rude words which had been etched in the dirt.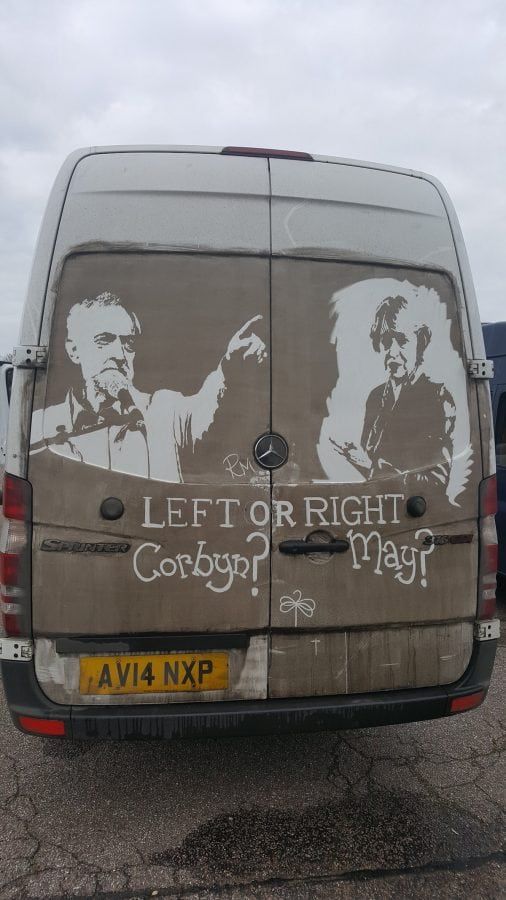 He said: "It's quite funny really, it was all because I didn't want my kids to see the filth that people scribble on vans with their fingers.
"I started to go over people's rude messages with my fingers, first I just drew mountains and things and then I got a bit more artistic each time."
He said: "I genuinely like drawing lots of things, there's no one specific object as such, but people definitely really inspire me.
"I'm most inspired by people who do amazing things, I feel inspired to draw things when people who I admire pass on."
Ricky said that he chose to keep his initials R and M when choosing the name Ruddy Muddy, and that he signs off with this and his employers name on every piece.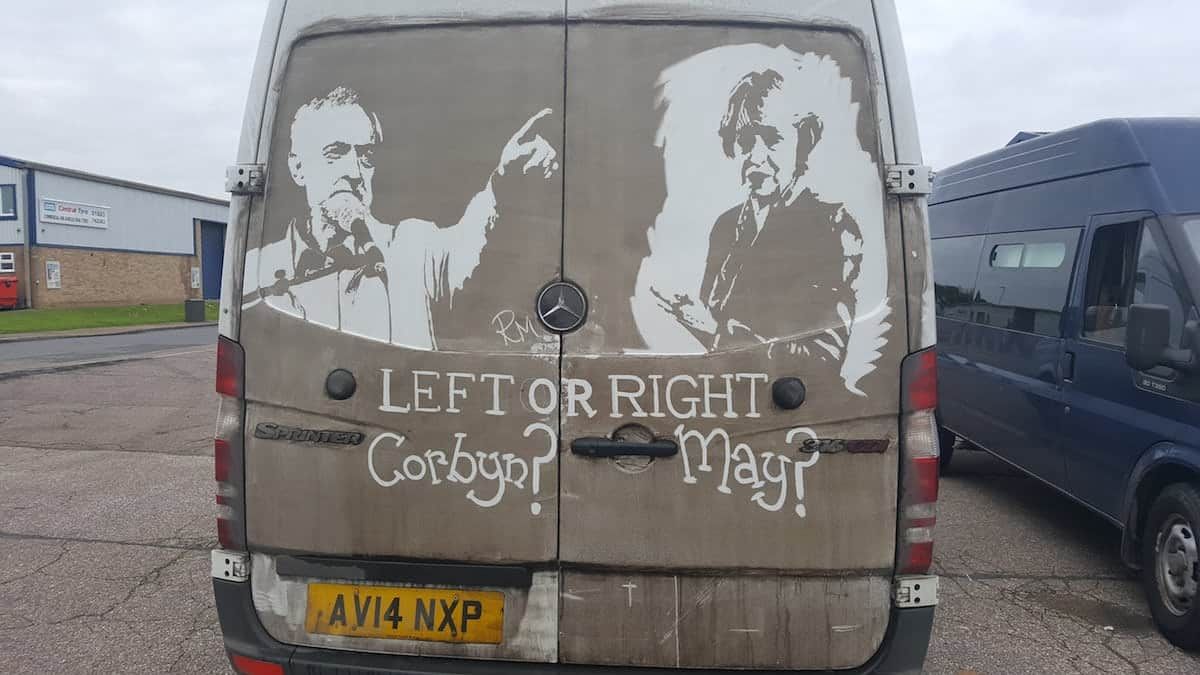 He said: "I grabbed opportunities when I can, the van belongs to the company I work for- that's their rule for any piece I do, that I put their name on it.
"I don't have a single piece that I'm most proud of as such, but I do really like drawing VW vans a lot.
"There's also the one I did for the Fast and Furious film which took eight to ten hours but got a really great response."
Ricky's technique has evolved over the years and he now sprays a secret mud recipe onto vans, but still finds his work weather dependant.
He said: "The rain sort of adds a novelty to it in some ways, but my work lasts through the wet until the van is actually washed.
"I actually spray the mud on with one of those garden pump things, but I can't tell you my secret recipe of the mud itself!
"Let's just say I throw a few things together- I use a paintbrush now too."
Ricky's work has travelled from his hometown in Norwich, Norfolk, where he works for Flower Vision, all across the country.
https://www.thelondoneconomic.com/entertainment/malcolm-muddle-actor-reveals-doesnt-remember-appearing-sitcom/26/10/
https://www.thelondoneconomic.com/news/image-tiny-insect-living-massive-mushroom-won-amateur-photographer-major-award/16/10/