A man has been charged with the posting of a sick video showing a group of people burning a Grenfell Tower effigy over the Bonfire Night celebrations last year.
Paul Bussetti, 46, was charged with two counts of sending or causing to be sent grossly offensive material via a public communications network.
According to the charge it is a crime under the Communications Act 2003 carrying a maximum sentence of six months in prison.
Bussetti, of South Norwood, south London, will appear at Westminster Magistrates' Court later this month.
The video, which went viral in November last year, showed a group of people laughing as the cardboard 'building' went up in flames.
Jeering and laughter were heard in the clip as a cardboard construction of the west London tower block was lifted onto two wooden slats over a burning bin.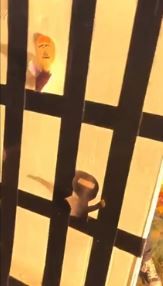 A woman said: "Bye everyone. Bye" as she helped lift it into the flames while other people joked about the tragedy that took the lives of 72 people in June last year.
Several people in the video appear to say that the effigy is 'in bad taste' but they are quickly cut short by the perpetrators.
Men could be heard making fun of the fire service's infamous advice given to residents of the tower when the fire first broke out to stay in their flats.
A man said: "Stay in your flat we are coming to get ya" while another counselled the flat residents to 'jump out the window'.
Another added: "We can go rob the bottom flats."
One voice appeared to be mocking residents of the tower stuck on higher levels of the tower, and said in a high-pitched voice: "Help me, help me!"
As the paper figures in the tower were set alight one of the men added: "That's what happens when they don't pay their rent".
The clip was slammed on social media when it found its way onto Facebook and Twitter on November 5.
Police initially said although the image was in 'poor taste' that no crime appeared to have been committed.
Six men then handed themselves in to a police station and were held on suspicion of a public order offence on November 6.
Two of the men were 19-years-old, one was aged 46, two were aged 49 and the final suspect was 55.
A spokesperson for the Met Police said they are waiting for an update on the other five men.
As of November 6 they were released from police custody and remained on police bail.
As yet nobody has been charged over the actual Grenfell Tower blaze that left 72 dead.
Labour's Shadow Housing Minister Sarah Jones recently revealed that 85% of blocks with the same "highly flammable cladding" that spread the blaze in the Kensington housing estate on 14 June 2017, are still covered with it.
By Ben Gelblum and Adela Whittingham
'Complacent' PM warned 85% of blocks still clad like Grenfell Towers
"Unforgivable cowardice" Government won't allow company to criticise May over Grenfell Tower fire