Ten of the best things to do in Scottsdale, Arizona
TLE's ultimate guide to the best things to do in Scottsdale, Arizona – from learning how to become a cowboy to riding a hot air balloon in the desert.
In Scottsdale, you can do things you probably thought you never would, like attend a college exclusively for aspiring cowboys. Or drink cactus cocktails.
Located around a twenty-minute drive from Phoenix, lies the curious, western film-set town of Scottsdale. It is a place surrounded by the Sonoran Desert, which is full of cacti older than the city itself (Scottsdale wasn't incorporated until 1951).
The self-proclaimed 'West's Most Western Town' has since seen its population surge from a mere 2,000 to just under a quarter of a million in under 70 years. The reason for its rapid growth spurt could, in part, be due to its 300 sunny days a year.
Scottsdale's year round good weather makes it a place popular with 'snowbirds', people who visit during winter months to escape their colder hometowns. And who could blame them? Winters rarely drop below 13C. But the weather isn't its only draw.
This surreal city – complete with scores of quirkily-named streets (like North Superstition Lane), great Mexican food and a serious amount of gift shops – also has a special relationship with the big screen.
Actor Emma Stone was born in Scottsdale and Mary Poppins star Dick Van Dyke used to live down the road in Cave Creek. The city also hosts an annual five-day film event, Scottsdale Film Festival, in November. Not to mention how film stars like Marilyn Monroe and Bing Crosby are alleged to have regularly hung around hotels in Scottsdale in the 1950s and 60s.
So if you like the idea of visiting a desert town in Arizona – to explore the outdoors, fill your cowboy boots with Mexican food and relax in a place once popular with famous Hollywood faces – check out our list of the best things to do in Scottsdale.
The Ten Best Things to do in Scottsdale
1. Stay in Mad Men style mid-century hotels
Channel your inner Don Draper at the Mountain Shadows Resort, a mid-century hotel which feels more Miami than Arizona. Wes Anderson-like symmetry, modernist interior and more textures than you have time touch, make it one of the coolest hotels in Scottsdale. Mountain Shadows' postcard-worthy view of the famous Camelback Mountain from the hotel's reception is worthy of a visit alone.
You can also check out Hotel Valley Ho in downtown Scottsdale for your mid-century hotel fix. The original hotel, opened in 1956, was designed by Edward Varney, an apprentice of famous architect Frank Lloyd Wright.
Today the hotel is in keeping with how it looked in its heyday – draped in mid-century Hollywood glamour. In tribute to times gone by, 1950/60s music still rouses guests in the reception area. You can just imagine the likes of Zsa Zsa Gabor, Tony Curtis and Janet Leigh – all stars rumoured to have hung out at Valley Ho – swanning around some 50 plus years ago.
It was Scottsdale's off-the-beaten-track location which deterred the paparazzi and enticed Hollywoods A-listers out to the desert, according to expert Ace Bailey, who runs art and culture tours at the hotel.
2. Gorge on views worthy of a John Wayne film from Camelback Mountain
Hike Camelback Mountain, a reasonably steep boulder-strewn trail with a 2,704 feet elevation. Set off early (around 4-5am depending on the season) to avoid crowds and prevent frying in the intense heat. There are two trails, Echo Canyon and Cholla. For novice hikers or those with medical problems, consider using a hiking guide as there are a few sticky spots on the ascent.
If you're quick and early enough, you'll catch a glimpse of the sunrise over Scottsdale and surrounding areas, which makes waking up at such an unsavoury hour worthwhile. The early morning hike also acts as a natural, energising remedy to post long-haul flight jet-lag. Worth bearing in mind if you're visiting Scottsdale from the UK.
3. Eat sprout nachos at Diego Pops
Scottsdale doesn't have one stand out local dish. But it does have sprout nachos. Head to Diego Pops to taste this bizarre, disconcertingly delicious, combo. Scottsdale's Mexican food influence is obvious – given its proximity to Mexico – but sprouts? Apparently, they are having a moment in the USA.
4. Play a round of golf in the Sonoran Desert
Make sure you cram in a round of golf. Arizona State is, after all, where five-time major Phil Mickelson plied his trade. And you're never too far away from a golf course in Scottsdale, meaning there are plenty to choose from (51 in total). The majority made up of thick, lush green fairways rolled out like expensive carpets in the glow-gold Sonoran Desert.
The unfortunately named Waste Management Open  also takes place every February in the Phoenix area, often attracting huge crowds. Last year 655,000 spectators attended the event held at TPC Scottsdale.
5. Fill your boots with fast food down at Cave Creek
Check out Bryan's Black Mountain BBQ where you can chow down on beer-cooked everything. Owner Brian, a mild-mannered ex-photographer, also serves up meaty-tasting pulled squash for vegetarians and moreish cookie ice-cream sandwiches.
Across the road, Big Earl's Greasy Eats in Cave Creek is the place to go for burgers. The art-deco style gas station, built in 1935, serves possibly the tastiest, and potentially most artery-clogging, meat patty's you'll ever get your hands on. Grab a Big Earl's burger with extra cheese and fries, as well as a strawberry shake if only to sweeten your sodium intake.
6. Saddle up and learn how to become a real-life cowboy
One of the best things to do in Scottsdale is to spend the day at cowboy college with Rocco, one of the world's most famous living cowboys (according to the man himself). Learn how to tend to your noble steed before galloping around the ranch like a poor man's Butch Cassidy. Finish it off with a cold one down at the Buffalo Chip Saloon where real-life cowboys go to swill down frothy tops, line dance and attempt to pick up new companions. Take I.D or risk being branded with X's on your hands, which lets bartenders know you can't drink alcohol.
7. Stay under the stars in a Flintstones-like desert resort
Built into the side of several ancient blimp-sized boulders, the aptly named Boulders Resort and Spa, previously a goat farm, fits into its surroundings like a whale in a vast ocean.
Staff at Boulders are always on hand to whisk you to and from your flower-scattered villa without hesitation. Apartments, decorated like ski chalets with a Navajo influence inside, are complete with Netflix, stunning viewing windows, and a copy of the New York Times is brought to your door each morning.
Here you can listen to the chattering of birds, climb, play golf and drink prickly pear cactus margaritas in the middle of the desert.
8. Taste original Arizonan wine and eat local food 'family style'
When former urban planner, Curt Dunham, suggested to his wife that they should start producing their own wine, he didn't think she'd say yes. But she did, so the two started looking at potential properties in Arizona.
Curt secretly didn't feel confident enough to take the plunge, so developed a property criteria checklist he never thought they'd be able to meet. They did. Now the couple run a vineyard and distil their own Arizonan wine. The couple also offers tastings to tourists at LDV Winery in Scottsdale, and the wines are superb so it's well worth checking out.
Head to FnB after for the best grub in downtown Scottsdale. With an award-winning chef, the restaurant serves up the best locally-sourced ingredients family-style (like tapas). Ask the servers what's best to order as the menu is always changing and they seriously know their stuff!
9. Float across the desert in a hot air balloon
Nothing makes you feel safer, when dangling in a giant picnic basket at 5,000 ft, than knowing you're in the hands of a man who has been flying hot air balloons since 1975. Floating across the Sonoran Desert with Captain John at the reigns is as satisfying as popping a Valium on a long-haul flight. Touching down in the middle of nowhere to find champagne and Babybels waiting for you isn't quite luxury, but it'll fill a corner.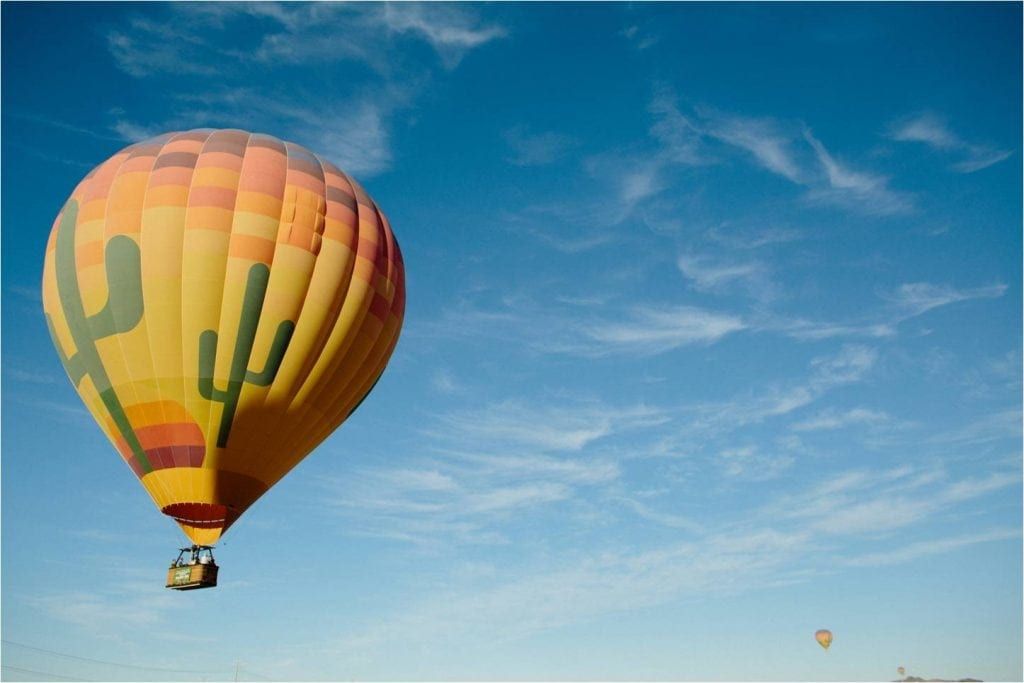 10. Go on an outdoor adventure with Rico Riley
No trip to Scottsdale is complete without an adventure with Rico Riley. The former pharmaceutical salesman turned outdoor adventure instructor, is as cool as his name would suggest. Armed with better outdoor knowledge than Bear Grylls and Ray Mears combined, and funny tales to boot (like that of cactus John, a man he saved from an aggressive cholla cactus), means he is exactly the sort of bloke you want to become your best friend.
The company he co-owns, Black Mountain Adventures, runs tours from the Boulders Resort and Spa – from rock climbing to hikes and mountain bike adventures in the Sonoran Desert. A visit to Scottsdale without an adventure with Rico would be like visiting China and missing out on seeing the Great Wall.
Fact box
This TLE journalist was a guest of Experience Scottsdale. For further information on the destination visit www.experiencescottsdale.com
Flights
British Airways operate a direct flight from LHR to PHX from £990 – (*BA increased this direct flight from March 2018*)
Accommodation:
Hotel Valley Ho starting from around £81 ($109)
Mountain Shadows staring from around £81 ($109)
Boulders Resort and Spa starting from around £103 ($139)
RELATED
Since you're here …
It may worry you that much of our mainstream press is increasingly reporting with a strong right-wing bias. Most of our media is owned by a handful of offshore billionaires with personal agendas.

More worrying is the staggering decline in independent, investigative journalism. It costs a lot to produce, so many publications facing an uncertain future can no longer fund it.

With nobody to hold the rich and powerful to account, or report on the issues that don't fit with the mainstream 'narrative', your help is needed.

You can help support free, independent journalism for as little as 50p. Every penny we collect from donations supports vital investigative journalism.