The United Kingdom boasts an extraordinary cruise ship industry, encompassing the Best of British standards on a wide range of ocean bound vessels. A myriad of high-class cruise ships peppers the U.K.'s shores, including an odd addition known as the Swan Hellenic. This niche cruise line has a distinctive British flare, and it offers a cultural voyage on its lone vessel, the Minerva. This country-style cruise ship is decked out with immaculate Persian carpeting, and an expansive reception area.
Apart from a handful of Australians and Americans, the passengers are British through and through. As this is an historic cruise ship, passengers get to enjoy an education in Roman history or classical Greek. When this ship's itinerary was launched in the 1950s, it frequented historic Roman sites and classical Greek sites.
Most all the cruises focus on the islands of the Mediterranean, and adjacent countries, but it now also frequents countries like Norway, India and other destinations like the Black Sea and the Adriatic. The Minerva offers a fully traditional cruise experience, sans the West End London theatre shows and Vegas allure.
This cruise ship is 436 feet long, and accommodates 350 passengers and 160 crew members. It is registered in Nassau, the Bahamas and features 6 passenger decks. Thrill seekers will be a little disappointed with this 'cerebral' cruise experience since it does not offer anything in the form of casino entertainment, or shows. For an educational ambience, the Minerva is the perfect cannon fodder.
Fred Olsen Cruise Line
Fred Olsen Cruises are popular among British travellers. The cruise line is owned by Norwegians, but Fred Olsen Cruises is based in the UK. Most all the passengers are British. The range of ships includes Black Watch, Balmoral, Boudicca, and Braemar. Fred Olsen cruises depart from multiple UK cities including Dover, Southampton, Tilbury, Rosyth, Greenock, Newcastle and Liverpool.
The food is fashioned off British preferences, with affordable menu items, afternoon tea, and an exciting selection of entertainment options. Fred Olsen Cruise Lines have designated card rooms on each cruise ship. Passengers can also enjoy tuition in Bridge with qualified instructors on each of the 4 vessels. The casino areas on the cruise ships are small sections designated to players. Games include Roulette and Blackjack.
Fred Olsen Cruises frequent a variety of destinations including the Canary Islands, Kenya, the Indian Ocean, Egypt, Algeria, Madagascar, Mauritius, Mozambique, Morocco, Hong Kong, India, Iran, China, Jordan, Japan, Maldives, Australia, Cook Islands, Fiji, Papua New Guinea, New Zealand, New Caledonia, Vanuatu, Samoa, Adriatic, Bulgaria, British Isles, Baltic, Arctic, Cyprus and many other exciting locales. UK travellers get to enjoy a full complement of cruise packages, including mini cruises, and fly cruises.
P&O Cruise Lines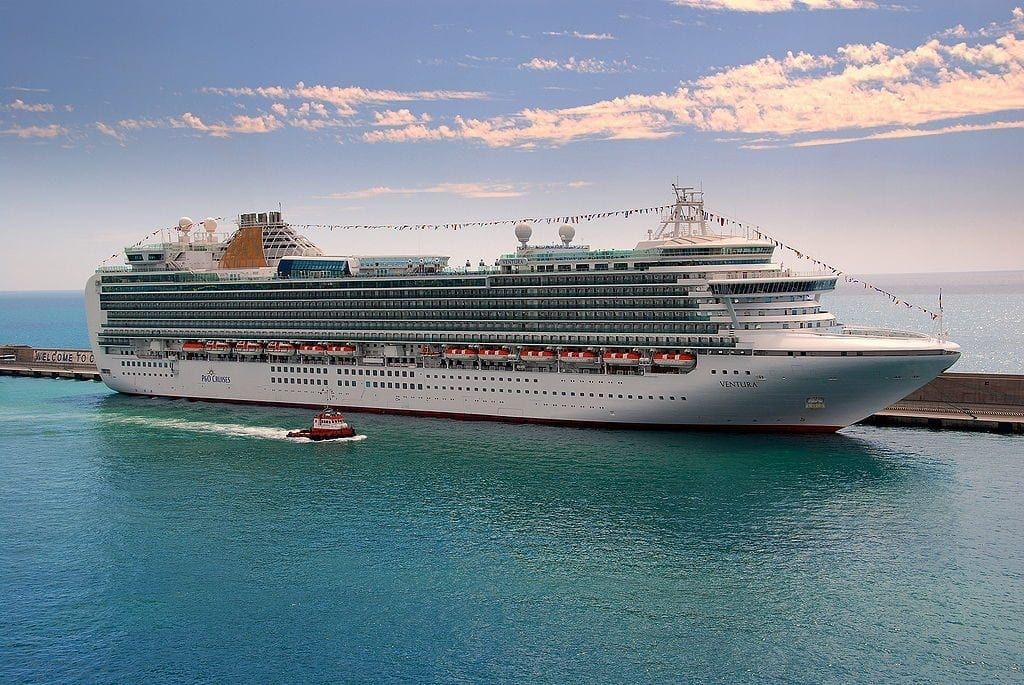 P&O Cruises have won multiple awards over the years from the British Travel Awards. These include the Silver Prize for Best Family Cruise Line 2016, The Silver Prize for Best Large Ship Cruise Line 2016, and The Silver Prize for Best New Cruise Ship 2016. P&O Cruises recently celebrated its 180th anniversary. It began in 1837 as a mail transportation vessel between the United Kingdom, Australia, China, India and Japan.
The company's name changed to Peninsula and Oriental Steam Navigation Company in 1840, and it assumed the name P&O Ships in the 1950s. The cruise liner has adopted a strictly come dancing theme and it serves as a culinary-themed cruise ship, with Mary Berry – the Queen of Cakes, and James Martin from Saturday Kitchen.  P&O Cruises feature casinos on all cruise ships. The only exception is the Adonia cruise liner.
Among others, players can enjoy an exciting selection of video horse racing entertainment on a big screen, scratch card games with prizes up to £20,000, and bingo games with a selection of 5 cash prizes every day at sea. The slot machine games cover a wide variety of attractions, including video slot machines, reel slots, classic slots, and progressive jackpot slots. All players receive £5 in freeplay bonus cash for the first £20 that is played. Players also get to enjoy complimentary drinks while they're enjoying slot games on board the cruise ships.
Table games are varied and include Blackjack, Roulette, 3 Card Poker and others. Many of the dealers are from the UK, and there are also complimentary lessons available to novice players. Casino dealers provide chips to players, and you can charge your gaming sessions to your on-board cruise ship account. All slot machine games can be enjoyed with your cruise card, or cash. Winnings have to be cashed out to your cruise card at P&O Cruises. There are currently 7 cruise ships operating full casinos with P&O Cruises, including the Arcadia, Aurora, Azura, Britannia, Oceana, Oriana, and Ventura. The minimum gambling age is 18 at the casino.
The Iconic Queen Mary 2
Cunard Cruise Line's flagship brand, the Queen Mary 2 takes UK passengers on an unforgettable journey across the Atlantic with cruises between Southampton and New York. This cruise liner is all about luxury, from stately craftsmanship everywhere – from the library to the cabins. An expansive selection of books is available to passengers, with 8,000+ titles to choose from. This majestic vessel features the Empire Casino – a sleek and stylish entertainment haven for UK players.
A wide selection of games is available to players, including dozens of popular Slot Machine Games, Texas Holdem Poker, 3 Card Poker, Roulette and Blackjack. UK players get to wager from as little as £0.05 through £5 per spin on slots, with table game limits ranging from £3 through £500. The smart-casual dress code at Empire Casino presents plenty of opportunities for players to wine and dine and enjoy sophisticated entertainment. The casino features a fully stocked bar, and an enticing milieu for world-class casino gaming.
The Queen Mary 2 Cruise Ship has recently been fully remastered. Both the exterior and the interior have been renovated to reflect a modern upgrade and transformation. The staterooms, elegant suites, and glitzy new restaurants place the Queen Mary 2 above the competition. Elegant craftsmanship, a planetarium at sea, famous speakers, afternoon tea, the Canyon Ranch Spa Club, and kennels at sea are among some of the many unforgettable features available at this world-class cruise ship.
Bon Voyage with the Best of British
With so many options available, UK travellers can enjoy luxury accommodation, exotic destinations, and world-class gaming. Board your vessel of choice, and escape on a majestic cruise adventure to a new world. The cruise ship experience is one of the preferred vacation pastimes for Britons, and it remains an affordable and enticing option for singles, couples and families across the British Isles.