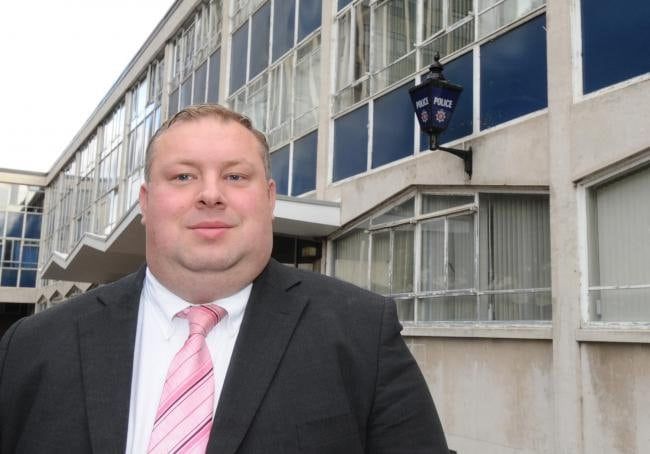 Senior Tory councillor punched neighbour after someone wrote "Die" on his front door, court hears
A senior councillor punched his neighbour after someone wrote "Die" on his front door, a court heard.
Tony Cox, 38, arrived home to find the letters 'I' and 'E' had been scrawled after his flat number, D.
He assumed next-door resident Jamie Waterfield was responsible and laid into him as he opened his door to say goodbye to his girlfriend.
Mr Waterfield suffered a split lip and reddening to his left cheek as a result of the outburst on May 20 last year.
Cox is the Conservative councillor for West Shoebury, Essex, and also a member for transport, waste and regulatory services at Southend Council.
He is currently on trial at Basildon Crown Court over the assault, having denied causing actual bodily harm.
Opening the case for the prosecution at Basildon Crown Court on Monday, Sarah O'Kane said: "Someone had written on Tony Cox's door the letters IE after D – his flat number.
"This defendant thought that Jamie Waterfield was responsible and as Mr Waterfield was seeing off his girlfriend that evening Mr Cox asked him if he thought he was funny."
The court heard Cox told police he believed Mr Waterfield was responsible for the graffiti, but said he did not punch him at any stage during the course of the evening.
He said the only time there had been physical contact was when he pushed Mr Waterfield out of his own flat in defence of himself and his wife.
He claims Mr Waterfield was already injured when the confrontation began.
The court heard from Mr Waterfield's partner of nine years, Courtney Newman, who told the jury Cox had confronted them as she was leaving for a night out before punching Jamie twice in the face.
She said: "It stuck in my mind because of the amount of blood that came out of his lip."
Defending, Paul Jones said to Miss Newman: "I put it to you that Jamie said to Mr Cox 'See what's on your door – that's what's going to happen to you and your family but you won't know when'."
Miss Newman told the court that this was not true.
The trial continues.
Since you're here …
It may worry you that much of our mainstream press is increasingly reporting with a strong right-wing bias. Most of our media is owned by a handful of offshore billionaires with personal agendas.

More worrying is the staggering decline in independent, investigative journalism. It costs a lot to produce, so many publications facing an uncertain future can no longer fund it.

With nobody to hold the rich and powerful to account, or report on the issues that don't fit with the mainstream 'narrative', your help is needed.

You can help support free, independent journalism for as little as 50p. Every penny we collect from donations supports vital investigative journalism.