Watch – Crazy CCTV shows moment car ploughs into FOUR vehicles
This is the moment an epic car smash was caught perfectly on CCTV before the occupants of the vehicle flee from the scene – with their dog. The footage captured a red Peugeot 308 ploughing into a silver car before spinning around 180 degrees and hitting three other vehicles – writing two of them off. But the dramatic CCTV images unbelievably spotted the driver sporting red shorts running away as a woman and another man clutching a dog also fled the scene.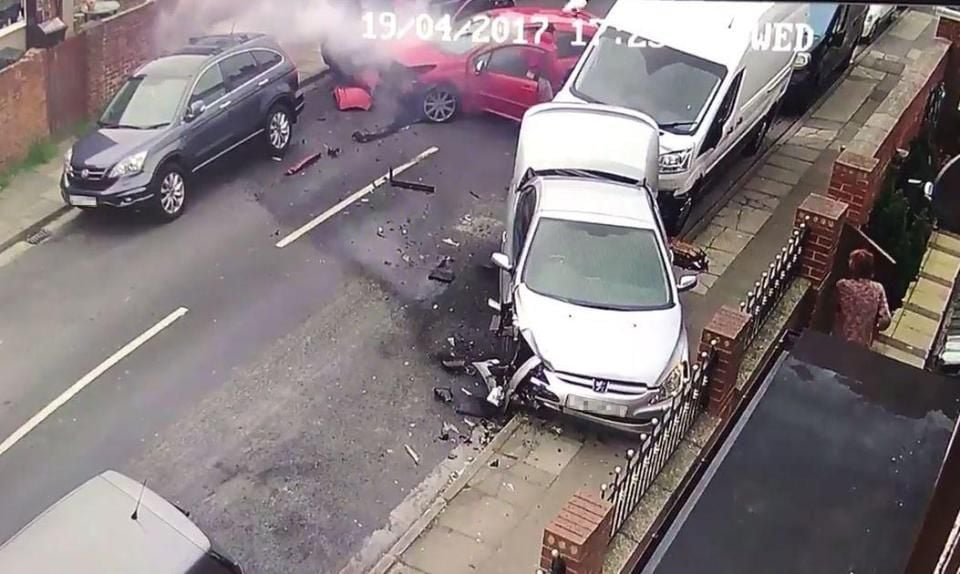 Witnesses say the pair even were audaciously flagging down cars to get a quick getaway. Stewart Wilson, who saw the incident unfold on CCTV, said: "I live opposite to where it happened and luckily had it installed. I saw the red car come down Barcroft Street at such speed. It hit the convertible, a Peugeot, and then spun round, hitting at least three or four others.
Read "Watch – IDIOT Driver misses motorway junction…so reverses to make it!" Click Here
Watch Video Here