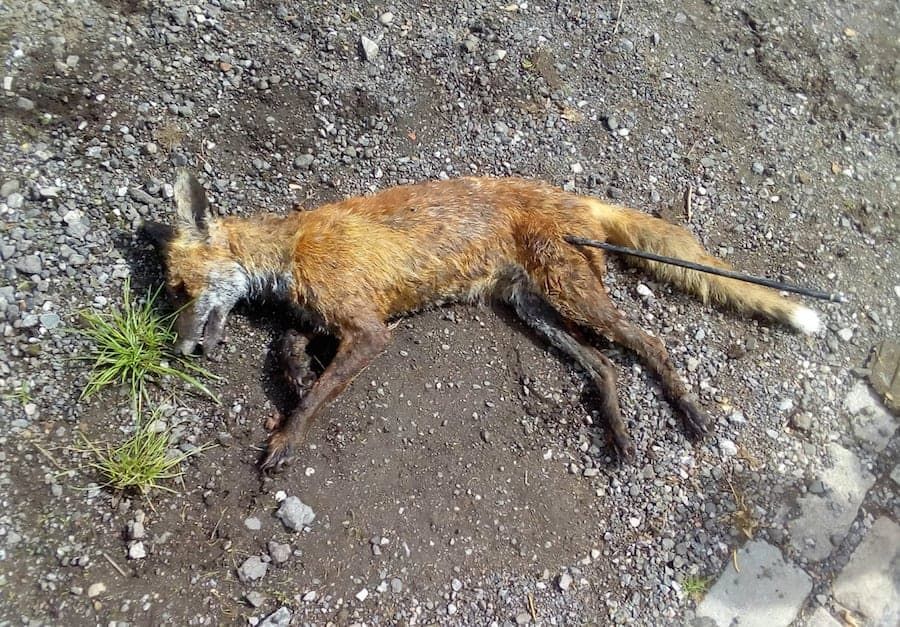 RSPCA hunt cruel yob who shot dead fox with a plastic arrow
The RSPCA are hunting a cruel thug who shot dead a fox – with a PLASTIC ARROW.
The animal was discovered by a member of the public with the arrow sticking out of his back left leg on Sunday (6/6).
The charity were called but when the officer arrived at the scene on Spout Lane in Stoke-on-Trent, the fox had died from his injuries.
A shocking image taken by the RSPCA officer shows the dead creature sprawled on the ground with the arrow shaft embedded in its hind leg.
RSPCA inspector Charlotte Melvin said: "Sadly there was very little chance of the fox overcoming this injury.
"The poor animal would have been in so much pain.
"It is obvious that whoever did this did so deliberately and it is disturbing to think that whoever did this was maliciously intending to injure – and possibly kill – an animal.
"We urge anyone with any information about this to call us on 0300 123 8018 so we can try and stop this happening to any other animal."
It is illegal to kill or take any wild animal using a bow or crossbow under section 11 of the Wildlife and Countryside Act.
Since you're here …
It may worry you that much of our mainstream press is increasingly reporting with a strong right-wing bias. Most of our media is owned by a handful of offshore billionaires with personal agendas.

More worrying is the staggering decline in independent, investigative journalism. It costs a lot to produce, so many publications facing an uncertain future can no longer fund it.

With nobody to hold the rich and powerful to account, or report on the issues that don't fit with the mainstream 'narrative', your help is needed.

You can help support free, independent journalism for as little as 50p. Every penny we collect from donations supports vital investigative journalism.