Cyclist becomes fastest man on two wheels after smashing land speed record
A cyclist has become the fastest man on two wheels across Europe after smashing the land speed record on a bicycle.
Neil Campbell, 44, hit a speed of over 135mph after being towed by a Porsche SUV down a runway – breaking the previous record of 127mph.
The determined cyclist was towed by the vehicle before being released for the 200m timing phase to reach the record speed.
Bikers flocked to the runway in Elvington, North Yorks., to witness feat.
Neil, an architect from Little Horkesley, Essex, first set the record in 1986 when he rode at 110mph behind a British Touring race car on a closed section of the M42.
He also previously set a record of 114mph in 2016, but has steadily increased his speed attempts to become faster.
When the car reaches top speed, Neil is released from the tow and pedals furiously in their slipstream to maintain speed.
Neil also made an attempt at the record in his underpants to raise money in support for charity Oddballs.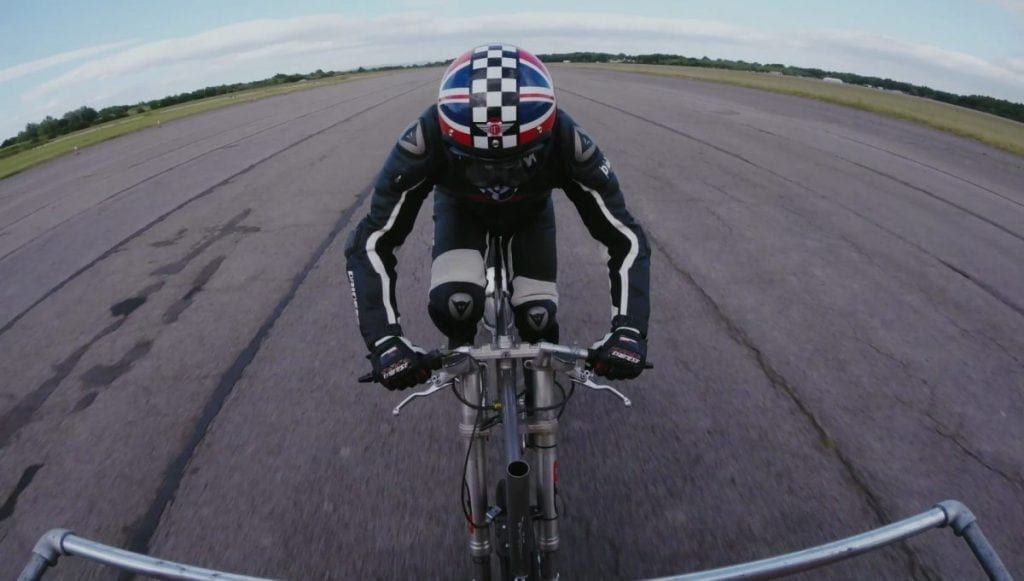 The world record for land speed on a bicycle is currently 167 mph.
Since you're here …
It may worry you that much of our mainstream press is increasingly reporting with a strong right-wing bias. Most of our media is owned by a handful of offshore billionaires with personal agendas.

More worrying is the staggering decline in independent, investigative journalism. It costs a lot to produce, so many publications facing an uncertain future can no longer fund it.

With nobody to hold the rich and powerful to account, or report on the issues that don't fit with the mainstream 'narrative', your help is needed.

You can help support free, independent journalism for as little as 50p. Every penny we collect from donations supports vital investigative journalism.