In the grand scheme of things, the importance of culture, community, and eating out is often overlooked. At the beginning of last week, the government urged Brits to stay at home specifically avoiding restaurants, cafes, pubs and bars. A forced closure has since been announced, with the hospitality industry having suffered enormously.Hundreds of restaurants have been forced to close indefinitely, some permanently, with the Coronavirus' arrival in the UK having brought catastrophic consequences.
During these difficult times, supporting our local restaurant scene seems more important than ever. While nothing will ever beat sitting down to eat with friends and family in a different, comfortable setting; enjoying world-class food and a glass (or bottle) of wine while somebody else does the washing-up: we've compiled a roundup of the best London restaurants currently offering take-away and delivery services during this state of global panic.
Yard Sale Pizza (Various)
With five pizzerias in north and east London, Yard Sale has introduced a 'door stop drop' delivery option, while the restaurants remain closed until further notice. Delivered via the group's in-house delivery service, the sites' entire menus are available for delivery or for collection, with social distancing measures implemented in each restaurant. Orders can be made via yardsalepizza.com.
RELATED: Restaurant Review: Yard Sale Pizza, Hackney Road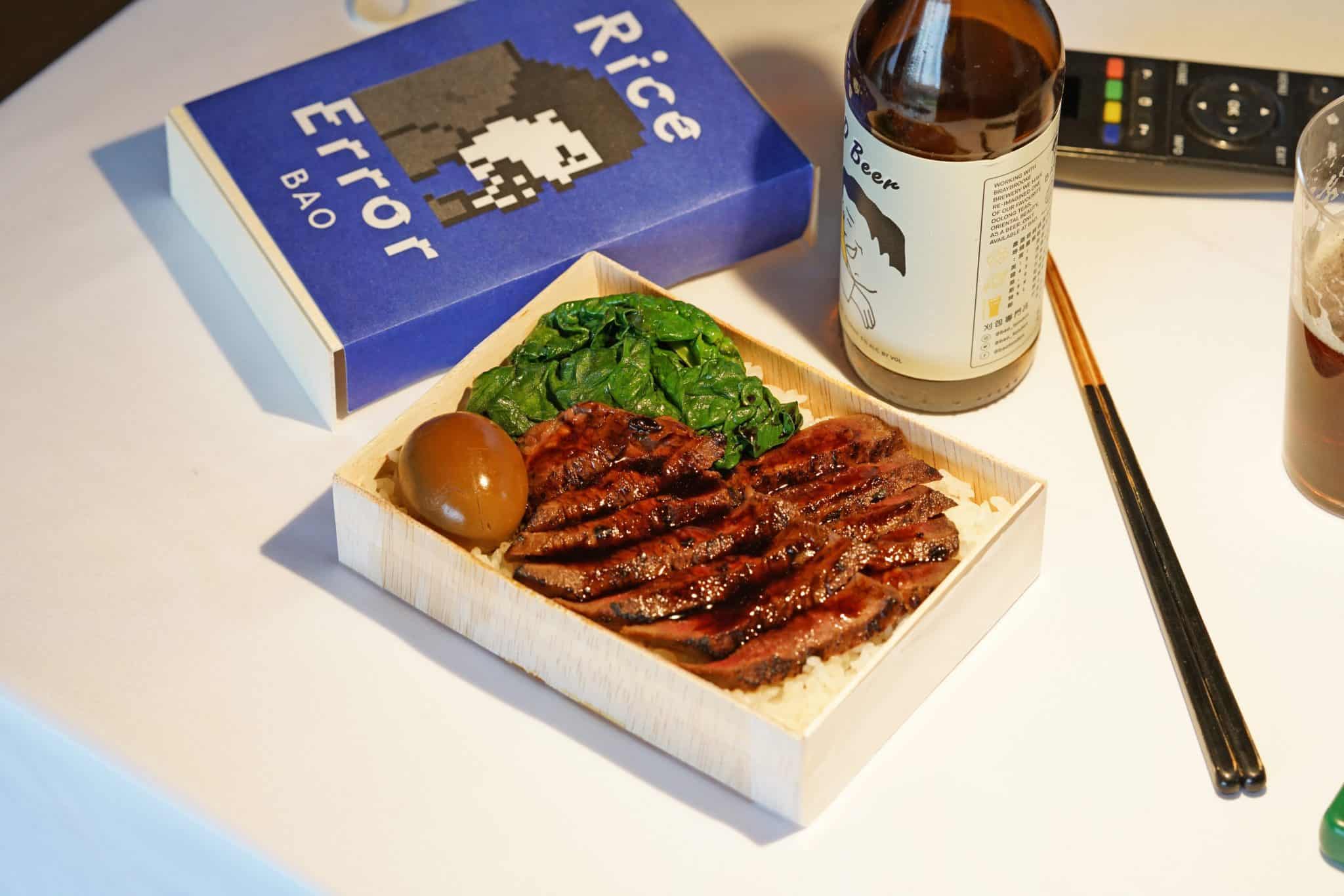 Rice Error by BAO
With all of BAO's sites closed, the brand has launched a new delivery service – Rice Error. Specialising in rice boxes using award-winning Chi Shang rice from Taiwan, the boxes are inspired by the bian dan boxes served in Taiwan, all of which are biodegradable, made of bamboo. First launched from BAO's Borough restaurant, with Fitzrovia and King's Cross to follow in the coming weeks, the new Southwark menu includes various rice boxes (recommended one box per person) such as chia shao pork belly, mapo tofu omelette rice, and 40 day aged black pepper beef rice. Taiwanese fried chicken is also available in four or eight piece portions, plus set meals, a kid's meal, and a selection of sides. Drinks are also available, including BAO beer and the restaurant's Weeping Sake. Further information can be found at riceerror.com.
HIDE (Mayfair)
HIDE has launched Hide at Home – a delivery service, which see the Michelin-starred restaurant partner with SUPPER, who'll provide diners with a menu of Ollie Dabbous dishes which travel well. These include the likes of suckling pig with mustard fruit puree, crushed turnip and black pudding; roast scallop with Jerusalem artichoke and black truffle; and burrata with confit tamarillo, basil and olive oil. Overall, the aim is to allow people to enjoy fine food in the comfort of their own home. To elevate the meal one step further wines from Hedonism will also be available to order alongside.
HIDE's baked bread and viennoiseries will also be available through the service. Orders can be placed through the SUPPER app, with delivery available for customers within a 2.5 mile radius of the restaurant, priced at £6.
RELATED: Restaurant Review: HIDE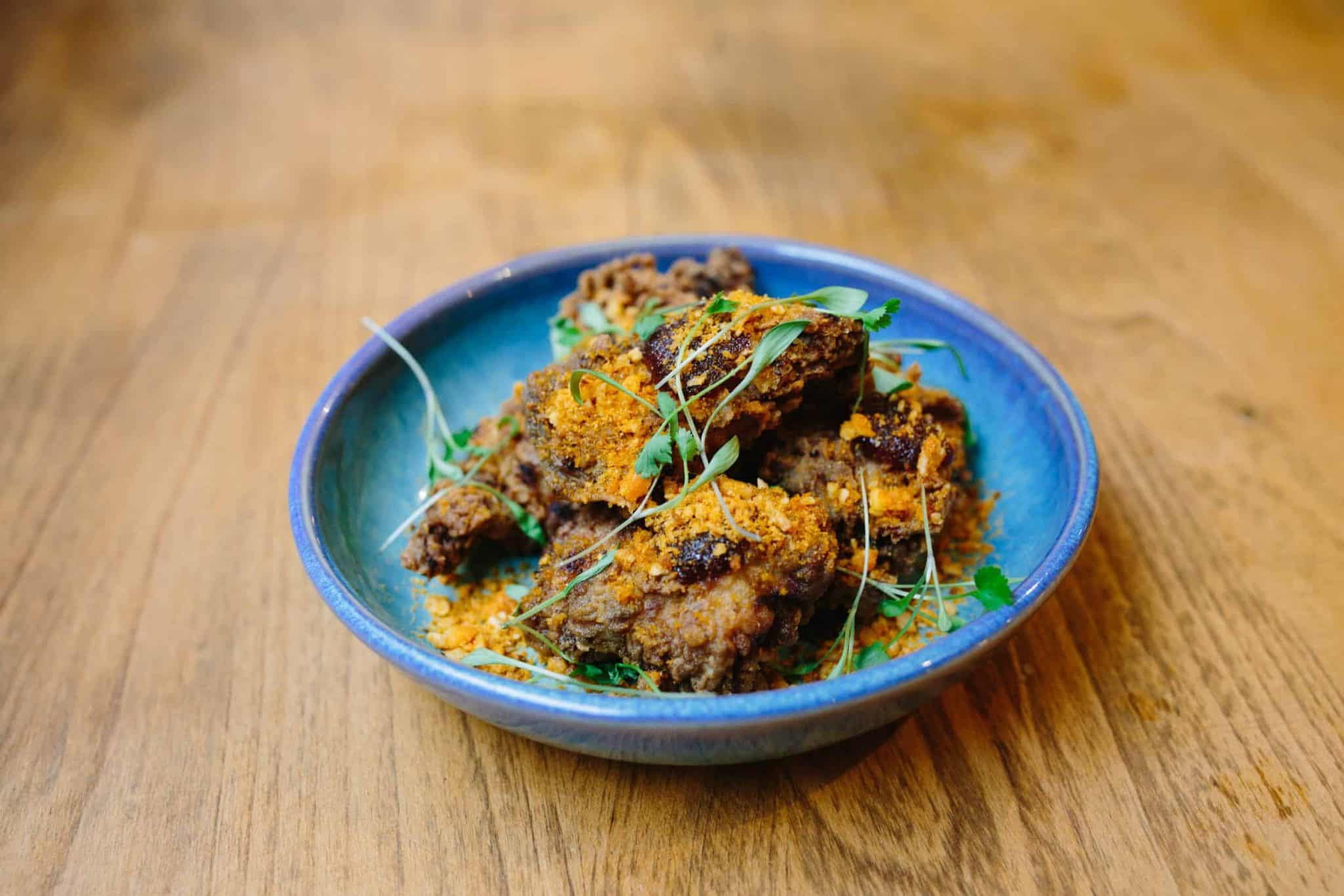 12:51 (Islington)
AROUND THE CLUCK is a new delivery service from 12:51. Available via Deliveroo, Uber Eats, and Slurp, the menu includes James' superlative jerk chicken alongside fresh fruit and veg sides, plus Scotch bonnet jam. AROUND THE CLUCK is available from Thursday – Sunday, from 5pm – 11pm.
RELATED: Restaurant Review: 12:51
Ombra (Hackney)
Ombra, a canalside Venetian bacaro in Hackney, are offering DIY pasta takeaway kits with daily-changing sauces, for collection and delivery for those living within a one mile radius of the restaurant. Delivery is also free within a walkable distance of the restaurant (full map available on Instagram). With chef Mitshel Ibrahim (previously of Clove Club and The Dairy Group) at the helm, the restaurant will also be sharing tips on how to prepare pasta on their Instagram, including rigatoni with beef ragù, tagliatelle with wild garlic , and lasagna (Sundays only). The full take away menu can be found here and orders can be made via WhatsApp (+447495 110935).
The Farmer's Mistress (Battersea)
The Farmer's Mistress have launched a Sunday roast delivery service, available to SW11 residents. Collection is also available, with the Sunday menu including dry-aged beef rump with gravy, or vegetarian roasted onion, pepper and nut roast, both served with herb roasted potatoes, braised red cabbage, carrots, and maple-glazed parsnips, cauliflower cheese, and Yorkshire pudding. A bottle of house red, white or rose can also be added to your order, with a three-course meal and bottle of wine priced at £60, with 10 per cent of all proceeds donated to Hospitality Action. All dishes are served cold with a recipe card on how to re-heat. Further information can be found here.
Bistro Union (Clapham)
Sister restaurant to Michelin-starred Trinity, Bistro Union has announced plans to become a community store until further notice. Offering free delivery to those in isolation, and discounts for the elderly, the new store will offer a range of essential and everyday items, including dry and tinned goods, plus dry pulses, fruits, fresh produce, wine, coffee, and cleaning products.
Breads and cakes will also be available, baked by the team. Customers will also be able to buy freshly-made pasta and pasta sauces. The range will include meals to take home and cook, and cooked dishes to take away. If the venture is successful, chef-proprietor Adam Byatt also plans to extend the concept to Trinity in Clapham Old Town. Further information can be found at the Bistro Union website.
The Laughing Heart (Hackney)
The Laughing Heart has partnered with Slerp to deliver food and wine for those within a three mile radius. All of the restaurant's cellar will be offered, plus a mixed menu of comforting dishes and some ready-meals. Moreover, gift vouchers are also offered for guests to redeem when things return to normal.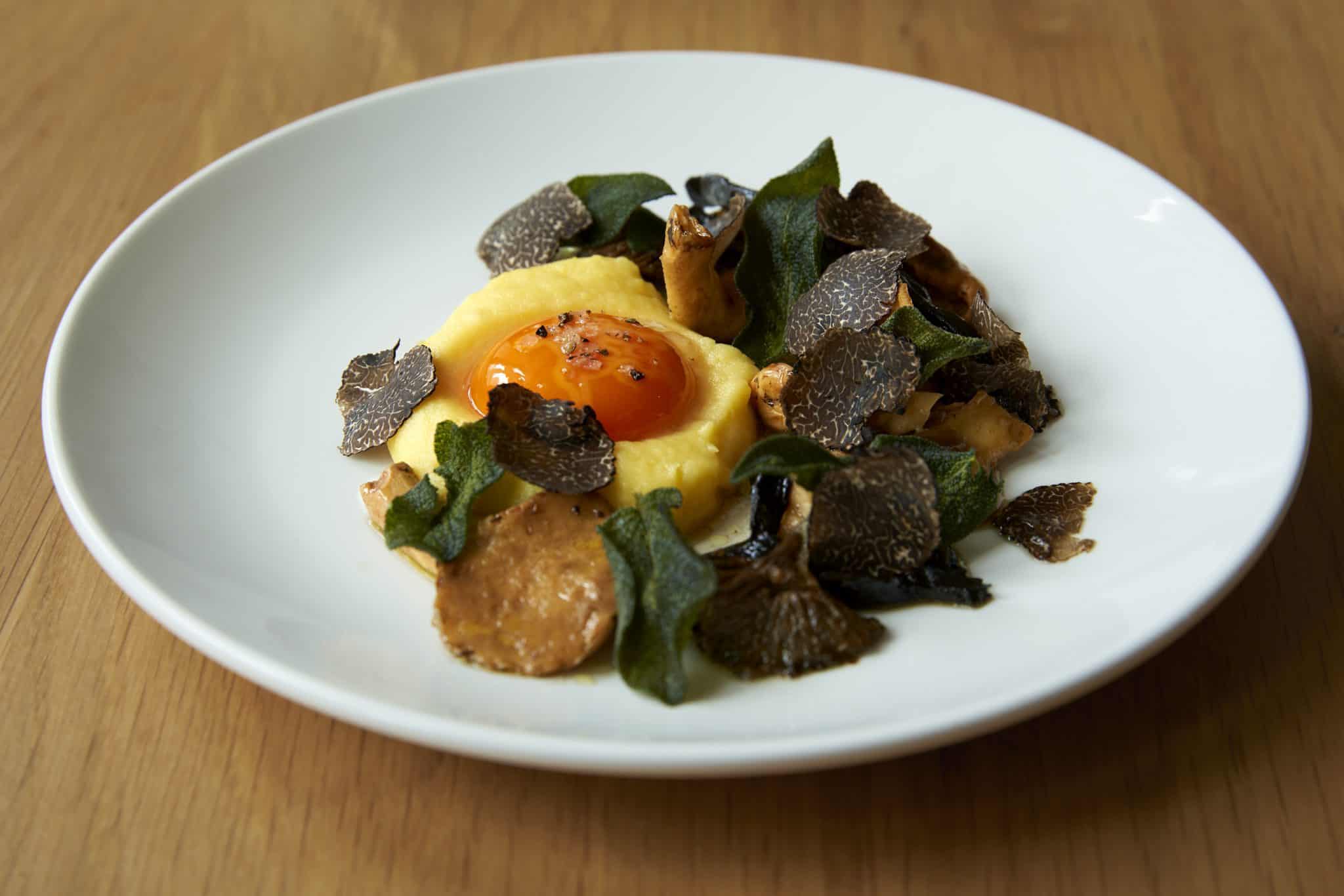 Townsend (Whitechapel)
The Whitechapel Gallery's new resident restaurant, Townsend has introduced a delivery service. Here, a selection of the restaurant's signature dishes have been reconfigured into a delivery-friendly, ready-to-eat format. Dishes on the initial menu include potato dumplings with potted brown shrimp and spinach, and a salad of white sprouting broccoli; Devon blue cheese, roasted squash and pickled walnuts; and desserts such as their treacle and ginger cake with custard. An assortment of wines are also available, priced from £10 per bottle. Additionally, any bottle of wine ordered via the Townsend delivery service will come with a free glass of wine to be redeemed at the restaurant when they reopen.
Moreover, the team have also pulled together two supply package boxes, priced at £14 each, perfect for those unable to make it out to the supermarket in the coming weeks. The 'Essentials'box includes eggs, dried pasta, flour, chopped tomatoes, milk and butter. The 'Seasonal' box include potatoes, seasonal greens, onion, carrots, leeks and Braeburn apples.
Townsend orders are available directly via the Townsend website and their social media. Minimum order £10.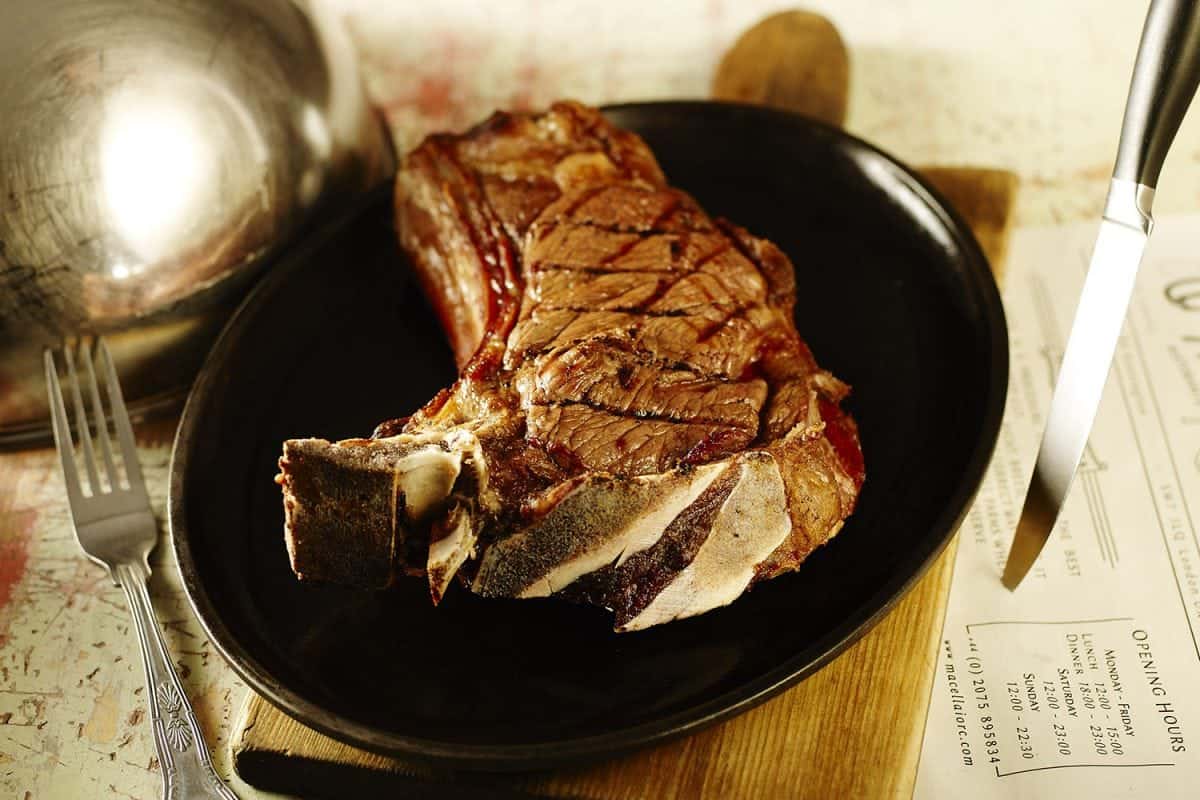 Macellaio RC (Various)
Italian steak group, Macellaio RC, has launched 'Bravo!' a new delivery service for Macellaio and sister restaurant, Ardiciocca. Stringent quality control ensures freshly prepared food on-site is packaged safely and to utmost quality whether it is dry ageing organic Fassona beef, or handmade pasta dishes and bakery items. Orders can be made over the phone from your desired site (contact details here) or via Deliveroo.
RELATED: Macellaio RC continues to prove Italian steak is some of the world's best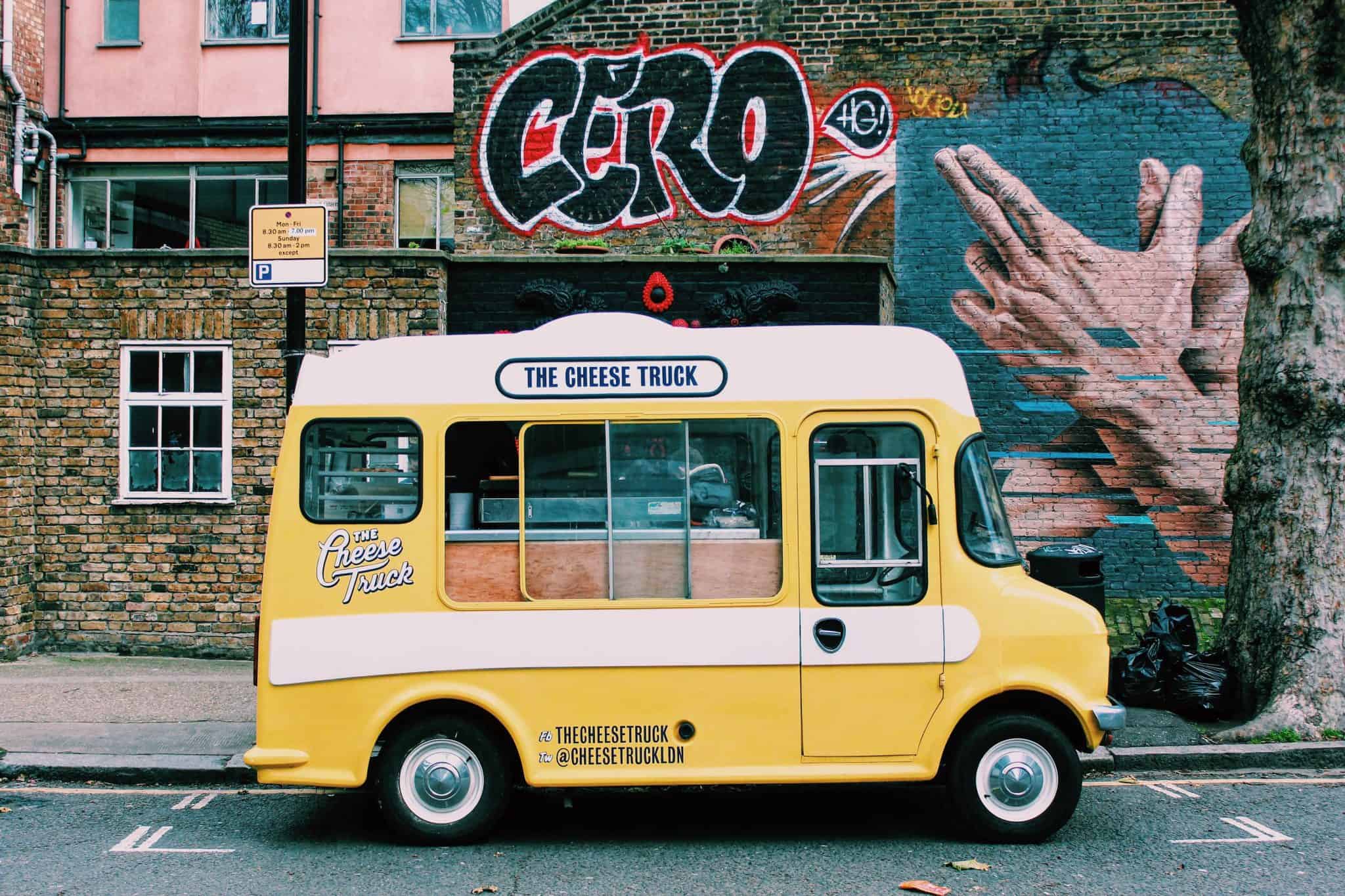 The Cheese Truck
Delivering all things cheese, The Cheese Truck will be taking to the road, doing contact-free deliveries in different parts of London on different days (locations/timings will be communicated via their social channels beforehand). From the trucks, the team will be serving pre-ordered kits available for collection, including a selection of cheese, charcuterie and wine care packages, plus homemade cheese cakes, DIY cheeseboards, raclette and fondue kits. Moreover, The Cheese Bar will also be joining Deliveroo for the first time, with their Grilled Cheese Sandwiches and other hot dishes available for delivery.
bema (Spitalfields)
bema's high-protein, plant-based bowls are now available for delivery. Taking inspiration from the flavours and ingredients found across South America, India and the Middle East, the bowls change seasonally as they spotlight different cuisines. Three gluten-free lunch bowls, available in two sizes, join the menu: 'Indian' – lentil and chickpea coconut curry with beetroot infused quinoa, turmeric roasted cauliflower, and French beans, topped with pickled red onions and fresh coriander; 'Mexican', a chilli of red kidney, haricot and black beans on top of brown rice accompanied by guacamole, sweet corn and pineapple pico de gallo, marinated red peppers and blue corn tortilla chips for dipping; and 'Middle Eastern', roasted king oyster mushroom shawarma with turmeric infused quinoa, cucumber, tomato and parsley salad, coconut oil roasted sweet potato topped with beetroot hummus and a sprinkle of dukkah seeds and olive oil.
What's more, bema's advanced ordering system allows customers to order using bema's website, iOS app or via Deliveroo and collect at their own convenience. bema is also on Deliveroo.
Brindisa Foods
Having been sourcing and supplying high quality, authentic Spanish products to restaurants, delis and food halls since 1988, Brindisa Foods are available for delivery nationwide. Further information can be found at the Brindisa website.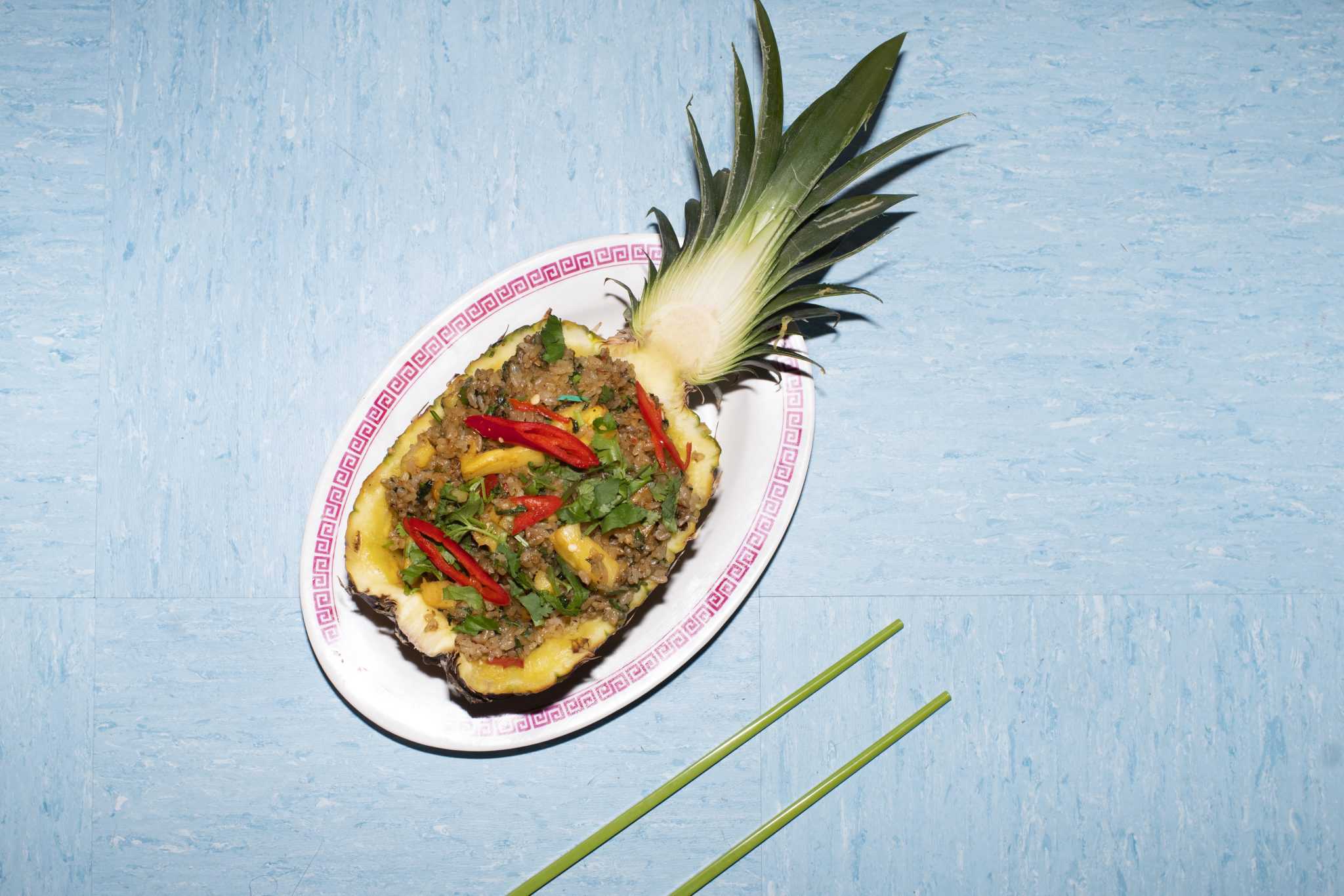 Lucky & Joy (Clapton)
Lucky & Joy have launched a takeaway menu, featuring a selection of their best dishes, plus an assortment of wines and beers. Available for pre-order only, food can delivered within a two mile radius of the restaurant. Delivery is priced at £3.50 and free for over 55s, Homerton hospital workers, and orders over £50. NHS workers will also be entitled to 50 per cent discount. Orders can be made by calling the restaurant on 07488 965966. Open from Wednesday – Saturday, 12-9pm.
Rosa's Thai Café (Various)
With a number of restaurants around the country, Rosa's Thai Kitchen will continue to provide delivery from its central London sites, available via Deliveroo. Moreover, a £5 voucher will also be included with each delivery or take-out order. 50 per cent discount is also available for NHS staff.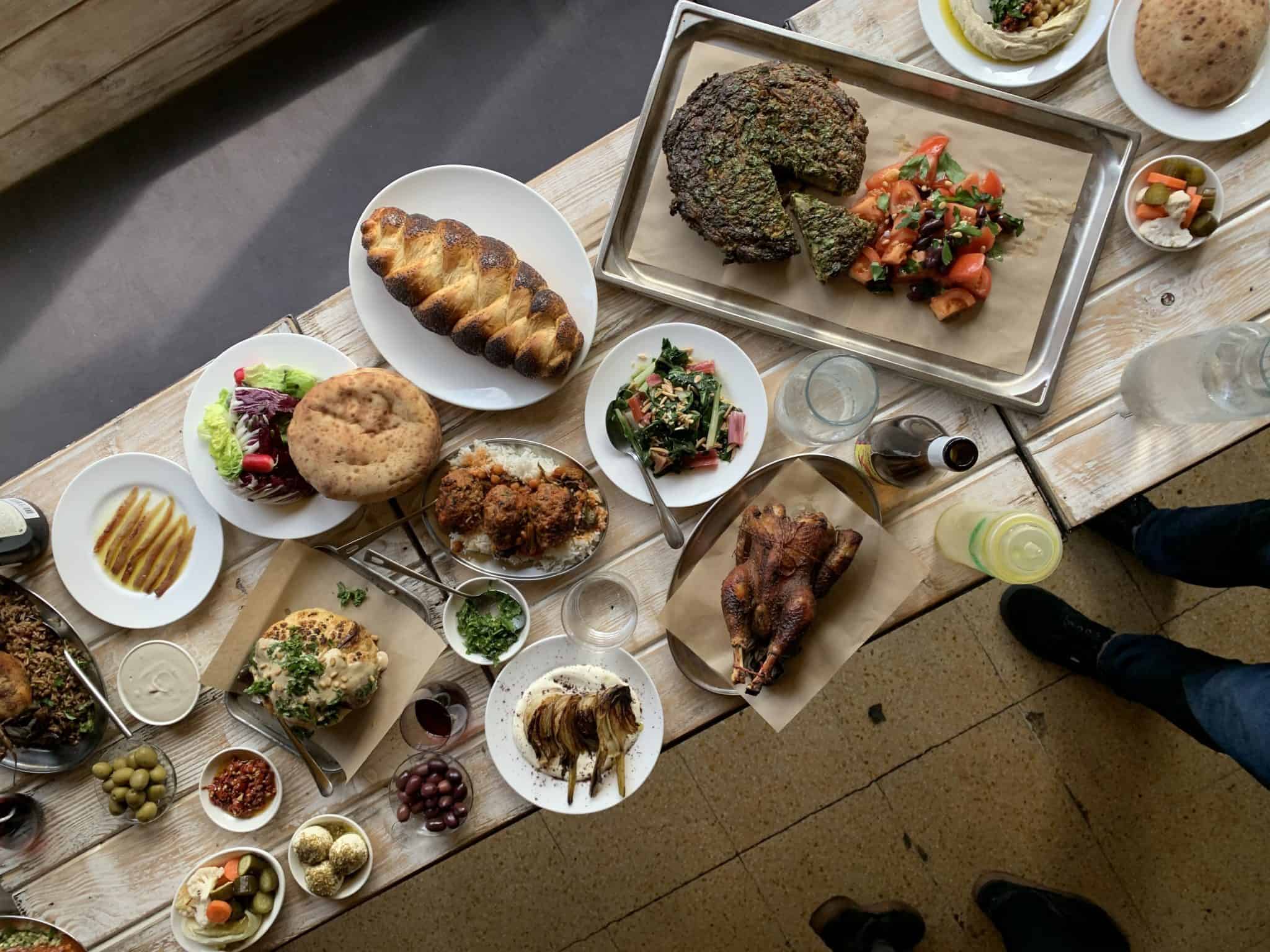 Oren (Dalston)
Available from Monday – Friday, 12pm-8pm, and Saturday from 12pm – 5pm, Oren in Dalston is set to launch 'Oren to Go'. Offering a food and wine menu for take-away, highlights include the likes of freshly-baked pittas, whole challah loaves, rice with beef and lamb koftas, whole roast cauliflower with tahini, herbs, pine nuts, and lemon, and whole roast chicken, baharat spice, and traditional Mejadra rice. Orders can be placed via orenlondon.slerp.com/order, with delivery available within a five mile radius.
Palm Greens (Shoreditch)
Plant-based Palm Greens is serving its full menu, available for click and collect, via text (07594 508144). A smaller menu will also be available for delivery through Deliveroo from 12pm. Salad dressings, pantry staples and fresh groceries are also available for pre-order. Visit Palm Greens' Instagram for further information.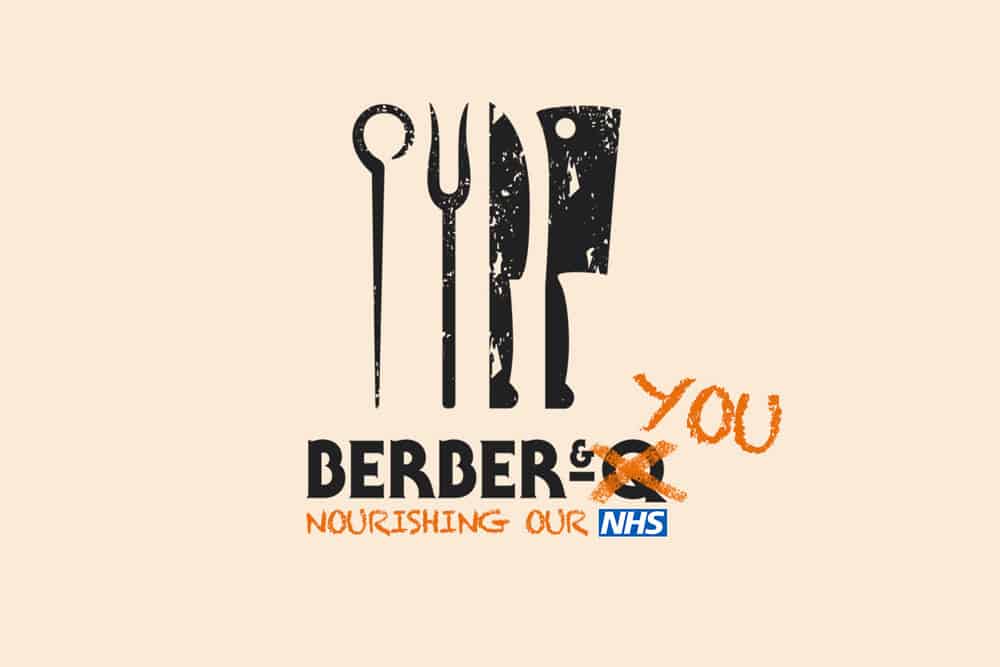 Berber & Q (Various)
Josh Katz and Mattia Bianchi, founders of Berber & Q Grill House and Shawarma Bar, have launched 'Berber & You', a delivery service for NHS workers. Raising funds to deliver their food to NHS workers around London, the team will be fundraising through donations from their Go Fund Me page. 100% of the funds raised will be spent on supplies and staff to produce the food. The team will be providing regular updates, follow their Go Fund Me page and social media channels for news.
Pastaio (Various)
Offering a delivery only service for the foreseeable, Stevie Parle's pasta restaurant, Pastaio, will offer delivery via Deliveroo. Pre-paid vouchers and merchandise are also available from Pastaio's website.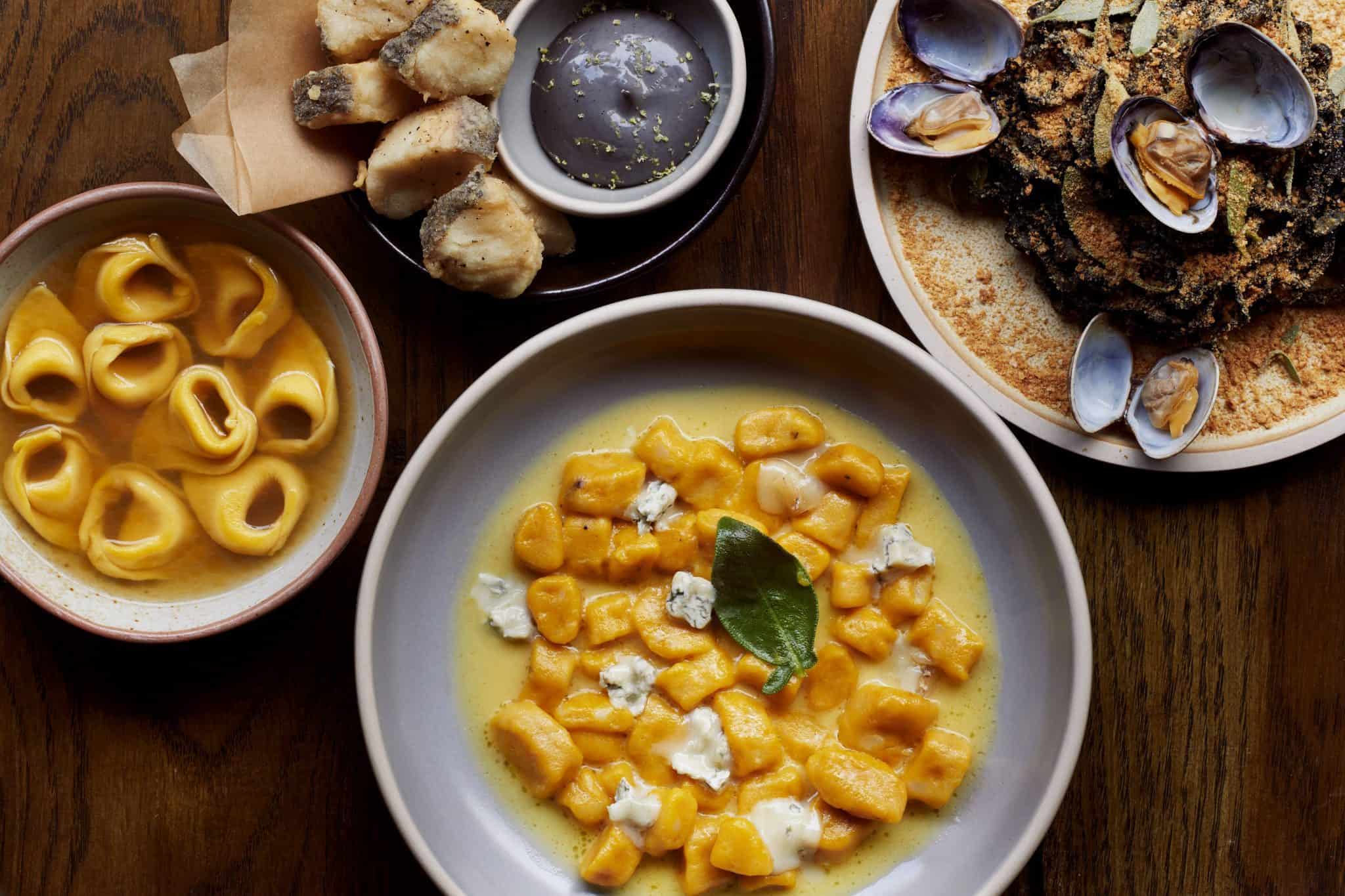 Officina 00 (Shoreditch)
Officina 00, Old Street's pasta workshop and restaurant, will be hosting live masterclasses (twice a week henceforth) via their Instagram channel to help people at home keep boredom at bay by learning how to make some of their signature pasta and sauces. Ingredients will be posted ahead of time to ensure participants have enough time to (at least attempt to) gather everything required to follow along in real time.

Alternatively, Officina 00 are also selling their hand made pasta via Deliveroo and Slerp, alongside a menu of restaurant favourites such as burrata with zucchini and mint, gnocchi with brown butter, sage and gorgonzola, and their home made lemon and chocolate profiteroles. Fresh pastas, made in-house daily, can be ordered by the 100g to be cooked as home, with garganelli, cavatelli and pappardelle on offer.
The Cheese Bar (Camden)
Launching their new 'Mac Daddy' menu, The Cheese Bar has joined Deliveroo for the first time. Consisting of five different mac 'n' cheeses, the menu includes the likes of Baron Bigod and truffle, or blue cheese, salt beef, and cornichons, plus snacks such as fried cheese curds with curry powder and honey, and mozzarella sticks with marinara sauce.
Beigel Bake (Shoreditch)
Brick Lane's Beigel Bake launched a new food delivery app earlier this year, with the family-run business launching an Instagram account for the first time in the shop's long, storied history. The app is available to download from the Apple App Store. Opening hours have also been cut from 24/7 to 7am – 10pm.
Casa do Frango (Various)
Piri Piri chicken specialists, Casa do Frango are currently offering delivery from their Southwark and Shoreditch restaurants, available via Deliveroo. Free meals are also available for all NHS staff who provide their NHS card (collection only).
RELATED: Restaurant Review: Casa do Frango, Shoreditch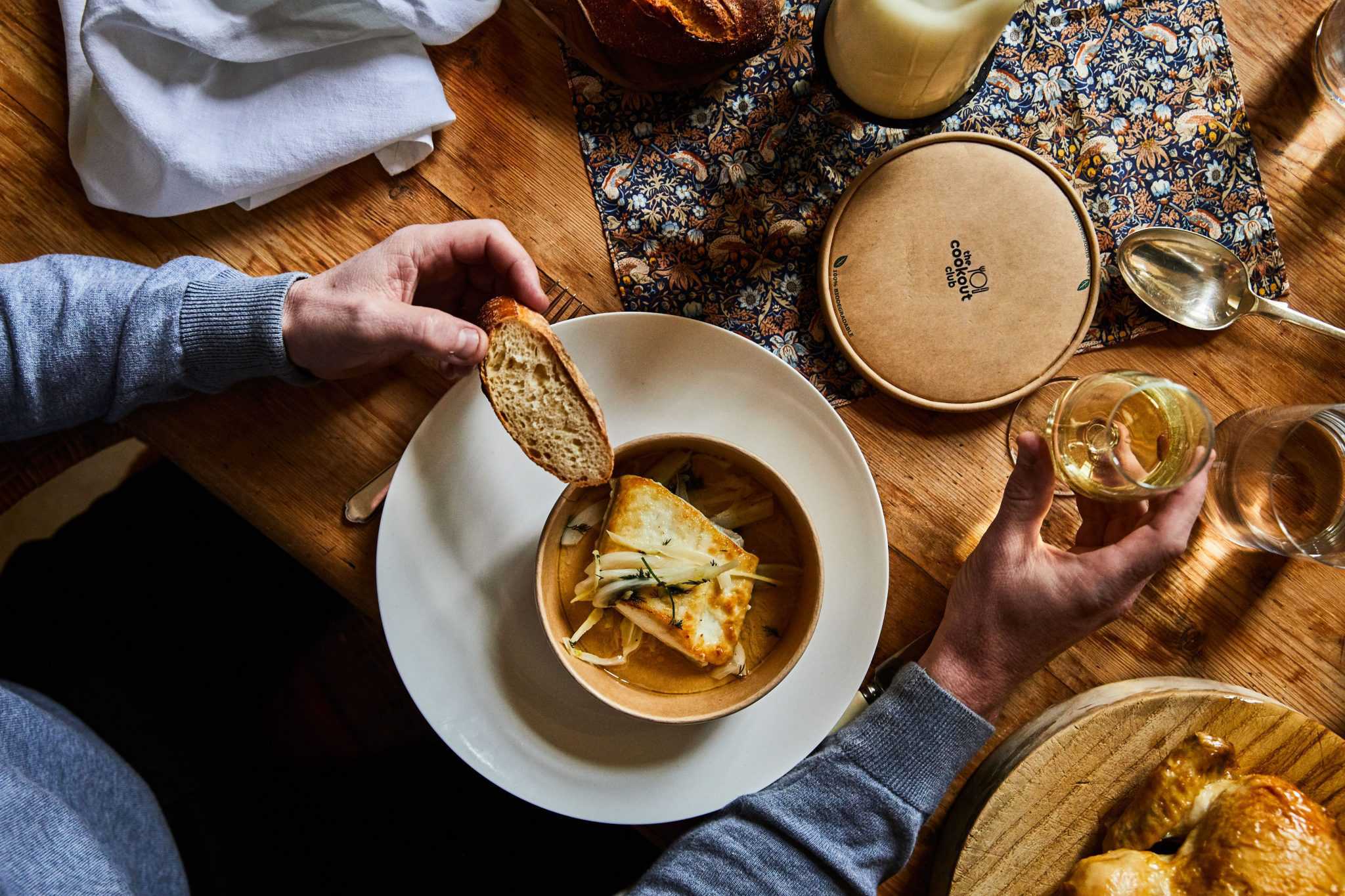 The Cookout Club (Various)
Launched as a way of 'democratising fine dining', The Cookout Club is a project from chef Philip Britten, following a 20-year hiatus from restaurant cooking. Delivering upmarket, restaurant-quality food to people's homes, operating from a kitchen in Battersea. Based in south-west London, delivery is currently limited to the local area (Brixton, Balham, Kennington, Wandsworth, Lambeth, Battersea, Clapham, Vauxhall, and parts of Kensington and Chelsea). (N.B. The Cookout Club's delivery zone has expanded. Check their Instagram page for full details).
Britten's menu focuses on modern, seasonal British cooking and includes a range of styles, flavours and methods where proper stocks, sauces and techniques meet beautifully sourced fish, meat and vegetables. Vegans and vegetarians are also catered for. For under £20 per-head, Cookout's aim is to deliver a quality two-course meal, keeping costs competitive and allowing diners to enjoy high end food in the comfort of their own home. Further information can be found at cookoutclub.com.
eggslut (Notting Hill)
eggslut's first London restaurant is operating a delivery-only service. Their full menu is available on delivery apps Deliveroo, UberEats and Just Eat. Following advice from WHO and the government, all of the delivery partners are offering contact-free delivery and all of eggslut's deliveries are being prepared and packed with extra care, with customer safety in mind.
True Craft (Tottenham)
South Tottenham's True Craft are continuing to serve their sourdough pizzas and an extensive range of beers, for delivery only. With a new slimmed-down operation due to various safety, staffing and financial reasons, True Craft are operating from Thursday-to-Sunday, from 12-10pm. Available via Deliveroo, all pizzas are served, as well as craft beers including local favourites such as Beavertown, One Mile End, Seven Sisters Brewery, and Signature Brew.
M.Manze (Various)
Arguably London's best mini-chain of traditional pie and mash shops, M.Manze are offering a delivery service via JustEat and Deliveroo. Manze's pies, mash and liquor are also available for collection from all three sites in Peckham, Sutton, and on Tower Bridge Road. Meanwhile, chilled orders will still be delivered anywhere in the UK, available from Manze's website.
Black Bear Burger (Various)
Serving Canadian-inspired burgers made with 'ethical' grass-fed dry-aged beef, and the best locally sourced ingredients, Black Bear Burger in Brixton Village and Canary Wharf are operating a delivery service, available via Deliveroo on Wednesday-to-Saturday, from 5-10pm.
Jalisco (Brixton)
A family-run Brixton Village restaurant that's been running for almost a decade, Jalisco has introduced a collection and delivery-only service. A range of Jalisco's Latin American-inspired dishes are available, including burritos, tacos and more. Orders for collection can be made over the phone, while deliveries are made via Deliveroo. Open from Tuesday-to-Friday, from 5-9pm, and Saturday from 12-9pm, orders over £20 will receive 10 per cent discount. Further information can be found on the restaurant's website.
Kamome (Brixton)
Another Brixton Village restaurant, Kamome is also offering a collection or delivery-only service. Available via Deliveroo, or for collection by calling the restaurant, Kamome's Japanese menu includes plenty of sushi and noodles, plus donburi, and katsu curry. Further information can be found on the restaurant's website.
The Golden Chippy (Greenwich)
Once voted the best restaurant in London, according to TripAdvisor users, The Golden Chippy is a Greenwich institution. Arguably the best chip shop in south London, the Greenwich High Road restaurant has closed its sit-in section but is still running, pretty much, as usual. Two customers are allowed in the shop at any one time, adhering to social distancing guidelines, and local delivery is also offered for £3. Further information can be found on The Golden Chippy's website.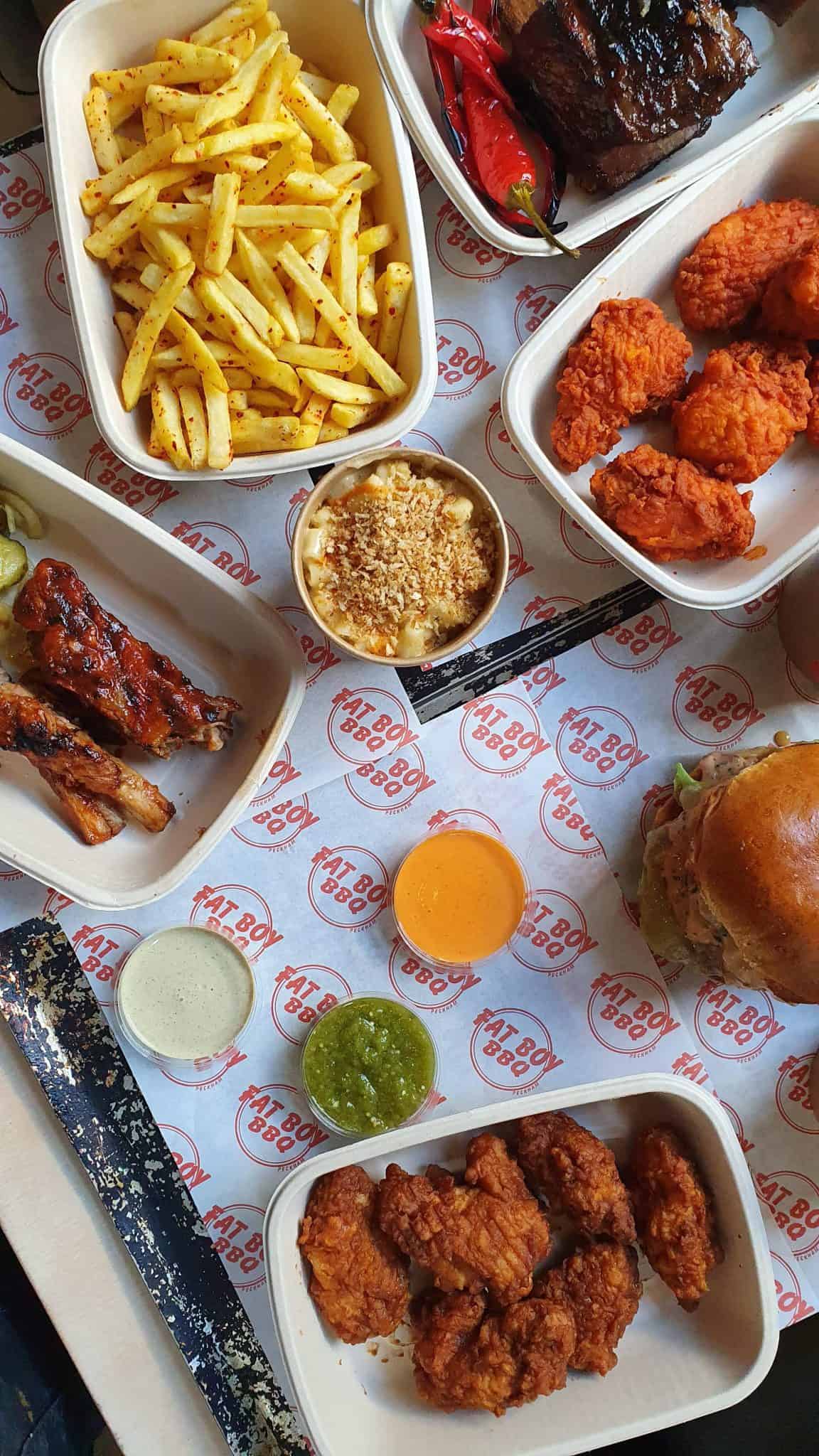 Coal Rooms / Fat Boy BBQ
Following a brief hiatus, Peckham's Coal Rooms are back. Operating under the guise of Fat Boy BBQ, the restaurant will serve a new menu launching exclusively on Deliveroo. Dishes include the likes of 'Dirty South Short Rib', 'The Peckham In & Out Burger', 'Wings & Tings', and more. A combo box will also be available for £35, featuring two burgers, a portion of wings, a side and sauce of customers' choice. Additionally, the restaurant's famous Sunday roasts will also be available for collection or for delivery within a three mile radius. Sunday Roasts can be ordered from Coal Rooms' website. Further information on Fat Boy BBQ can be found on Instagram.
Arabica (South London)
Arabica has launched a delivery menu of Middle Eastern-inspired dishes, available every Friday during lockdown. Delivered within a seven miles radius of Arabica's central kitchen in Camberwell, customers simply need to place their order via the Arabica website by 6pm each Wednesday, to receive their order direct to their doorstep on Friday of the same week. The new home delivery menu offers dishes including falafel meal kits, various dips and salads, vegan and vegetarian mezze platters (from £10 -12 each); and a family feast box to feed four-to-five people, alongside a collection of some of Arabica's house signatures, such as hummus; feta and spinach boregi; chicken and pistachio kibbeh; fattoush, aubergine moussaka; baklava, and Turkish delights £7.50 delivery charge per order. Free delivery on orders over £75. Further information can be found on Arabica's website.
Chucs (Belgravia)
The West London-based Chucs Collection has launched a new home delivery, offering both restaurant food and provisions boxes. Available every day from 6pm-10pm, delivery can be made within one mile of the Chucs Belgravia site, while orders are also available for collection. With a strong Italian accent, Chucs at Home's menu is filled with pasta dishes, pizza and a selection of main courses. Tiramisu is served for dessert.Orders can be placed on the day by calling Chucs Belgravia on 020 3827 3000, and provisions box orders can be placed by emailing orders@chucsrestaurants.com, with a minimum value of £40.00. Chucs deliver twice weekly, on Wednesdays and Fridays (cut off for Wednesday delivery is 12pm on Monday, while cut off for Friday delivery is 12pm on Wednesday). Wine can also be ordered for delivery, with 50 per cent off restaurant price on all bottles (up to the value of £200) and an additional 10 per cent off cases of 6. During this time regular food donations are being made to NHS frontline staff. Further information on Chucs at Home can be found on Chucs' website.
The Lebanese Bakery
In partnership with Deliveroo, The Lebanese Bakery have launched two new delivery sites, in Wandsworth and Belgravia/Victoria. Serving a take on traditional Manousheh and Mouajjanet, the bakery's delivery menu includes bestsellers such as warm Manousheh filled with fresh cheeses, meats, and vegetables; traditional 'Kaak' Lebanese bread with sesame seeds, sumac, and thyme; bright salads with pomegranate and muhammara, and sweet Maamouls filled with sweet pastry, dates, pistachios and walnuts. Further information can be found on The Lebanese Bakery's website.
Good Friend (Chinatown)
Serving some of the best fried chicken in zone one, Good Friend's Taiwanese chicken is inspired by the night markets of Taiwan. An oven shipped over from Taiwan is used to cook the chicken that's marinated, coated in three different flours, then fried to order at two different temperatures for optimum tenderness. Inordinately crisp, the chicken can be completed with unique seasonings from a self-service station (the plum seasoning is a must-try). What's more, it's now available on Deliveroo.
Jin Li (Chinatown)
With four branches (two in Chinatown, one in Uxbridge and Birmingham), Jin Li are operating a delivery-only service via Uber Eats. Specialising in Sichuan food, the restaurant's huge delivery menu includes plenty of classic Sichuan dishes, as well as some Cantonese favourites. Delivery is available via Uber Eats.
Kova Patisserie (Chinatown)
Opened last summer, Kova Patisserie focuses on fine French patisseries embellished with Japanese twists. Embracing the Japanese tradition of incorporating and adapting elements from other cultures, whilst keeping its own unique identity, the patisserie will champion Japanese tea and fruit flavours, matched with French classics, using the finest natural ingredients. Many of these desserts, including their Matcha Mille Crepes, are now available for delivery via Deliveroo or Uber Eats.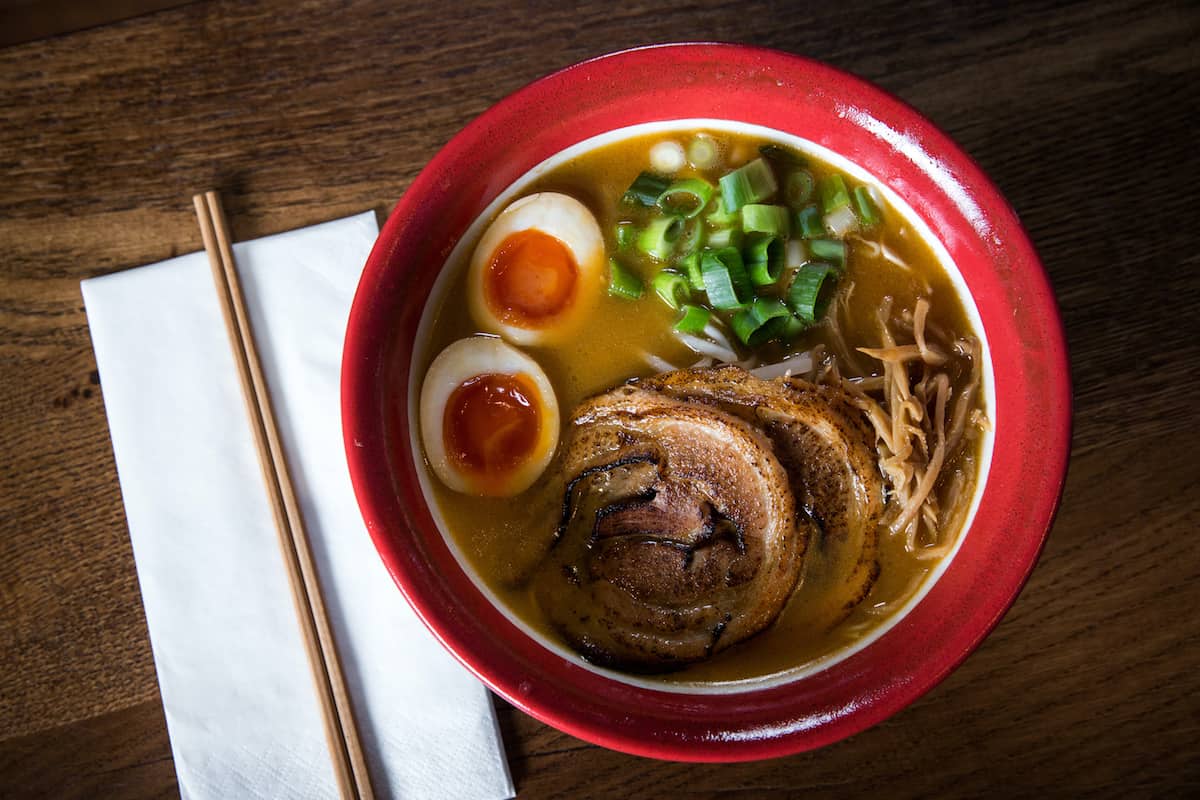 Bone Daddies
Bone Daddies has launched a new delivery and collection service, '#BoneAtHome'. Available for collection from the restaurant group's Bermondsey and Old Street sites, or for delivery via Deliveroo, the menu includes classics such as Bone Daddies' Tonkotsu ramen, 'T22', and 'vegetarian mushroom ramen', plus 'soul food' dishes such as Korean fried chicken wings, sweet spicy pig bones, and tofu poke. Orders can be placed from 5pm every Monday through to Friday, or from 11.30am on Saturday and Sunday, with last orders 10pm each day. Further information can be found at bonedaddies.com.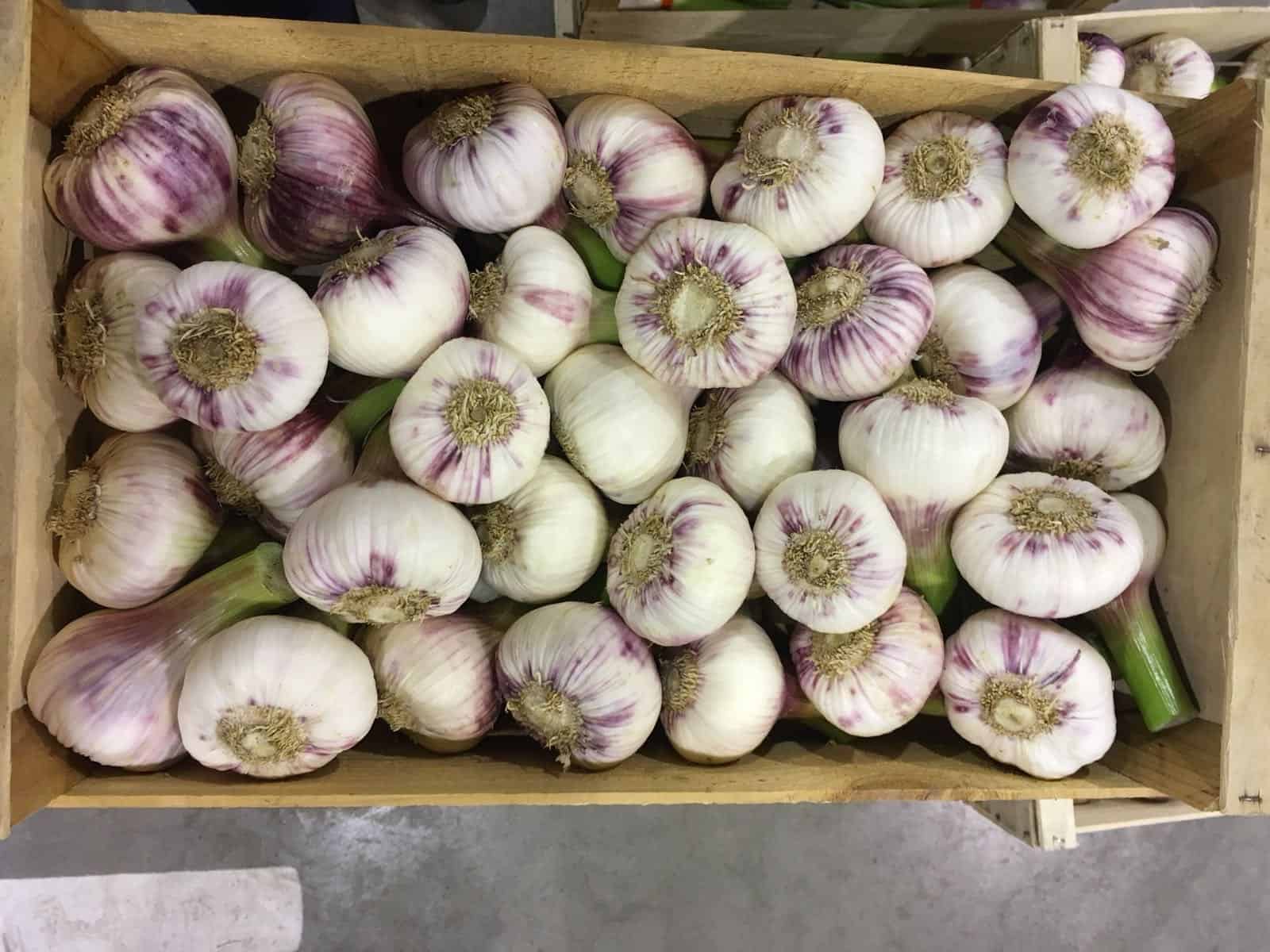 Sorella – Clapham
Sorella, from Robin Gill and the team behind The Dairy, has re-opened with a temporary new guise. Operating as a community shop, Sorella is open from Wednesday-to-Saturday, offering a selection of fresh fruit and vegetables, Italian ingredients such as home-cured salumi, arancini, and aubergine parmigiana, plus 'Sorella at Home' kits including ingredients to prepare restaurant favourites at home. These include the likes of beef lasagna, lamb and borlotti bean cassoulet, and fresh pasta with various sauces. Bone-in rib of beef and rump are also available alongside an assortment of salads, sides and wines. Further information can be found at sorellarestaurant.co.uk.
COYA – Mayfair
In collaboration with Supper London, Peruvian restaurant, COYA Mayfair, has launched a delivery service. Available daily from 5pm until 10pm, within 2.5 miles of the restaurant (W1J 7NW), the 'COYA en Casa' menu includes a selection of COYA favourites such as Chilean sea bass with rice, lime, chilli and Papa Seca; caramel con chocolate – a salted caramel ganache served with COYA's own pisco blend and fresh raspberries; and 'finish it yourself' cocktails available in three different sizes. COYA is also set to launch a lunchtime delivery service via Deliveroo. Further information can be found at coyarestaurant.com.
Crudo Cevicheria – Fitzrovia
A fast-casual cevicheria on Riding House Street, Crudo's South American-inspired ceviche bowls and sides are now available for delivery via Deliveroo, Uber Eats, and Supper London. Customers are given the chance to build their own ceviche bowls, deciding on the base (rice, lettuce, quinoa), protein, toppings, and 'leche de tigre' (tiger's milk sauce). Further information can be found eatcrudo.com.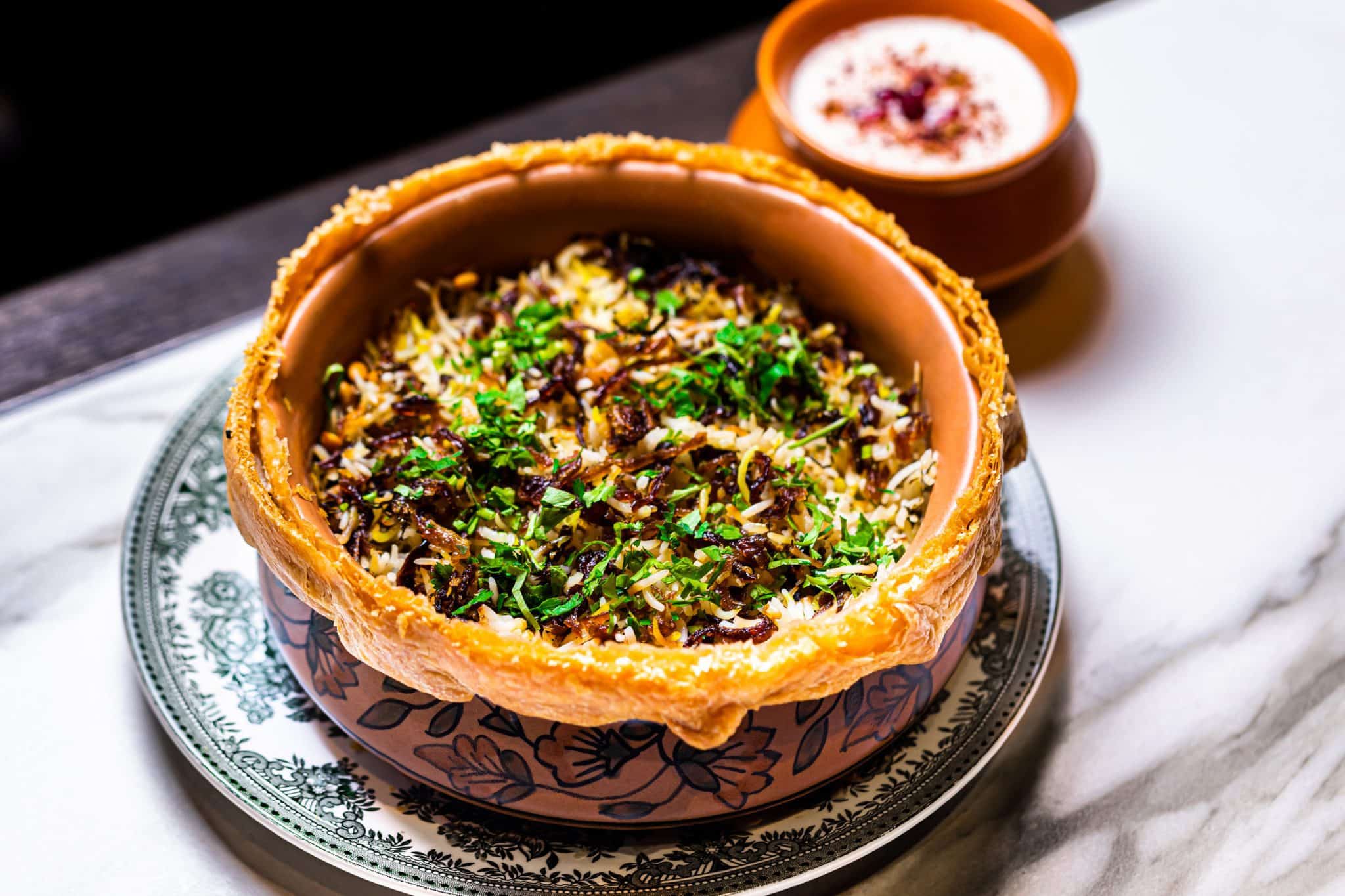 Gymkhana – Mayfair
Reopened earlier this year, Gymkhana is currently offering delivery for the first time, as of Friday 22nd May. Available via Supper, the high-end Indian restaurant will offer dishes including the likes of tandoori masala lamb chops, butter chicken masala, and wild Muntjac biryani; as well as a 'Feast Menu' for two, including four courses such as gol guppas and aloo papri chaat, and kid goat methi keema. The restaurant's delivery radius includes Marylebone, Mayfair, Paddington, Knightsbridge, Victoria, Sloane Square, St John's Wood, Camden, Primrose Hill, and King's Cross. Further information can be found at gymkhanalondon.com.
Brigadiers – City
Another JKS Restaurant to have reopened its kitchen, Brigadiers is currently serving its riff on Indian barbecue classics, available via Deliveroo. During Ramadan, a chef's special Iftar feast will also be served, including a Multani lamb shank Nihari, as well as dishes such as Brigadiers BBQ butter chicken wings, the Brigadiers mixed grill, and fresh Indian mangoes for dessert. Delivery is available in Covent Garden, Clerkenwell, Hoxton, City, Shoreditch, Whitechapel, and Bethnal Green. Further information can be found at brigadierslondon.com.
Hoppers – Various
Extending its delivery radius to cover new locations reaching Islington, Camden and King's Cross, to Soho and the West End, to Shoreditch, Hoxton, and Whitechapel, Hoppers' delivery menu features a collection of Sri Lankan dishes. Highlights include the bone marrow varuval with roti; devilled chilli paneer; mutton kothu roti; and a selection of karis. All sites are currently delivering via Deliveroo. Further information can be found at hopperslondon.com.
Berenjak – Various
Resuming service from a number of new London sites, Berenjak's new Deliveroo offering includes the restaurant's signature Koobideh and Jujeh kababs, and a selection of mazeh including hummus, Mast O Khiar and Kashk E Bademjoom. Currently available from Berenjak East, Soho, Battersea, Whitechapel, Swiss Cottage, and King's Cross, while Crouch End delivery will be introduced over the coming weeks. Further information can be found at berenjaklondon.com.
Motu Indian Kitchen – Various
JKS Restaurants' home delivery brand, alongside BAO's Rice Error, Motu Indian Kitchen has been operating since 2016, having recently reopened a handful of its locations. Menu dishes include the likes of samosas, lamb seekh kebabs, saag gosht, and chicken and lamb biryanis. For a limited time, Ramadan specials are also available. Motu Indian Kitchen Battersea, Canary Wharf, Swiss Cottage, Whitechapel, Islington, and Crouch End are currently offering delivery via Deliveroo. Further information can be found at motuindiankitchen.com.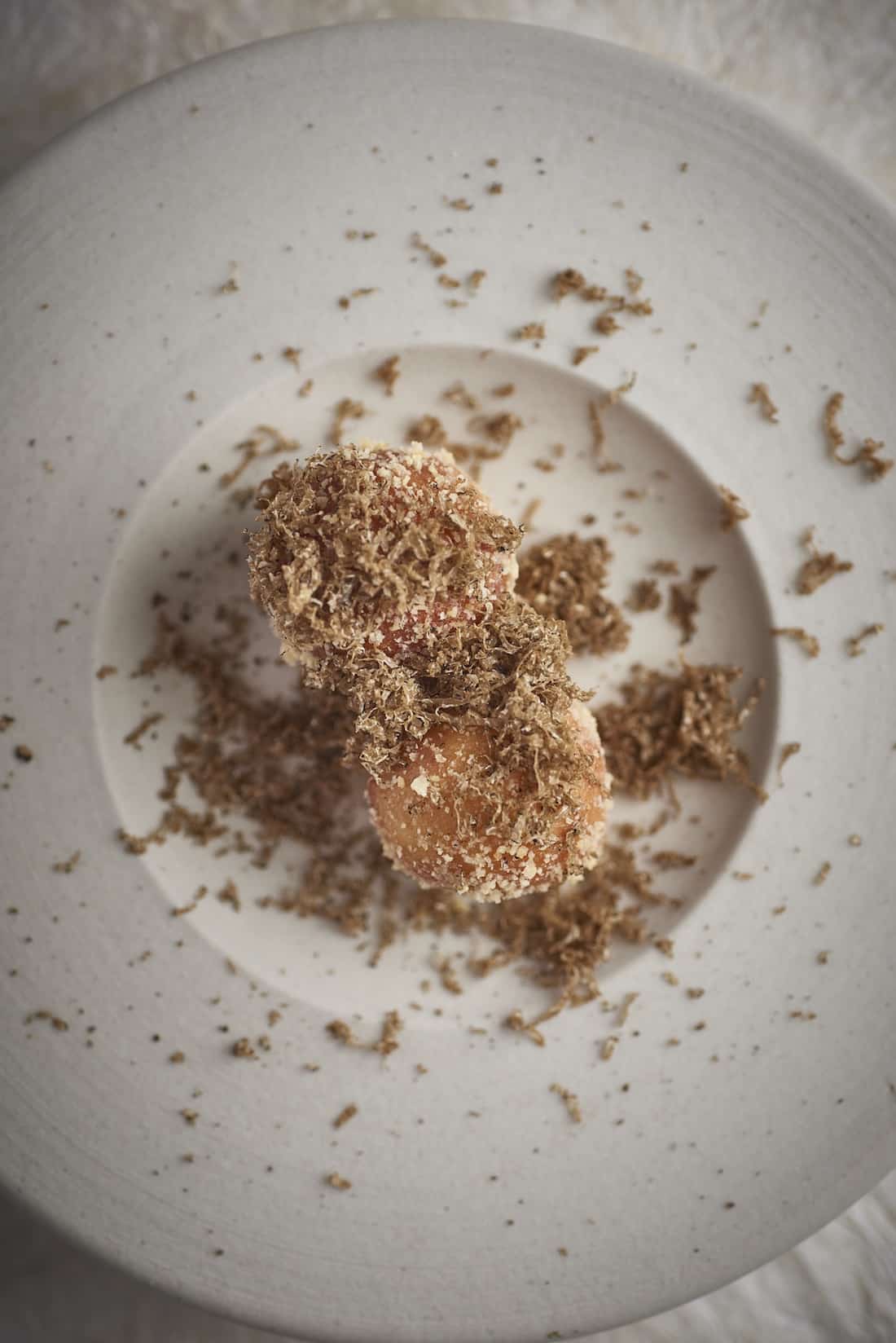 'Hame' by Adam Handling – Covent Garden
A new delivery and collection service from Adam Handling, 'Hame' (the Scottish word for 'home'), is available nationwide. Offering some of the chef's best-loved dishes, the menu includes the likes of cheese doughnuts; lobster, carrot, lemongrass; or whole Beef Wellington, with clotted cream mash, spring greens, and roast carrots. Rather than providing hot dishes, the food from Hame will arrive fully prepared, ready for cooking and plating at home, complete with recipes and full step-by-step video instructions. In addition to the food, cocktails from the Eve Bar list are available alongside matching wines.
Hame is available Thursdays to Sundays and orders must be given 48 hours ahead of preferred delivery/collection date. Pre-arranged collection is available from Frog by Adam Handling, to comply with social distancing rules. Free delivery is available on orders over £150, within a 10-mile radius of Frog by Adam Handling. Orders for outside London must be given by midnight on Wednesday for delivery on Fridays. Further information can be found at adamhandling.co.uk.
Homeslice – Marylebone and Shoreditch
Homeslice are currently serving their 12-inch pizzas via Deliveroo and UberEats, from their Marylebone and Old Street restaurants. Moreover, the restaurants' 20-inch pizzas are exclusively available via Supper, with the option of being served with 50/50 toppings. Toppings include the likes of mushroom with ricotta, pumpkin seeds, chilli flakes, chives, soy, and truffle glaze; salami, rocket, and parmesan; and air-dried Wagyu beef with truffle crème fraîche, Cipollini onions and salsa verde. Further information can be found at homeslicepizza.co.uk.
Honest Burgers – Various
Having reopened most of their UK sites for delivery, Honest Burgers are celebrating by serving a selection of past favourites. Last year's most popular, the SPRING will be available until 1st June (considering wild garlic's narrow window of availability). A 'best of British' special, the burger champions UK producers, featuring Honest beef, smoked bacon, Westcombe cheddar, wild garlic pesto, rocket, and pickles, served with Honest's rosemary salted chips. Elsewhere, additional menu items include the vegan PLANT, vegan BACON PLANT, the veggie FRITTER, and Honest's HONEST and TRIBUTE beef burgers. June will also see the return of the CHIMICHURRI, a collaboration with Brindisa, featuring Honest beef, chorizo, Manchego, homemade chimichurri, and chipotle mayonnaise. Honest Burgers' delivery menu is available via Deliveroo and Uber Eats. Further information can be found here.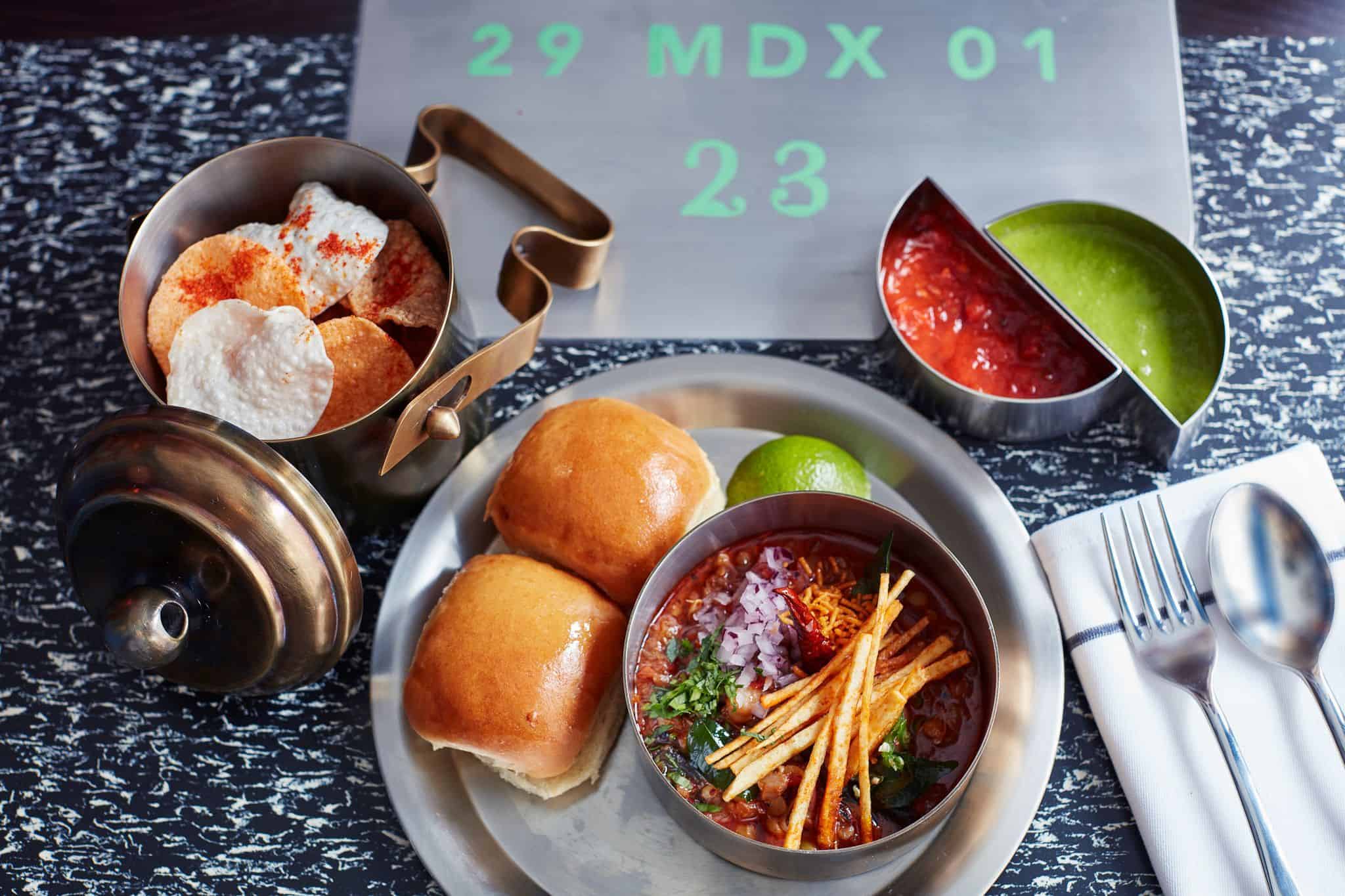 Bombay Bustle – Mayfair
Inspired by the Dabbawalas of India (the institution of men who use Mumbai's local railway and bicycles to deliver home cooked meals), Bombay Bustle has launched a delivery service. Aiming to recreate this typical Dabbawala tradition, the restaurant's delivery menu features a selection of 'small eats' such as masala pao, Rarah keema pao, Malabar chicken wings and a new trio of samosas with fillings of adipoli beef, duck Chettinad and aloo masala. Tandoors, curries, breads, and rice dishes are also available, including the likes of Achari lamb chops, tandoori chicken for two, Kerala fish curry, and dum keema biryani. To accompany, sides include kairi ki dal, aloo mutter, pickles, chutneys, rice, rotis and naans; plus desserts including date and cinnamon pudding. The Retiring Room has created a selection of pre-mixed, ready to drink cocktails, available alongside a concise wine list.
In light of the Covid-19 crisis, the original Dabbawalas are unable to work. Considering this, Bombay Bustle will donate a percentage of sales to The Nutan Mumbai Tiffinbox Suppliers Charity Trust in an attempt to give back. Delivery is available for lunch and dinner via Deliveroo and Uber Eats. Further information can be found at bombaybustle.com.
Trishna – Marylebone
Michelin-starred Trishna has launched a delivery service from its Marylebone Village site. Serving a menu inspired by the south-west coast of India, dishes include favourites such as hariyali bream, chicken pepper fry, and seafood biryani, as well as a selection of feast menus. Delivery is available via Deliveroo, with a radius including Marylebone, Mayfair, Paddington, St John's Wood, Fitzrovia, and Euston. Further information can be found at trishnalondon.com.
Crispin – Spitalfields
All-day restaurant and wine bar, Crispin has reopened as 'Crispin Stores'. Alongside serving as an online grocery store and bottle shop, offering a selection of beers, natural wines, and take-away coffees, the restaurant will provide a weekly 'ready meal' dinner menu available for take-away or home delivery. With dishes created by new guest Head Chef Nazmul Hassan (Clipstone, Stem, Neo Bistro) the menu will offer a 'Dinner Feast Box for 2', including a snack, starter, two main dishes, a side, and dessert for two people, priced at £38.50, or £58.50 with a bottle of wine. Dictated by the seasons, the menu will change regularly but may include dishes such as burrata with courgette, elderflower and breadcrumbs; tagliatelle with slow-cooked beef ragù; cavatelli with vegan wild garlic pesto; and almond tart for dessert. Individual dishes can also be ordered from the weekly menu.
Crispin Stores will open weekly from 10am – 4pm, from Thursday – Saturday. Hot lunches will be available to take-away from 12 – 3pm, while same day orders must be placed before 1pm. Delivery orders will be delivered between 4 – 6pm. Further information can be found at www.crispinstores.com.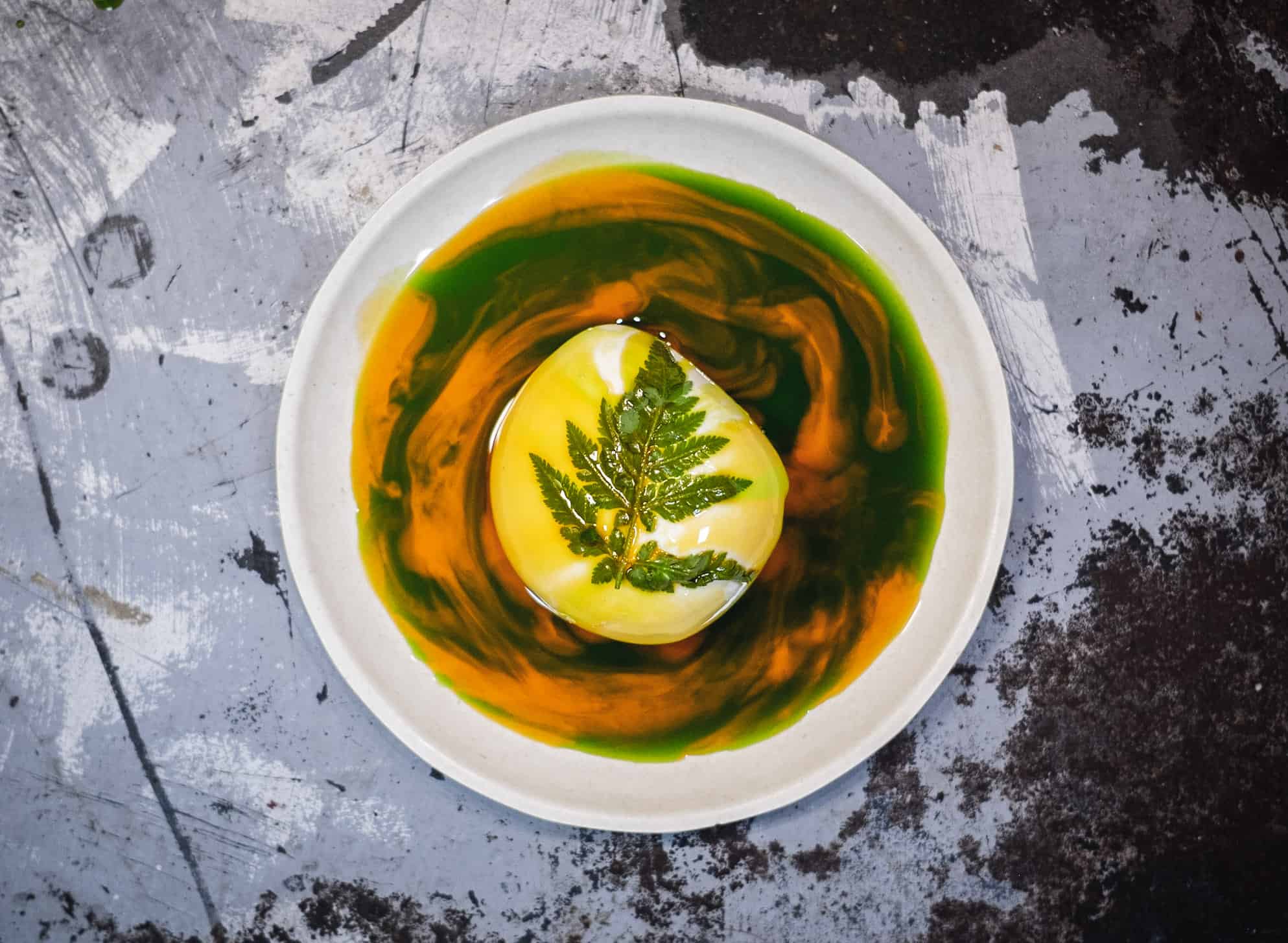 Hot 4 U – Hoxton
A collaboration between Matthew Scott (head chef at Cub) and Eddy Tejada (formerly chef at St JOHN and Silo), Hot 4 U is a new delivery kitchen, available London-wide. Offering options to collect, or delivery within the M25, Hot 4 U is currently available on Fridays and Saturdays with a weekly-changing £35 per-person set menu for two. Most dishes are ready to eat, with others to be finished at home in just a few simple steps, inviting customers to put their own spin on dishes. At the time of writing, pre-orders are being taken through Instagram DM (@hot4u_ldn), which are then delivered via Hot 4 U's own in-house couriers. Orders can also be collected from the Hot 4 U HQ – the former Monty's Deli site on Hoxton Street.
Drawing on the chefs' experience in working in some of London's most sustainable restaurants, the weekly changing menus draw on nose-to-tail eating and nod to various countries around the world. Initial dishes have included the likes of Tête de Cochon with rosehips and tamarind; to rabbit glazed in fig leaf, with Szechuan daikon and a milk Bun. Alongside the set menu, the 'Hot 4 U mini-mart' also offers groceries such as Estate Dairy cream butter fermented in-house, kimchi, sustainably-grown vegetables, and Cacklbean eggs. Further information can be found on Hot 4 U's Instagram.
FOLIE – Soho
Continuing to celebrate the dining culture of the French and Italian Riviera, FOLIE has launched FOLIE To Go. Offering delivery through Supper, as well as collection from the restaurant, FOLIE To Go serves a menu of dishes specifically designed to be enjoyed at home. These include the likes of octopus, citrus, avocado, and herbs; tuna sashimi; chicken Paillard, sage, olives, and lemon; and dishes exclusively developed for delivery, including the FOLIE cheeseburger with a house bun, Comté, and confit onions; and a luxe version of the Pan Bagnat. Sharing dishes for two or more are also served, including confit lamb shoulder with confit garlic, and chilled salmon with steamed vegetables and aïoli. To accompany, the drinks offering includes FOLIE's extended wine list and spirits, and a new selection of ready-to-pour cocktails from Paris-based Ely Cocktails.
FOLIE To Go is available from Tuesday – Saturday, 11:30am – 2:30pm and 5:30pm – 9:30pm, delivered via Supper and available within a 2.5 mile radius of the restaurant (W1F 9LB). Further information can be found at folie.london.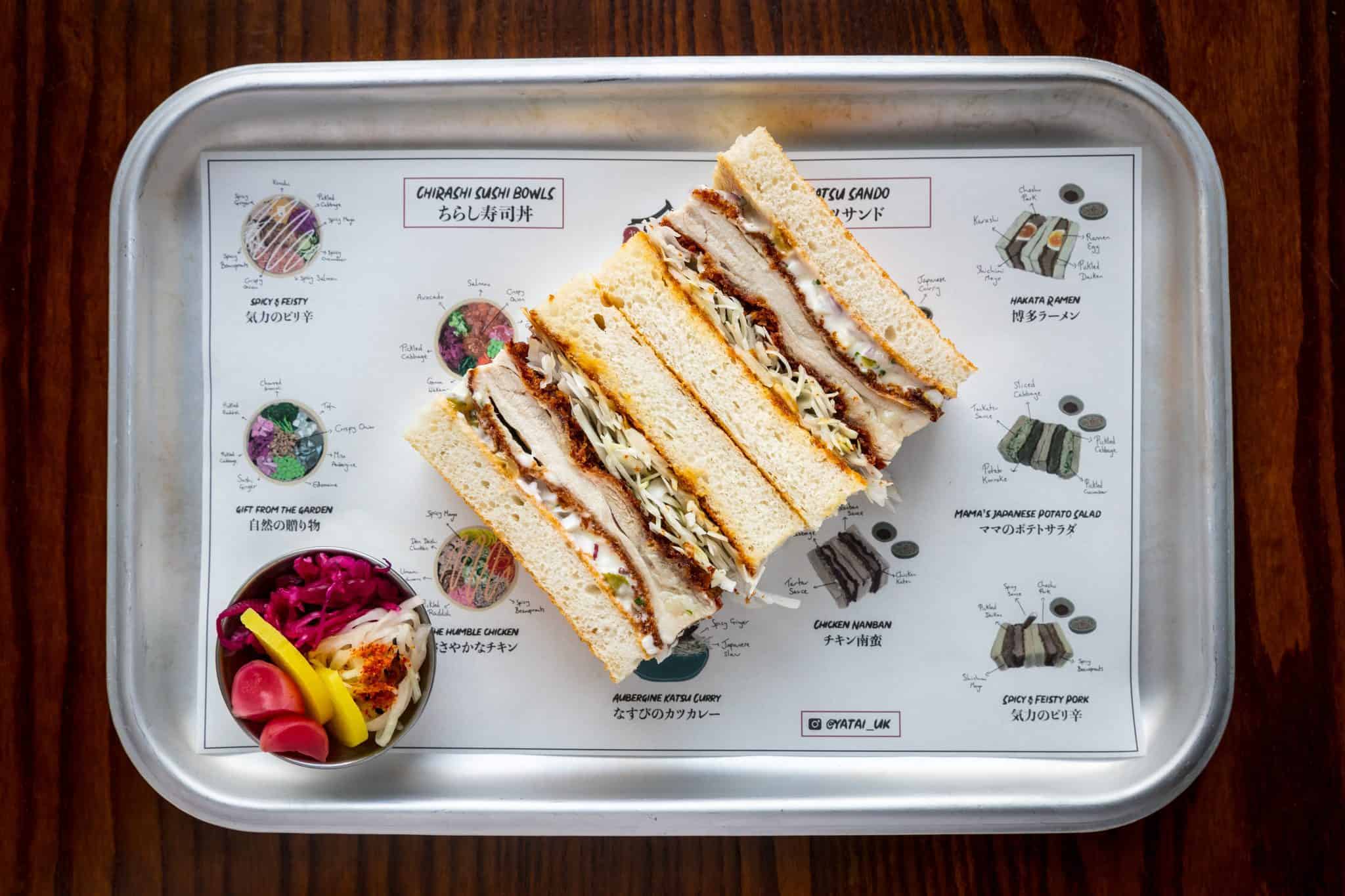 YATAI – Battersea
A new delivery service from Japanese chef Angelo Sato, YATAI champions traditional Japanese cooking. Previously operating from a permanent site in the West End's Market Halls, YATAI aims to "create high quality, authentic Japanese dishes that don't compromise on premium ingredients or classical cooking techniques, at an affordable price that rivals those of high street chains". Currently available on Deliveroo, or to collect, the menu includes YATAI favourites such as the 'Humble Chicken Katsu Curry'; 'Pride of Japan' – a tuna-based sushi bowl; and a selection of katsu sandos. These join new dishes such as an assortment of Donburi bowls and traditional sides including Japanese Wafu salad.
Bar Douro – London Bridge
Portuguese restaurant and wine bar, Bar Douro, is now available via Deliveroo. The new delivery menu includes Bar Douro favourites alongside some new dishes, available alongside a selection of Portuguese wines, craft beers, and DIY port and tonics. Divided into sections, the menu includes the likes of Pata Negra ham from the Alentejo; Bacalhau com natas (a creamier version of their Bacalhau à Brás, baked in the oven); grilled octopus, with blistered peppers and onions; a Piri Piri chicken sandwich with blistered peppers; and desserts including Pastel de Nata along with Baba de Camelo, and Tarte de amêndoa (sticky almond tart). Bar Douro's London Bridge site is open for collection and delivery, from Wednesday – Sunday, 5 – 10pm. Further information can be found at bardouro.co.uk.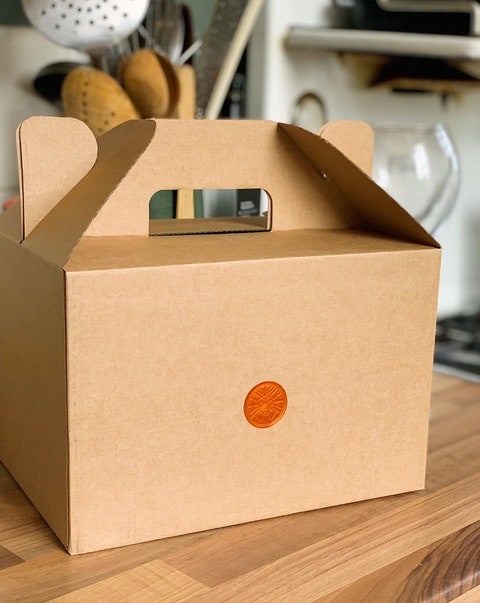 The Court – Soho
Soho members' club, The Court, has launched a new Friday delivery and collection service of drinks and dinner, with the venue's house band performing via Instagram live each Friday from 8pm. With the new delivery service, The Court hope to be able to recreate a night out, from the comfort of customers' own homes. Dinner is available in the form of simple recipe kits, with the weekly-changing menu set to include the likes of chicken with asparagus and cream sauce, or vegan falafel. Each box will also include a selection of antipasti including focaccia and olives. Drinks include The Court's Americane, and Philosophere – a twist on the Negroni, using white vermouth.
Four drinks and a main course for two are priced at £45 (£5 delivery), while a Champagne and caviar box is also available, featuring 30 grams of Oscietra caviar and a bottle of Ruinart Brut Champagne (£110). Delivery is available within zones one and two. Food only boxes are priced from £20 for two main meals, and cocktail only boxes are priced from £30 for 4 cocktails. Further information can be found at thecourt.co.uk.
ASAP Pizza – Borough
From the team behind Lyle's and Flor, ASAP Pizza is a new take-away exclusive brand. Launching on Wednesday 10th June, pizzas will be available to collect from the Flor site, and available for delivery via Deliveroo on the 11th. With both red and white based pizzas, the menu includes brand's own take on a classic 'Hawaiian', topped with pickled Scotch bonnet chillies, red onion, grilled pineapple, and cured pig's cheek; 'Prosciutto', featuring homemade prosciutto cotto from Gothelney Farm in Cornwall; and London-centric 'On and On', topped with green onions, new season garlic, wild garlic, and wild marjoram. Small plates such as 'Burrata, asparagus & preserved lemon', and desserts including classic Tiramisu and ice cream sandwiches from east London's Happy Endings will also be available. Further information can be found at asap.pizza.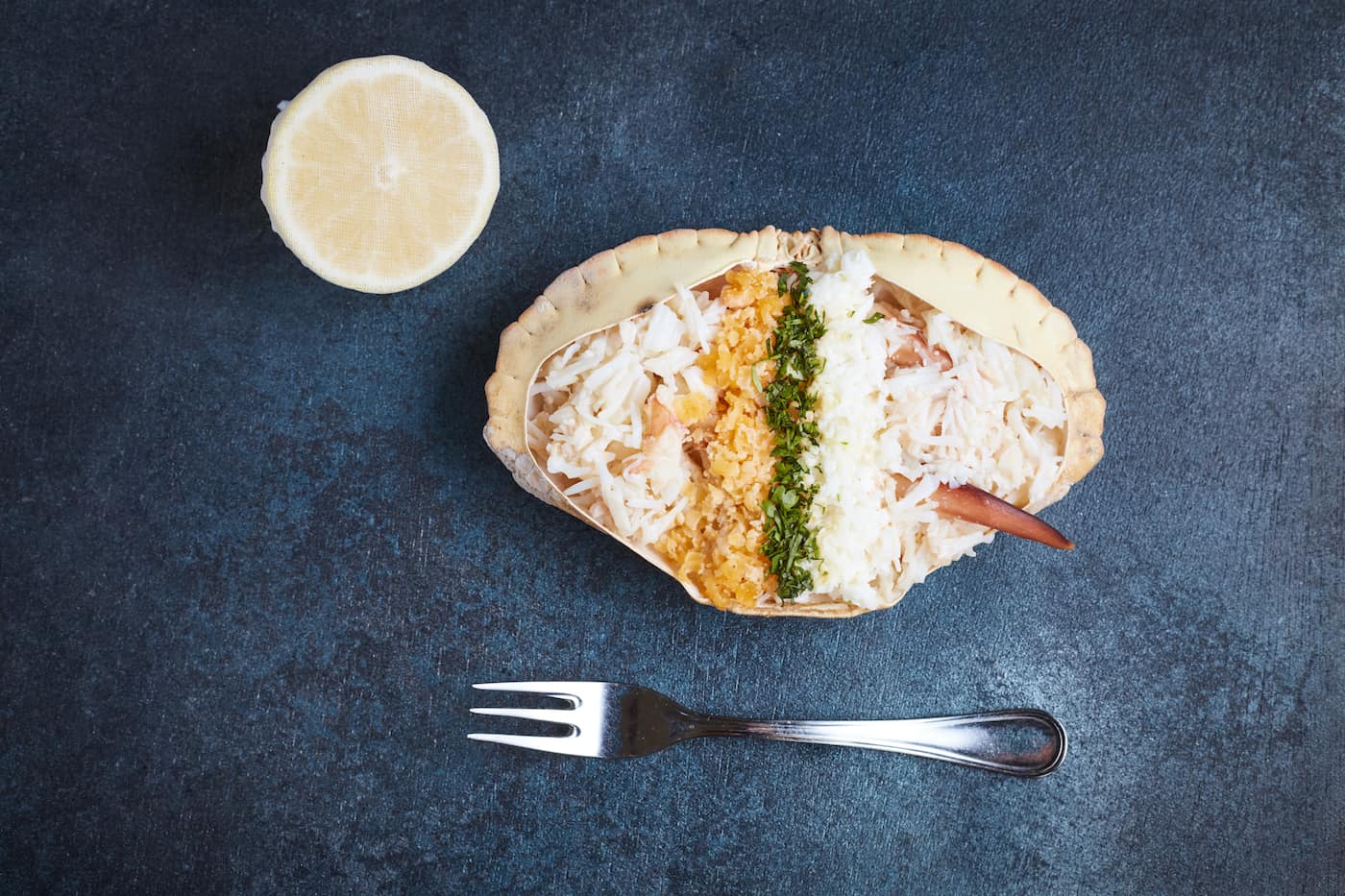 Mr Oyster Boy – Shoreditch
A new delivery and collection service from the team behind Bentley's Oyster Bar & Grill, Mr Oyster Boy has launched. Serves a range of Bentley's favourites, plus weekly changing specials, chef Richard Corrigan's menu highlights include the likes of rock oysters with champagne mignonette; lobster bisque with tarragon and brandy cream; Bentley's classic shellfish cocktail; fish pie; Cornish dressed crab with soda bread; half native lobster with salad 'tartare'; Irish Hereford sirloin; and fish and chips (collection only). A constantly rotating dessert option is also be available.
Moreover, for the first time in its 100 year history, Bentley's will also offer brunch hampers for four, with proceeds donated to Under One Sky, who deliver food and essentials to London's homeless. A Bentley's Picnic Hamper is also available (£145), filled with enough ready-to-eat items for two – four people. All dishes are prepared at Daffodil Mulligan and are available for delivery within a 5.5 mile radius of the restaurant (EC1Y 2BJ). Preorder is available from Monday – Friday (last orders at noon) with delivery or collection from Friday – Sunday. Orders can be placed at bentleys.org.
Mei Mei – Borough
Following the launch of the Mei Mei Market & Deli last month, with trial runs selling out of Kaya jam and Sambal paste in a matter of minutes, hot food is now available for delivery and collection from Mei Mei. Chef Elizabeth Haigh's take on a Singaporean Kopi Tiam in Borough Market, Mei Mei's delivery and takeaway menu includes the likes of Hainanese chicken rice; fried chicken rice; nasi lemak; captains curry; bak chor mee (minced pork noodles with pork balls, chicken and pork broth); gado gado (mixed vegetables and tofu salad with spice peanut dressing); and a bucket of Mei Mei fried chicken. A new range of baked goods are also available for collection only, including hot dog milk buns; ham and cheese rolls; Pandan milk buns with kaya; and cheese and onion rolls.
Delivery is available via Deliveroo, from Thursday – Saturday, 10am – 4pm, plus Friday and Saturday evenings. Further information can be found at meimei.uk.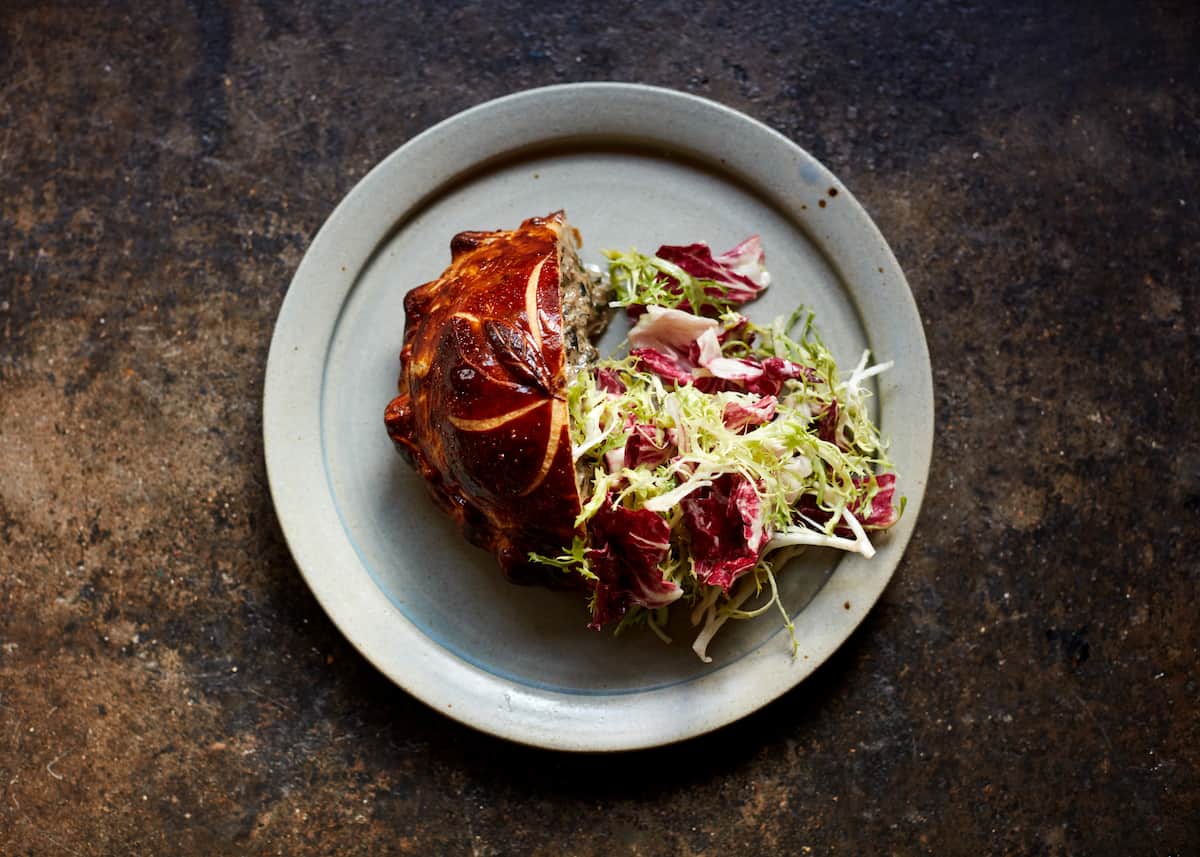 Levan – Peckham
Launching on Thursday 18th June, 'Levan To Go' is a new collection and delivery service from the Peckham restaurant. For Levan To Go, Executive Chef Nicholas Balfe's three course a la carte menu is comprised of snacks, starters, mains, and desserts, with dishes drawing from the most popular dishes on Levan's regular menu, continuing the restaurant's focus on contemporary European dishes matched with low-intervention and natural wines. Launch menu highlights include dishes such as smoked cod's roe with fennel and radish; chicken liver parfait crostini; potato, oyster mushroom and Vacherin pie; trout 'en papiollote' with confit tomato and black olives; tarte tatin; and a dark chocolate pot with salted caramel and hazelnut.
To complete the Levan experience at home, a selection of wines are also available, mainly showcasing affordable low intervention, organic, and biodynamic wines from France, Italy, Austria, and Spain. Levan To Go is initially available on Thursday, Friday, and Saturday evenings for collection or delivery within a 1.5 mile radius of the restaurant (SE15 4QL). Orders can be placed at levanlondon.co.uk.
Comfort & Joy, by Jikoni – Marylebone
From the team behind Jikoni, Comfort & Joy is a new vegetarian home delivery service. Featuring a menu of six meal boxes, available to order on a bi-weekly rotation, the boxes will be available for one or two people. 'The Namaste Box', for instance, includes sweet and sour baby aubergine curry with spicy nut butter, Alphonso mango and Bramley apple dhal, French bean, coconut and cashew nut thoran and lemon rice. 'The Zen Box', on the other hand, features crispy caramel cauliflower, sticky garlic rice, cold silken tofu with black vinegar and charred pak choi with sesame dressing and crispy shallots. The menus will change seasonally. Available from Monday – Sunday, within a 5-mile radius of the restaurant (W1U 3DH), boxes for one are priced at £20, ready-to-eat (£18 for cold boxes to heat at home), £38 for two (£32 to heat at home). Further information can be found at jikonilondon.com.
Casa Calavera – Mayfair
From the Hakkasan Group, Casa Calavera is stylised as a "virtual culinary pop-up", delivering Mexican food to central London homes. Inspired by Dia de Muertos, Casa Calavera blends heritage Mexican cooking techniques, recipes and ingredients with contemporary twists. On the menu, dishes include the likes of Casa Nachos, featuring six different tortillas – including blue corn, chipotle, and cactus chips – served with a choice of toppings; tacos filled with Achiote chicken, guacamole and red onion; chipotle beef brisket with jalapeño and feta; or grilled yellowtail with sriracha mayo, pico de gallo. Sides include Charro beans; spiced rice cactus croquetas; and roasted aubergine with pico de gallo. Casa Calavera is available via Deliveroo, Supper, and Uber Eats within a 2-mile radius of Sake No Hana (SW1A 1HA). Further information can be found at casacalavera.co.uk.
Gaucho – Various
Set to re-open officially on Saturday 4th July, Gaucho's menu and wine list is now available for delivery, or for collection from a selection of its restaurants. On the menu, steaks such as spiral-cut Churrasco de Lomo fillet and ribeye are available alongside sauces such as chimichurri. Aside from steak, dishes will also include spatchcock chicken in ají Amarillo and chive marinade, and salted dulce de leche cheesecake. Roast beef with Yorkshire pudding and red wine gravy will also be available every Sunday. To accompany the food, an assortment of wines will also be served, with a larger selection available via the restaurant's online wine shops or their wine shops on Deliveroo. Further information can be found at gauchorestaurants.com.
PASSO – Shoreditch
Having reopened for local takeaway via Deliveroo, serving a range of pizzas, PASSO has also launched a new PASSO TO GO service. Delivering to the whole of the UK, PASSO TO GO offers fresh pizza and pasta kits to be finished at home. DIY kits contain all the necessary ingredients to recreate the restaurant dishes at home, with pizza recipes tweaked for the dough to be cooked using domestic ovens or frying pans rather than traditional pizza ovens. Toppings include the likes of Margherita; smoked speck and Portobello mushroom; and artichoke, salted ricotta, potato, olives and rosemary. Various fresh pastas are also available, with sauces such as fennel sausage ragù, amatriciana, and puttanesca. Further information can be found at passorestaurant.com.
Balance Box
Although not technically a restaurant, Balance Box offers nutritionally designed and balanced meal deliveries, aiming to help fuel feelings of wellbeing. Meal deliveries include breakfast, lunch, dinner and two snacks per day, available in three, four, or seven day boxes. Launched to coincide with lockdown, their new 'Rejuvenating Balance Box' is designed to help customers "regain balance", packed with nutritionally dense ingredients. These include the likes of flaxseeds and chia seeds within breakfasts; British-grown herbs for their anti-inflammatory properties; and a minimum of 10 fruits and vegetables to optimise overall nutrition. Further information can be found at balancebox.com.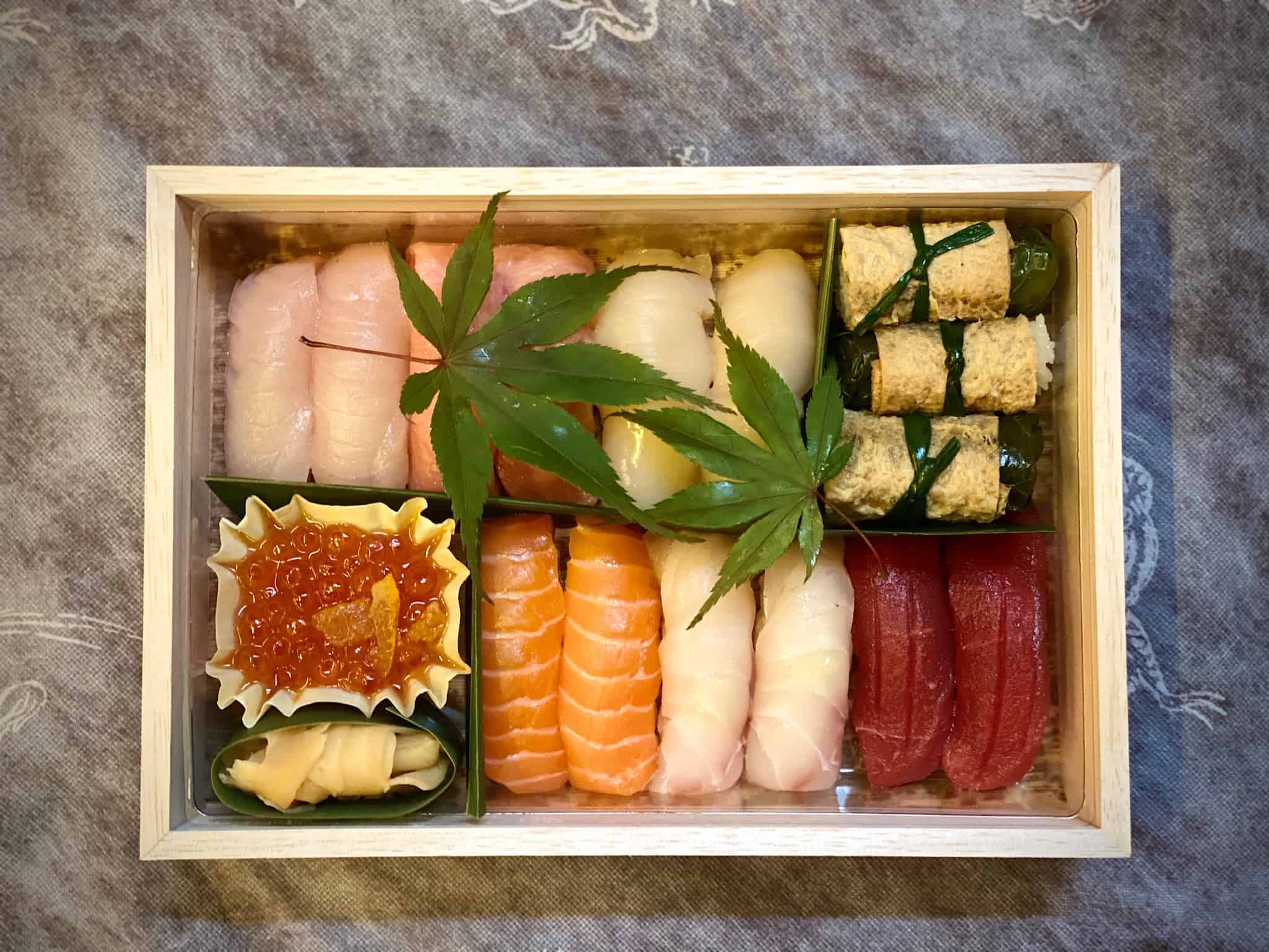 Dinings SW3 – Knightsbridge
One of London's best Japanese restaurants, Dinings SW3 has launched a new Bento Box, created by Executive Chef, Masaki Sugisaki. Joining the Dinings at Home delivery and collection offering – alongside popular dishes such as grilled black cod, Wagyu beef, sushi and sashimi – the Bento Box is available for two, available from Thursday – Saturday. Layered with an assortment of sushi, sashimi and Japanese artisan accompaniments, the box includes the likes of Beluga caviar, potted native lobster cake "Shinjo"; line caught sea bass; "Nibitashi" Bluefin tuna Akami; braised tofu skin; freshwater eel; and "Yama-momo" roasted A5 Wagyu beef fillet. Dinings SW3's own Sake Blend '78' is also available to accompany. Further information can be found at dinings.co.uk.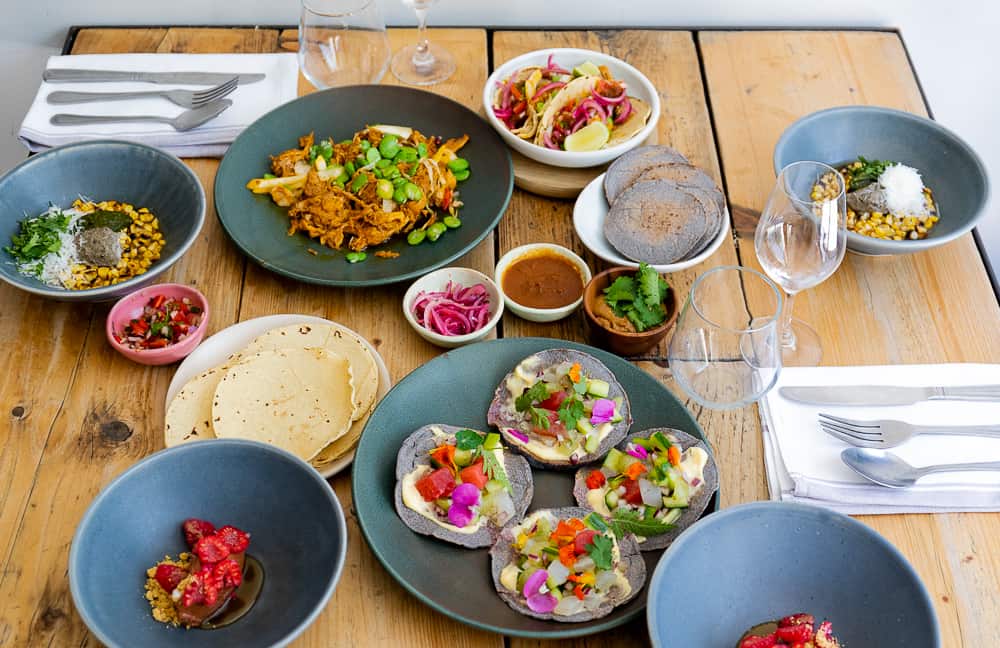 Carousel – Marylebone
Instead of flying in chefs from around the globe to cook in their kitchen, Carousel has launched four menus inspired by previous residencies, recreating their favourite dishes. Available for takeaway and delivery within 1.5 miles of the venue (W1U 8AB), the 'Carousel's Greatest Hits' menus celebrate guest chefs from Mexico, Asia, the Mediterranean, and the USA. As of Thursday 2nd July, private chefs can also be hired to cook Carousel's Greatest Hits in customers' homes, while the venue plans to reopen on Tuesday 7th July, all being well. Collection and delivery is available from Thursday – Saturday, from 6 – 7:30 pm. Further information can be found at carousel-london.com.
More soon.
This article is currently in the process of being updated. Got a tip? Email food@thelondoneconomic.com, or tweet us @TLE_Food.