As part of their week-long Burns Night celebrations, Mac and Wild hosted a haggis making masterclass last night (23rd January).
Taking place at the restaurant's Devonshire Square outpost, owner Andy Waugh was on hand for an interactive session, in which a small group were taught to make haggis from scratch, following a quick demonstration.
Scotland's national dish, haggis is often unappreciated south of Hadrian's Wall, frivolously condemned for its "ick factor" – encasing sheep's pluck (heart, liver and lung) within the animal's stomach. Granted, the production method isn't for the faint of heart, but the taste – like most offal cuts – is absolutely sensational. After all, if we're going to condone the slaughter of animals in the name of food, it seems unreasonable to disregard the less attractive, still edible, organs.
While haggis is readily available across Britain (especially throughout January), nothing beats the sense of achievement and ritualistic thrill that comes with making your own at home. It's also surprisingly simple to construct. Demonstrating the process, Andy Waugh supplied each of us with an already cooked lamb's heart, liver and lungs – plus a dram (or four) of Bruichladdich Classic Laddie and a haggis chieftain to take home. Equal quantities of each cut (give or take) were then finely chopped and added to a mixing bowl with a dash of stock, a handful of Arrowhead steel cut oats and a slug of whisky; mixed and seasoned liberally. Once tasted for seasoning, the mix was then pushed into an ox's stomach and tied, ready to be heated.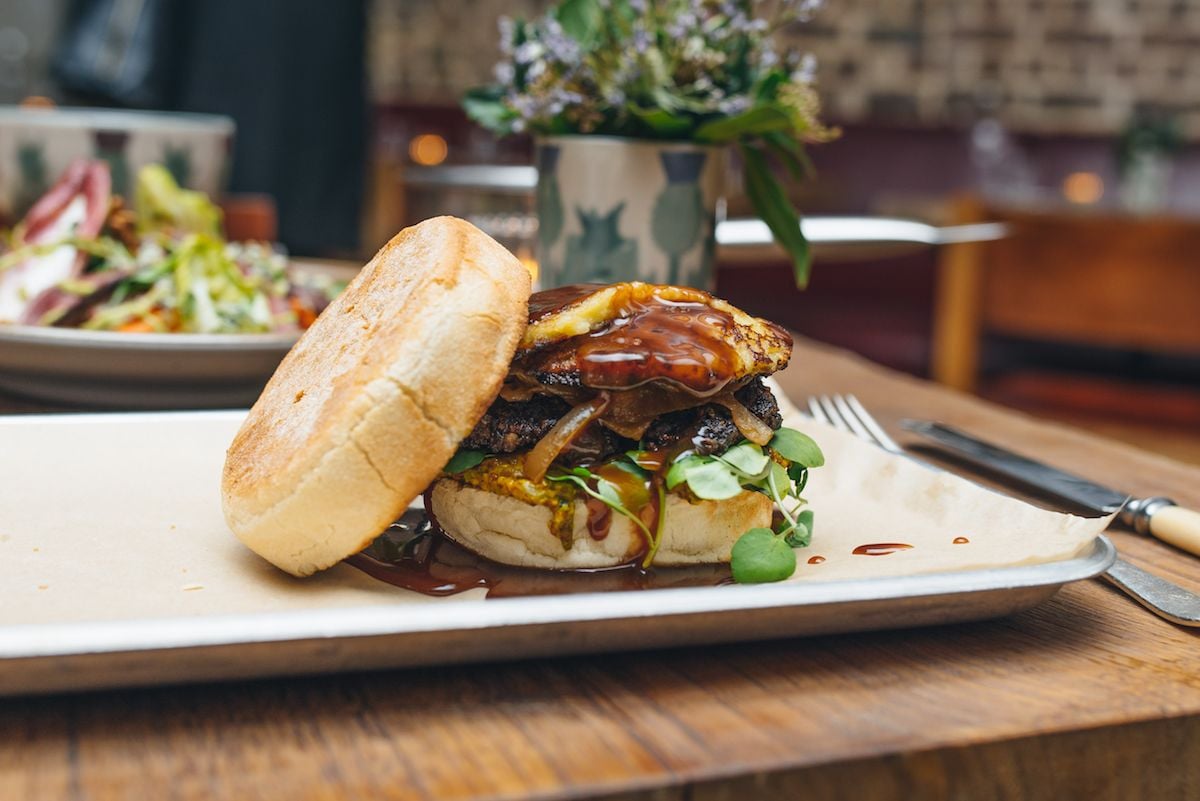 Following the masterclass, dinner consisted of Mac and Wild's famous 'Haggis Pops', breaded and deep fried – glorious with a Red Jon sauce of redcurrant jelly and Dijon mustard. A venison scotch egg celebrated deer sourced from Ardgay Game (a game butchering business ran by Andy Waugh's Father and Brother) and harboured a soft-boiled egg, with the rich, liquid gold yolk acting as sauce. In addition to the famous Veni-Moo burger – comprising a beef patty, venison patty and béarnaise sauce – Mac and Wild have launched a haggis, neeps and tatties burger, available all week. A fluffy English muffin was filled with a venison, haggis and black pudding patty, tattie scone and turnip relish, finished with lashings of brown sauce gravy. This is comfort food at its absolute best, even better with the accompanying Burns Night whisky flight, offering drams of Aberlour A'Bunadh, Balvenie 12 Double Wood and Cardhu Cask Reserve.
Mac and Wild's haggis recipe
This recipe uses already cooked lamb's heart, liver and lungs. All measurements are approximate, but considering the meat is already cooked, it's crucial that the mixture is tasted throughout the process in order to adapt, tailoring the haggis to meet personal preferences. Ideally, you'll begin with equal quantities of heart, liver and lungs, which can be adjusted to taste. Personally, I like the mixture to have high quantities of heart, for its taste, and liver which develops a consistency similar to pate, finished with plenty of pepper.
Ingredients
Lamb's heart, one, cooked
Lamb's liver, one, cooked
Lamb's lungs, cooked
Arrowhead steel cut oats, a handful
Lamb stock (beef stock will work, if need be), approximately 200ml
Salt, to taste
Pepper, to taste
Scotch whisky, to taste (approximately 50ml)
Ox stomach lining, cleaned
Method
Begin by finely dicing the cooked lamb's heart, liver and lungs, then add them to a large mixing bowl.
Add a handful of oats and a dash of the stock to the lamb's pluck and mix with your hands. Add more stock, if need be (the mixture should bind like sausage meat, but should not be wet).
Season the mixture and season. Taste a spoonful of the mix, for seasoning, and add a dram of Scotch whisky. Taste once more for seasoning.
Stretch the cleaned ox stomach and slowly begin to add the mixture. The finished product should resemble a large sausage, with a good amount of empty, leftover stomach – enough to tie a tight knot.
Place the haggis in a roasting tin, half-filled with water, and cook at 150C/gas mark 2 for approximately two hours, until piping hot. (optional: gently pierce the haggis twenty minutes before the end of cooking time and pour another shot of whisky into the haggis.)
Serve hot with neeps (mashed swede), tatties (mashed potatoes) and a sauce of your choice. We recommend something spiked with enough whisky to wash an elephant.
Further information on Burns Week at Mac and Wild can be found here.
RELATED