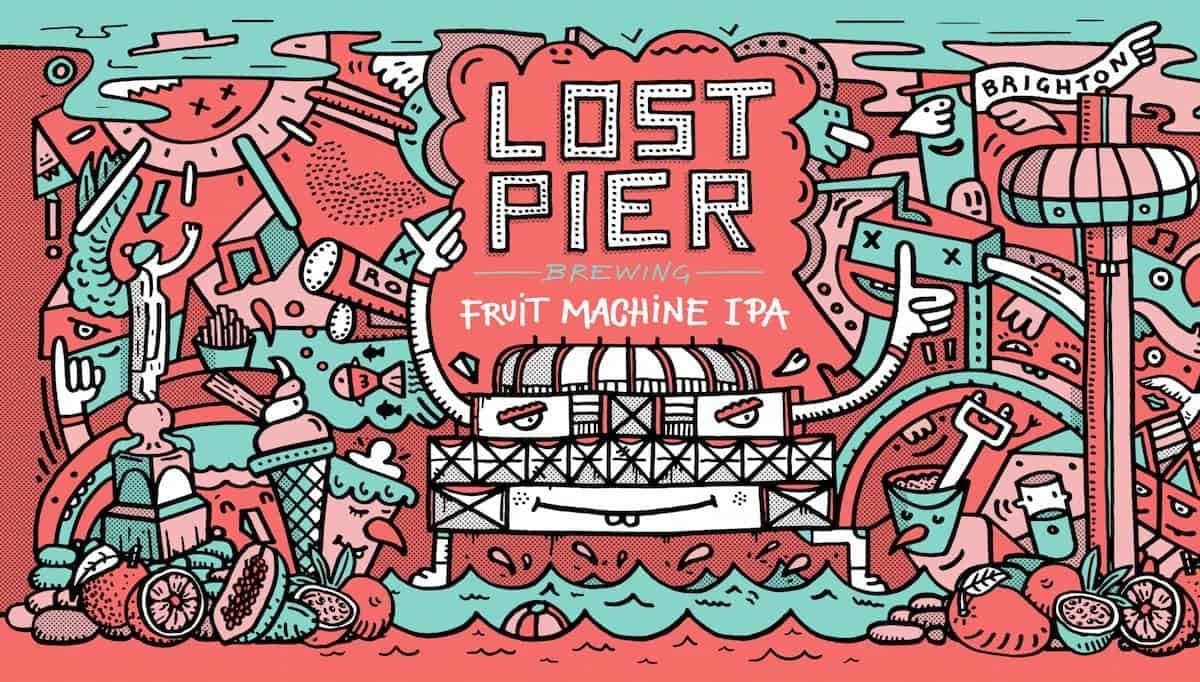 Beer of the Week: Lost Pier Brewing Fruit Machine IPA
Named after Brighton's famous West Pier, Lost Pier Brewing is a relatively new craft beer producer operating from Chiddinglye Farm in Sussex. Each of the brewery's eight inventive beers are unpasteurised, unfiltered, vegan and naturally cloudy – canned with an eye-catching label designed by Brighton-based artist Mister Phil. According to Lost Pier's website, the renowned local artist "has managed to capture the West Pier and the seafront in his unique artistic way. His authentic, vibrant, and happy artwork is what Brighton and Lost Pier beers are all about."
Brewed with Citra, Azacca and Sorachi Ace hops, Lost Pier's 'Fruit Machine' is a New England India Pale Ale. Effectively an unfiltered IPA or Double IPA that's aggressively hopped, hazy and typically juicy – rife with fruity or floral notes – the New England India Pale Ale (NEIPA) has become increasingly popular in recent years, albeit somewhat polarising and controversial. Lost Pier's iteration features a malt bill that's high in flaked oats and carapils, plus the addition of some apricot puree and fruity English ale yeast also used in the brewing process.
When poured from the can, Lost Pier Fruit Machine IPA has a cloudy, turbid orange complexion capped with a foaming white head. On the nose, prominent aromas of pineapple, orange and apricot are joined by some apple mint, sherbet, caramel and light malt notes. The beer's profound fruitiness continues on the palate, boasting further savours of pineapple, orange rind and a whisper of grapefruit. Elsewhere, some oily pine joins an underlying mineral character and some very feint coconut that precedes a slight bitterness – albeit perhaps less than expected given the beer's complex blend of exotic hops. With soft carbonation and a creamy mouth feel, Lost Pier Fruit Machine IPA concludes with a dry, slightly bitter, fruity finish packing hints of melon and further orange rind.
Further information on Lost Pier Brewing can be found here.
RELATED