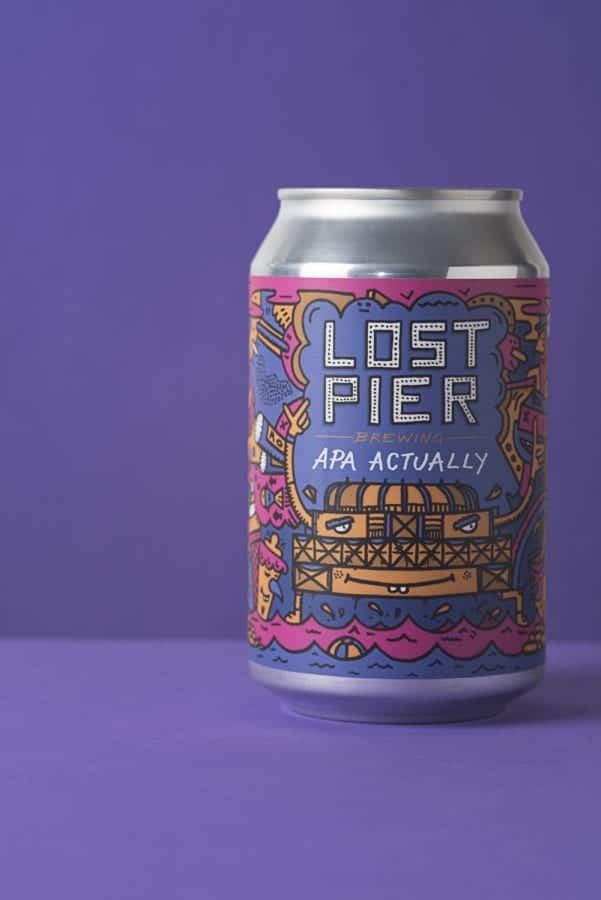 Beer of the Week: Lost Pier Brewing APA Actually
Named after Brighton's famous West Pier, Lost Pier Brewing is a relatively new craft beer producer operating from Chiddinglye Farm in Sussex. Each of the brewery's inventive beers are unpasteurised, unfiltered, vegan and naturally cloudy – canned with an eye-catching label designed by Brighton-based artist Mister Phil. According to Lost Pier's website, the renowned local artist "has managed to capture the West Pier and the seafront in his unique artistic way. His authentic, vibrant, and happy artwork is what Brighton and Lost Pier beers are all about."
Part of the brewery's innovative core range, 'APA Actually' was awarded silver in August's London International Beer competition. A classic American pale ale, the beer is brewed with nutty rye malt which lends unexpected depth against the classic American hop blend of Mosaic, Simcoe, Equinox and El Dorado.
On pour, 'APA Actually' is hazy orange, capped with a fluffy off-white head. Fruity notes are initially prominent on the nose, driven by orange and blackberry. Elsewhere, hints of mango, plum and sharp redcurrant are joined by some malt sweetness and a whisper of rye. Fruit notes continue on the palate, with further savors of orange rind and juice, black fruits and rye. Medium bodied with medium bitterness rounded by the softness of the beer's natural carbonation, 'APA Actually' has a smooth mouth feel and a dry, bitter finish. Particularly drinkable with sessionable ABV, this is a very well-executed American pale ale, actually.
Further information on Lost Pier Brewing can be found here.
RELATED