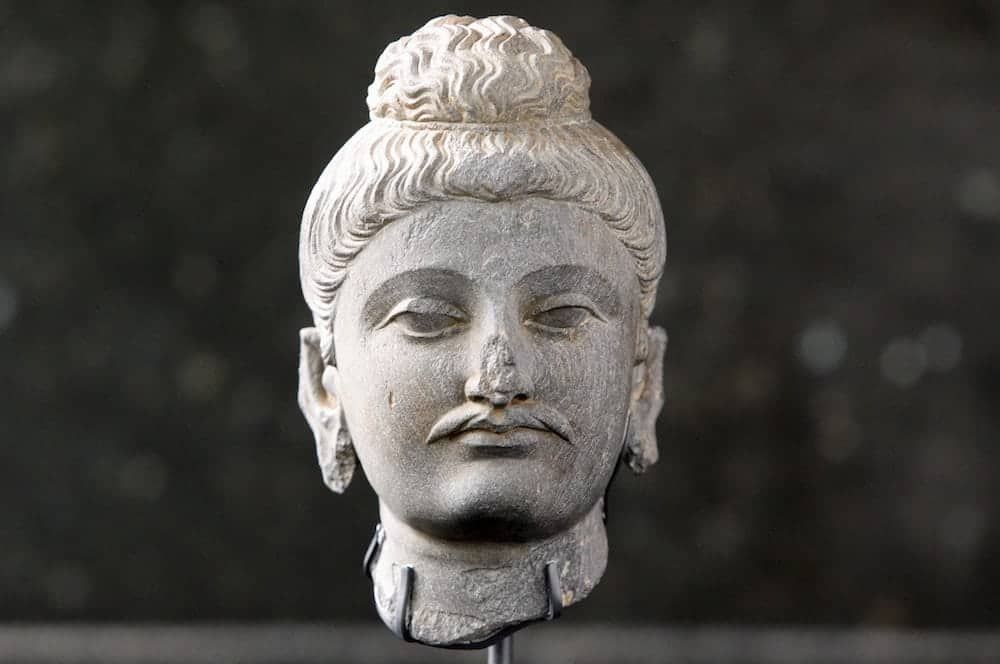 A two-thousand-year-old Buddhist sculpture has been put on public display 
A two-thousand-year-old Buddhist sculpture has been put on public display as part of an exhibition of objects collected by Scots in India.
The stone Buddha head is said to be one of the earliest physical depictions of the ascetic from ancient India.
And it shows his enlightened status through a cranial mound, disguised by an "elegant" top knot, and elongated earlobes.
The sculpture originates from the ancient kingdom of Gandhara, situated in modern northwest Pakistan and has now been put on display at the University of Edinburgh.
Along with a 72-metre Sanskrit scroll and depictions of Indian wildlife, it forms part of an exhibition at the institution's Main Library during the Festival Fringe.
More than 50 objects collected by Scots in India will be showcased.
The exhibition includes manuscripts, sculptures and paintings spanning two millennia of art and culture from the Indian subcontinent.
The 200,000-verse Mahabharata – one of the two major epic poems of ancient India – is set out in a 72-metre long manuscript scroll dating from 1795 and is encased in a box with a handle to turn it.
A watercolour sketch showing the annual migration of Himalayan shepherd chiefs will also feature in the exhibition.
It was collected by Hugh Cleghorn from Fife, who served as an assistant surgeon in India in the 1840s.
There he developed a keen interest in botany and became known as the father of scientific forestry.
Further attractions include a set of copper plates from South India forming a royal charter from 447 AD, a 16th-century album of calligraphy and poetry and an Indian medal for public service.
Films of traditional Indian dancing and music will also be on display.
The exhibition – part of Edinburgh's Festival Fringe – was curated by Dr Yuthika Sharma, an expert in South Asian Art at the University's Edinburgh College of Art.
He developed the show in collaboration with Dr Andrew Grout, former archivist of the University Library's Special Collections.
Dr Sharma said: "I am delighted to showcase the rich splendour of Indian and South Asian art during this year's Festival Fringe.
"I hope visitors will learn about the fascinating history of Scottish engagement with British and Mughal India (Hindustan) as well as enjoy the visually stunning exhibits, on this important anniversary year."
Since you're here …
It may worry you that much of our mainstream press is increasingly reporting with a strong right-wing bias. Most of our media is owned by a handful of offshore billionaires with personal agendas.

More worrying is the staggering decline in independent, investigative journalism. It costs a lot to produce, so many publications facing an uncertain future can no longer fund it.

With nobody to hold the rich and powerful to account, or report on the issues that don't fit with the mainstream 'narrative', your help is needed.

You can help support free, independent journalism for as little as 50p. Every penny we collect from donations supports vital investigative journalism.