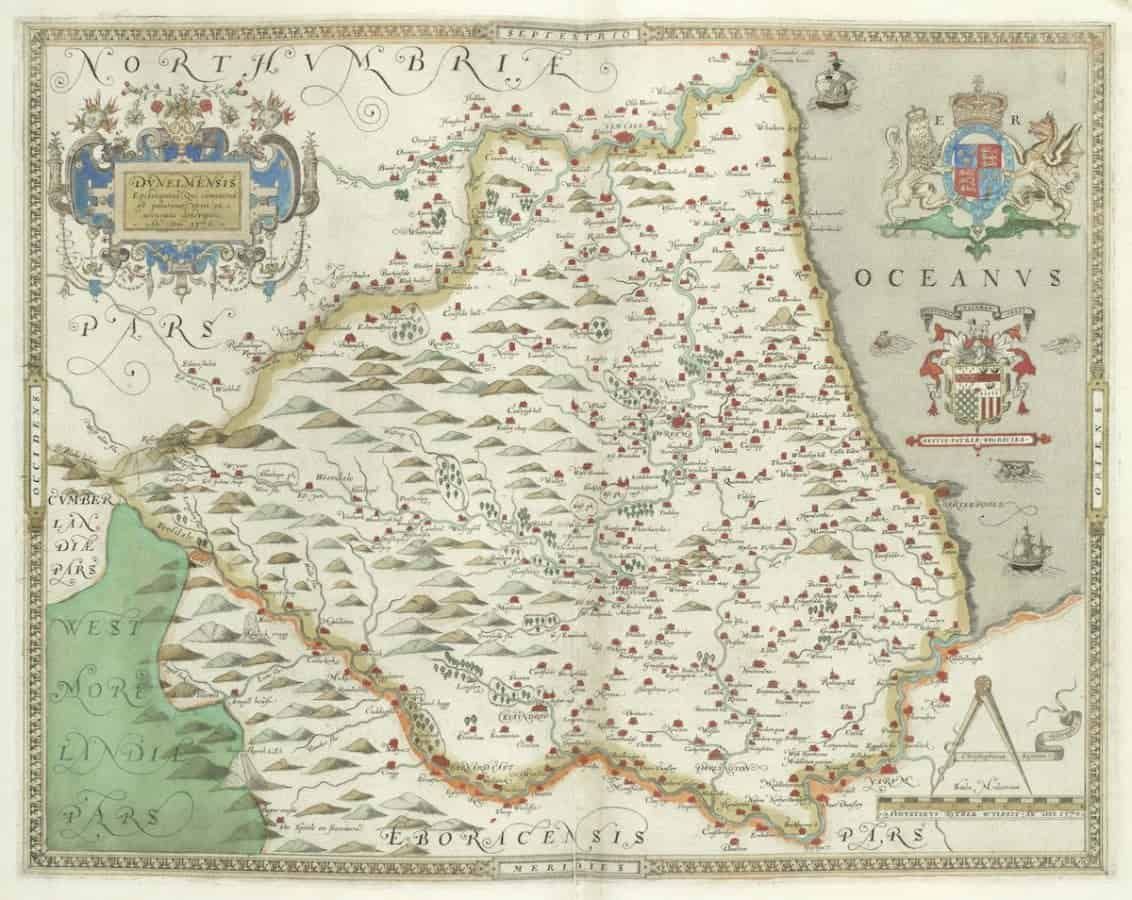 Copy of first atlas of England and Wales sells for more than £100,000
A rare copy of the first ever atlas of England and Wales has sold for more than £100,000 at auction.
Christopher Saxton was a Yorkshire-born surveyor who is known as the 'father of English cartography'.
And in the 1570s he spent seven years travelling around England and Wales for Thomas Seckford, who was the master of requests to Queen Elizabeth.
His maps were engraved and printed between 1574 and 1578 and were first issued in atlas form in 1579.
Bonhams auctioned a rare First Edition copy of An Atlas of England and Wales on Wednesday in London.
The copy, from 1590, had an estimate of £50,000 to £70,000, but ended up selling for £106,250.
Matthew Haley, head of books and manuscripts at Bonhams, said: "It is the first atlas of England and Wales which is a landmark. There is a portrait of Elizabeth I on the front cover as well which is unusual.
"It was printed on a copper plate and would have been very expensive at the time.
"Nobody had mapped England and Wales in such detail before and it also has these fun drawings, like the sea monsters off the coast. I think it is actually quite accurate."
Photos of the map give a fascinating insight into 16th Century England and Wales.
While Truro, Penzance and Newquay are the most recognisable places on a modern Cornish map, the standout location on Saxton's Cornwall is the small fishing town of Padstow.
Hickling, in Norfolk, has a prominent position on Saxton's atlas but today it is a village with a population of around 1,000.
In Lancashire, Rochdale and Bury appear to be larger than Manchester.
Hills and mountains are identified with drawings and various symbols represent settlements. Trees represent woodland.
It isn't just an important piece of cartography but also an interesting work of art. The sea is populated by monsters and galleons and the cover has a detailed drawing of Queen Elizabeth.
Mr Haley added: "It is almost 450 years since it was published and some places have disappeared and others have risen in prominence.
"It is a large format book, around the size of a tabloid newspaper and was leather bound at a later date. It is a lovely object.
"It is a landmark book, like the King James Bible and Darwin's Origin of Species."
Since you're here …
It may worry you that much of our mainstream press is increasingly reporting with a strong right-wing bias. Most of our media is owned by a handful of offshore billionaires with personal agendas.

More worrying is the staggering decline in independent, investigative journalism. It costs a lot to produce, so many publications facing an uncertain future can no longer fund it.

With nobody to hold the rich and powerful to account, or report on the issues that don't fit with the mainstream 'narrative', your help is needed.

You can help support free, independent journalism for as little as 50p. Every penny we collect from donations supports vital investigative journalism.